Open from:
12 December 2022- 07 January 2023
Mid-project event:

Thursday 22nd December 6-8pm
Opening times:
Tues-Sat 12-5pm
Closed 23 Dec- 04 Jan

Works by John Waid
A selection of unused proposals and untested works by the artist John Waid.
John Waid
Ends 07 January 2023
The artist John Waid will be installing some works relating to division in the project space, this will take the form of walls. Be they imagined, improbable and unstable these walls form the basis for the works being shown, we in this city have a deeply unusual and contentious history with them, whether we're doubling tribal graffiti on them, erecting them to maintain peace or just tearing them or burning them down without council permission. This will be a site of experimentation, trial and improvement of these untested ideas. The materials are the familiar sights of our streets... but not as we know them.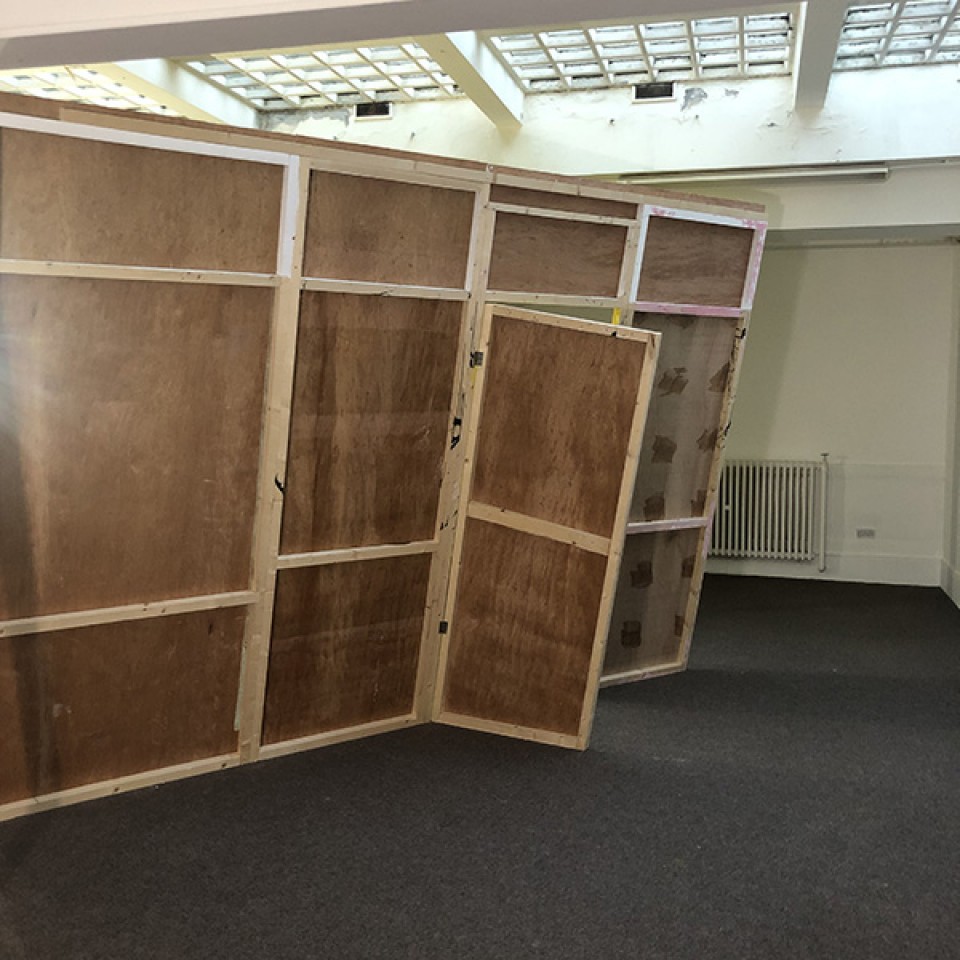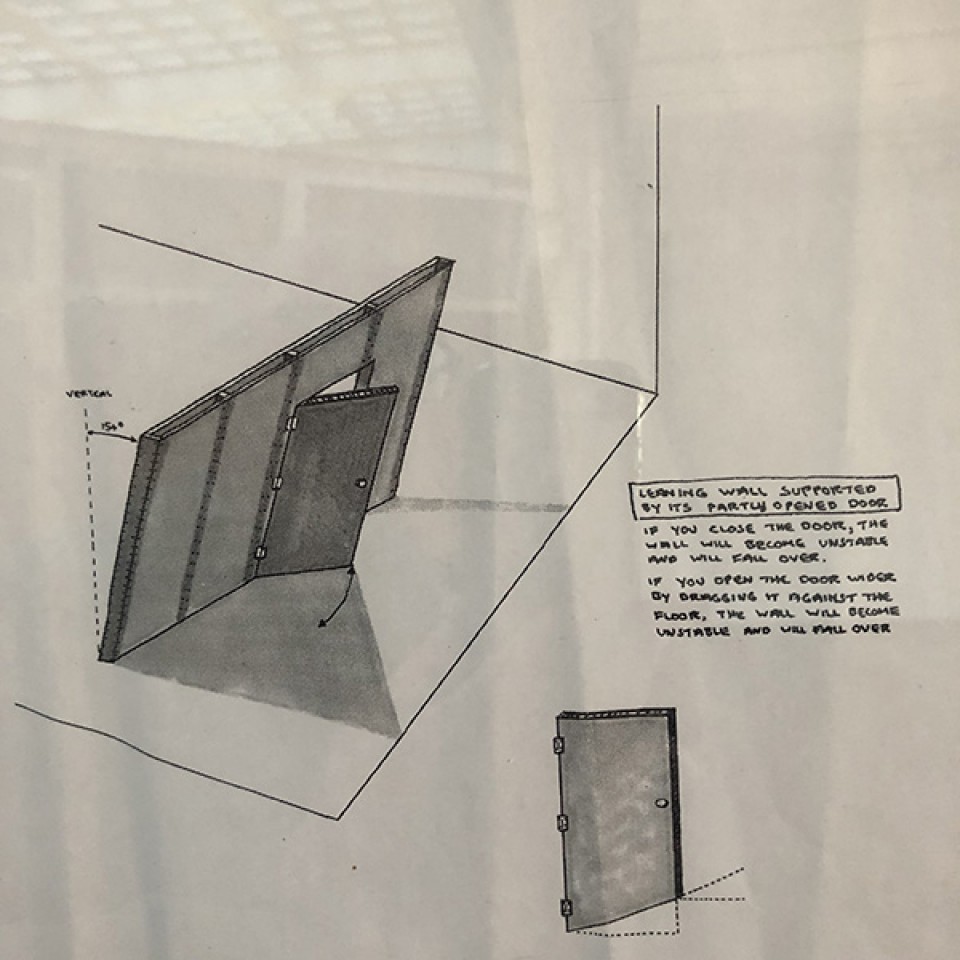 John Waid- installation drawing
About the artist
John Waid is a maker, an inventor, a photographer, a collector, a talker and an educator. Other interest include: dualities; deviations of language; barriers/divisions; flies and from time to time Toblerones. Humour, eclectic curiosity, and the absurd are central to my practice, along with a refusal to be categorised. He has a studio at Flax Art Studios.
For most of his career, he has been a First-Year Art and Design lecturer at the National College of Art and Design, Dublin. He is the recipient of several awards for photography, experimental, and contemporary illustration. He was the winner of a Martin Parr Award for taking the strangest holiday photograph.
In 2014 his billboard design, in response to the title 'Green', was selected and presented in Belfast's Central Station, as part of the the Art in the Eastside project, founded by Creative Exchange Artists Studios. His work titled Nesting Box That Might Attract Small Exotic Migratory Visitors, was exhibited as part of the Annual Exhibition, Royal Ulster Academy in 2014.
In 2009 he won an award to design a range of contemporary souvenirs for the Northern Ireland Tourist Board. In both 2007 and 2008, Waid was twice invited as a finalist on the BBC Genius programme in response to two ideas: 'rapid handrail' and 'zen garden mower'. On 27 September 2007, he generated and published Climbing Up the Walls of Everything, which was subsequently realized by IKEA, France, in 2013 to launch one of their stores. Also in 2007, in front of a neighbourhood audience, he performed a version of Wilson and Keppel's Sand Dance (1933) on the roof of his shed in an effort to bed down the recently laid felt.
In 2003 he participated in Dublin's Cowparade project, in which he cut cow in half and converted it into salt and pepper shakers. Between 1978 and 2001 he painted a community wall mural in West Belfast under the watchful eyes of active paramilitaries. He assisted for exactly one hour with the installation of one of Joseph Beuys's pieces in the Guggenheim Museum, New York. He also dug graves at Carnmoney Cemetery, North Belfast, and placed many tins of beans on shelves at CrazyPrices, according to the rules of an obscure algorithm.'
From EVA International

Past shows
2020 Most recent work is a notebook of ideas based on the theme of 100 permutations, which is now located in the Brooklyn Notebook Library. • 2019 - 2020 Delivered with fellow collaborative artist David Fagan, an alternative quiz show titled "Self Improvement". To date, this has been presented in the Onono Gallery Rotterdam and in Temple Bar Gallery Basic Space Dublin. This is an ongoing project. • 2019 Altered the Football table at MOMA Design Museum (inverted all of the players).