Opening
Thursday 30 April, 8pm
Performances
Thursday 8-10pm, Fri-Sat 3pm - 10pm & Sun 10am- 4pm
tit vs tat
In conjunction with Cathedral Quarter Arts Festival
Ruth McCullough & Jude Bennet
Ends 03 May 2009
Two years have passed since tit-tat (a collaboration between artists Jude Bennet and Ruth McCullough) came together for their inaugural Wee Wedding Disco on Wheels at Cathedral Quarter Arts Festival. Last year saw the first anniversary and this year it is with great sadness, they announce their D.I.V.O.R.C.E.!

tit vs tat will celebrate their irreconcilable differences by fighting the bit out in PS² to see who gets the house/kids! Come along to witness tit-tat battle against one another in disco inspired sports events, such as techno dancerthon, kareokethon, jogathon and much more. Witness, judge, score - only you can decide which one wins!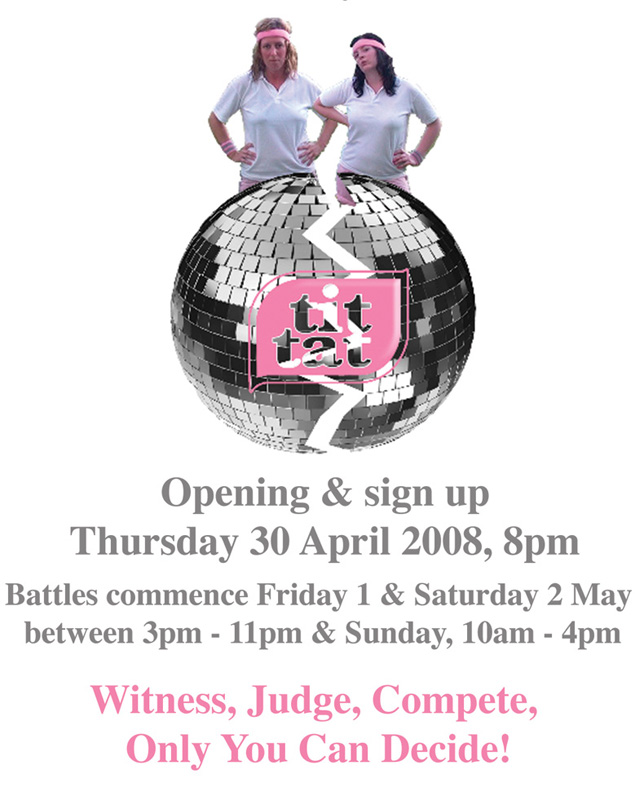 Timetable

THURSDAY NIGHT 8-10pm
tit tat Split Party
Open evening, where you get the chance to celebrate the split and witness the battle for custody through various competitions. Take sides, compete and judge. There will be blood, sweat and tears!

FRIDAY 3-6pm
Witness the fitness
tit tat will be in training for the evening events
8pm
Disco at the races Obstacle laps, Shorts Circuits Followed by a Karaoke Kat Fight

SATURDAY 3-6pm
Witness the fitness
tit tat will be in training for the evening events

8pm
Crystal Discoball Maze

A Richard O'Brien inspired treasure hunt throughout the various haunts of the Cathedral Quarter. Solve the riddles, and find the disco balls. Finalists get the chance to enter the tit tat dome. Followed by Saturday Nights Alright For Fighting: a Winner & losers Disco
SUNDAY
Sunday Punch Brunch: 12 noon
Champagne & make up? Will there be a reunion? Champagne to help you decide!
Sunday Opening: 10am-4pm WITNESS, JUDGE, COMPETE - Only You Can Decide Which One Wins!