Opening hours

Thursday, 05 September, 6-9pm, Fri 1-5pm and Sat 11am-3pm
The Jangly Dusk
Cian Donnelly
Ends 07 September 2013
For his project The Jangly Dusk, Cian Donnelly will use PS² as a development space for activities and actions that inform his practice; video, performance, music, text and object.
Over the course of four weeks, Donnelly will make a series of perfomances, camera works, drawings and sculptures, which will culminate in the staging of an off-site live art work, The Jangly Dusk. Envisaged as a kind of open film set, The Jangly Dusk will re-imagine the river and towpath as a fictional space; set for scenes of post-utopian romanticism and poetic horror.

Thursday, 05 September 2013, 6-9pm, Fri 1-5pm and Sat 11am-3pm in PS²: Screening of the edited performance. Duration: performance film 20min.
Cian Donnelly would like to gratefully thank Martin Carter and Alessandra Giacinti, for their support and assistance, also all the team at the Lawrence Street Workshops: Conall Carter, Helen Crickard, Michael McNulty, Phil Hession, Stanley Brown, Bad Bob, Apple Rab, Paddy Bloomer, Jose, Claire and Tommy.

Date
Friday, 30 August 2013 Time: 8.30pm
Location: Meet outside Cutter's Wharf, Lockview Road, Stranmillis.
The audience will be guided to the performance. Performance will begin at 9.30pm and last 20 minutes.

For location see map.

Performance info
A man dressed in sack cloth and rags, stands on the river bank, next to a willow tree. He is surrounded by inanimate figures. He removes the head from one of the figures, ties it in a bag, and throws it into the river... The Jangly Dusk is a costumed performance, with original musical score, that re-imagines the river and towpath as a fictional space; set for scenes of poetic horror and post-utopian romanticism.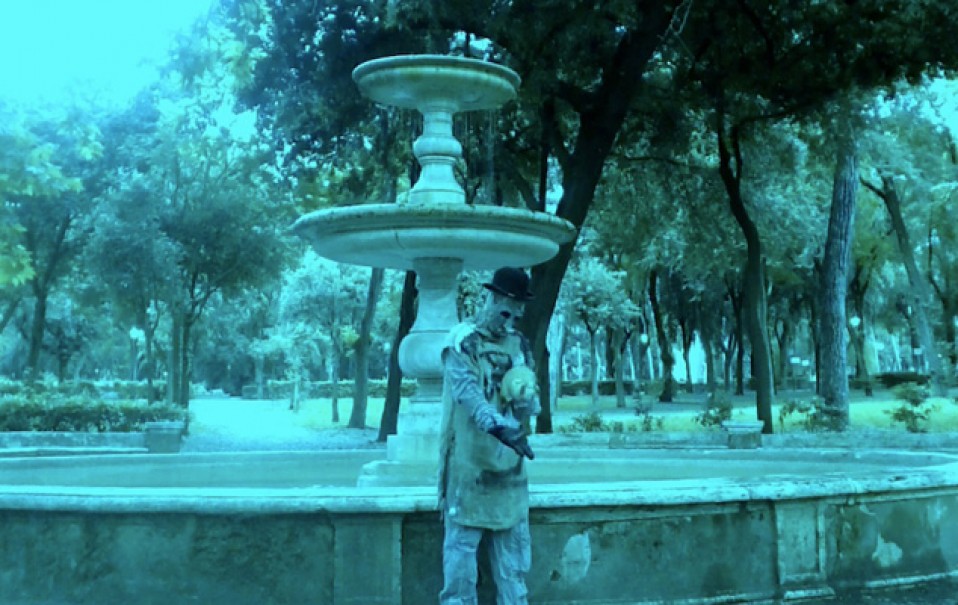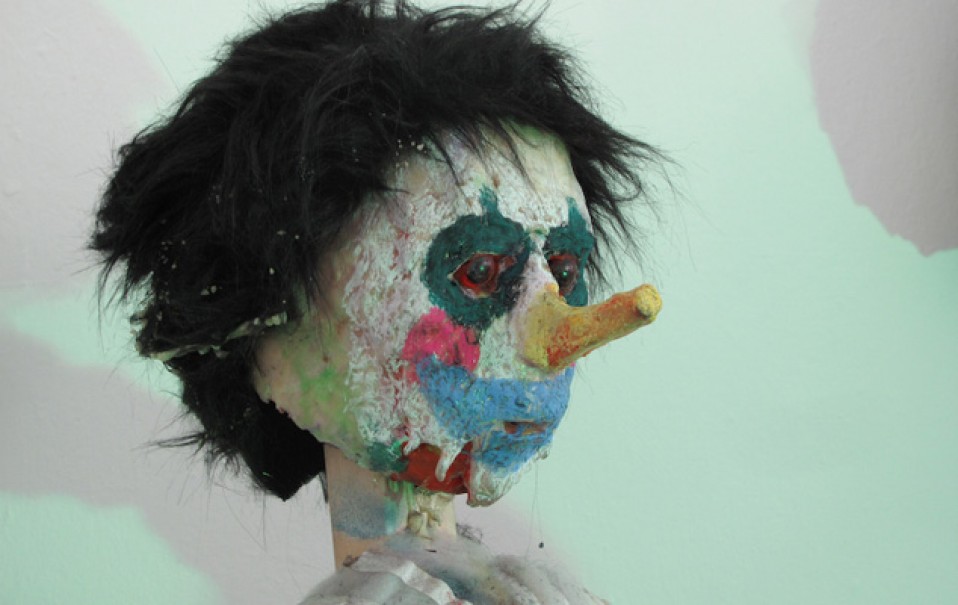 Cian Donnelly (Dublin, 1974) received a BA(Hons) in Fine Art from the University of Ulster, Belfast 1997, an MA in European Fine Art from Winchester School of Art (Barcelona) 2001, and completed a Fellowship in Fine Art at The British School at Rome 2007-2008.
Recent exhibitions and performances include Russian Dolls, Golden Thread Gallery, Belfast, 2013, Memory Theatre, Vancouver Film School, 2013, Kunstfilmtag, Theatersaal des Künstlerverein Malkasten, Dusseldorf, 2012, Palace of The Biscuit Tin, CCA, Derry, 2012, Cuntstone and Clown, Five Years, London, 2012, and Two Peacocks, Gallery North, Newcastle, UK, 2011.
He has received a number of awards including Bursary Awards from The Arts Council of Ireland, and an AHRC Scholarship for Postgraduate study. Work in progress for 'The Jangly Dusk'.