Opening hours from 01 August onwards
Wed-Fri 1-5pm, Sat 11am- 3pm
The Goblin Market
Madeline Graham, Christopher Whiteside
Ends 10 August 2013
'Taste them and try:
Currants and gooseberries,
Bright-fire-like barberries,
Figs to fill your mouth,
Citrons from the South,
Sweet to tongue and sound to eye;
Come buy, come buy'.

'Goblin Market' by Christina Rossetti (1859)
It seems to fit to the hot summer, full gardens, ripe fruit and warm nights: a poem full of sexual longing, temptation and unfulfilled love.
Written in 1859 by Christina Rossetti, the sister of the Pre-Raphaelite painter Dante Gabriel Rossetti., the 'Goblin Market' is a poem full of images, sensuous feelings and dark worlds. No wonder it attracts the attention of young, contemporary artists- that's if they read poems.
Madeline Graham and Christopher Whiteside obviously do: they rewrote scenes of the Goblin Market into a film script and asked their peers to act and play.
The outcome is a 16min film, in many parts in black and white, carefully edited and with visually dense images and scenes. Some of the handmade masks used in the film are shown in a glass vitrine, resembling a natural history set up of tribal rituals. Together with a small chair, carefully displayed on a shelf, the artists create an installation full of cross references and flow of associations, so typical for the poem itself; a world of temptation, innocence, sisterly love and sacrifice.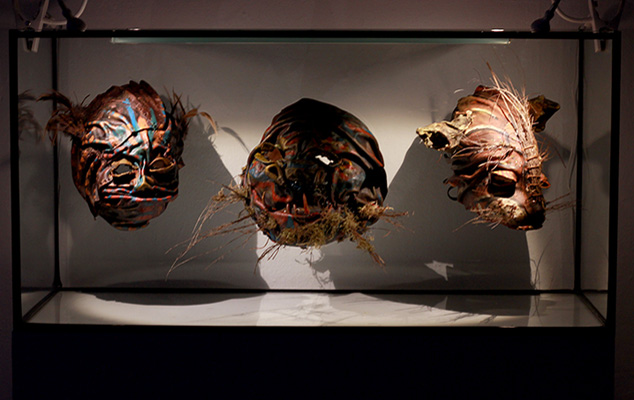 Masks used as props
Short Film - Synopsis
The film tells a tale of two sisters who's relationships are put to the test when one falls prey to the temptation of goblin fruit. Bound by blood and unconditional love, the sisters must overcome the darkness that haunts them together. For when the shadows that breathe emerge from the woods, they shall seek a new summer harvest, one that only the brave will survive.

Locations
Lock Keeper's Cottage in Shaws Bridge,
Tollymore Forest in Newcastle & Belvoir Forest in Belfast.

For more information about the making of film see.


Extract from Christina Rossetti's 'Goblin Market'
Evening by evening Among the brookside rushes,
Laura bow'd her head to hear, Lizzie veil'd her blushes:
Crouching close together In the cooling weather,
With clasping arms and cautioning lips,
With tingling cheeks and finger tips. "Lie close,"
Laura said, Pricking up her golden head:
"We must not look at goblin men,
We must not buy their fruits:
Who knows upon what soil they fed
Their hungry thirsty roots?"
"Come buy," call the goblins
Hobbling down the glen.

Christina Rossetti, 1859, Goblin Market.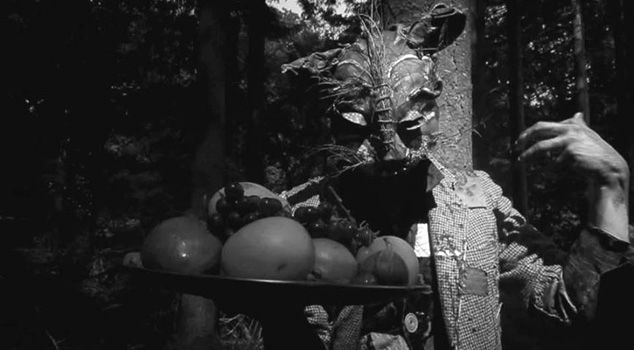 Film still
Madeline Graham is a fine art print-maker who graduated this year at University of Ulster with a Bachelors Degree in Fine Art and Multidisciplinary Design with First class honors. She specializes in copper-plate etchings, aquatint, photo etch, screen print and cyanotype prints. She creates her works digitally using photo-manipulation software, layering many images to create textured and surreal imagery that is inspired by nature, dreams and her life studies of animals and her surroundings. She also works in film format and likes to document her work and processes in video. This will be her first collaborative project outside the University. Graham's first short film titled, 'Night Blooming Flower', was part of her final year work at the University of Ulster Degree Show, 2013 and can be view here.

Christopher Whiteside is a mixed media artist who specialized in textiles and creates masks, costumes and drawings based on his observations of taxidermy, animals and life drawings. These theatrical elements are then used by actors in performances for short film and photography stills. His first film, 'Three Little Pigs', is based on the popular children's story, which has been subverted and twisted into a dark, adult take on the story.
Whiteside graduated in Bachelors Degree in Fine & Applied Art at University of Ulster in 2012. He has since then been working in illustration, theatre set design and assisting with Art Direction at Caught in The Headlights Productions. This will be Whiteside's first exhibition of artwork and collaboration with another artist outside of the University.

Christopher Whiteside: 'Dear Other from Earthly Mother'
"Ignore those feeble and fleeting words,
From those who are weak, like broken swords,
Like fading whispers from hollow chords,
Like smouldering coals in deep set eyes,
Instead, heed our age-old chorus;

Dear listener, dear 'customer',
Dear other from earthly Mother,
Come examine our produce,
Lying out before us,
Amongst thy Goblin Men, of whom we are all but ten,

Sucks the juices from the vine, drink them until the end of time,
Allow the light back into your eyes, before the light chokes out and dies,
Let the warmth spread through your bones again,
Old age will soon become but a fairy tale,
We wish to see you soon and fast, to buy our produce whilst it lasts,
We say it now and we will say it again,
Come buy the fruits from our orchards, come buy, come buy.