Street Society 2012- Transfer tests
From closed school to community centre. Part of: Street Society, a one week design research office
Architecture students from Queen's University, Belfast and Prof Ruth Morrow: Gemma Doherty (project manager), Melissa Arnold, Joanne Macey, Saba Ahmad, Andrew Bryce, Jamie Jackson, Matthew Murnin, Nuoya Liu
Ends 16 March 2012
Street Society is a one-week design research office. It is an opportunity for first year students from both the undergraduate BSc Architecture and the Masters in Architecture course in the School of Planning, Architecture and Civil Engineering at Queen's University Belfast, to work together on a real project for a real client in real time. This year the emphasis is shifting from the urban to the rural and to projects that are in someway set, related to, respond to, or operate in the countryside of Northern Ireland.

PS² and artist/ community activist Anne-Marie Dillon, Ballykinlar, proposed to use the former village school- now for sale- as a site for research and potential alternative for a community centre.
For more information about Street Society see here.

This is the third time PS² takes part in Street Society project
Street Society 2010- Urban Playground
Street Society 2011- Beach huts for Ballykinler
Street Society 2012- Transfer tests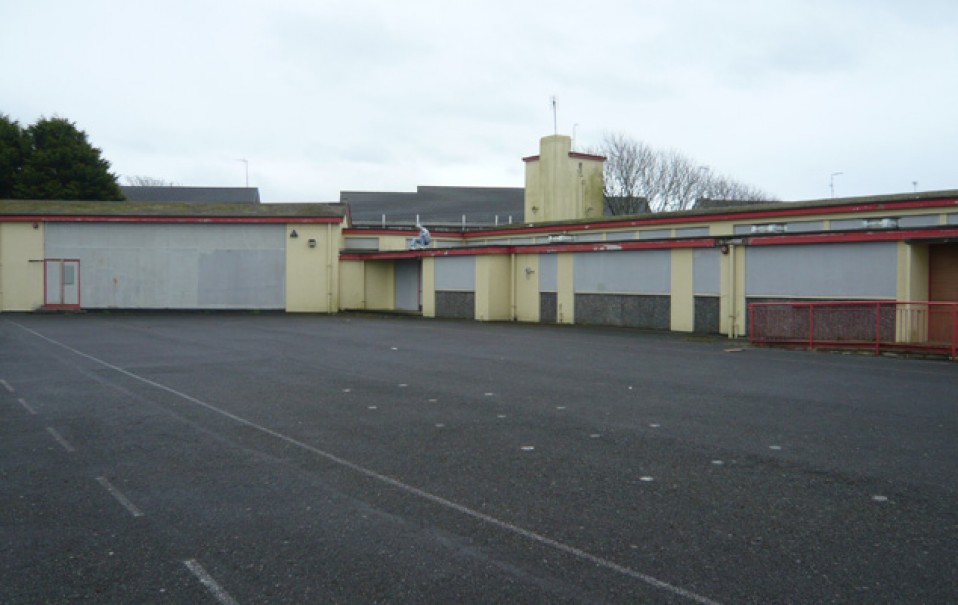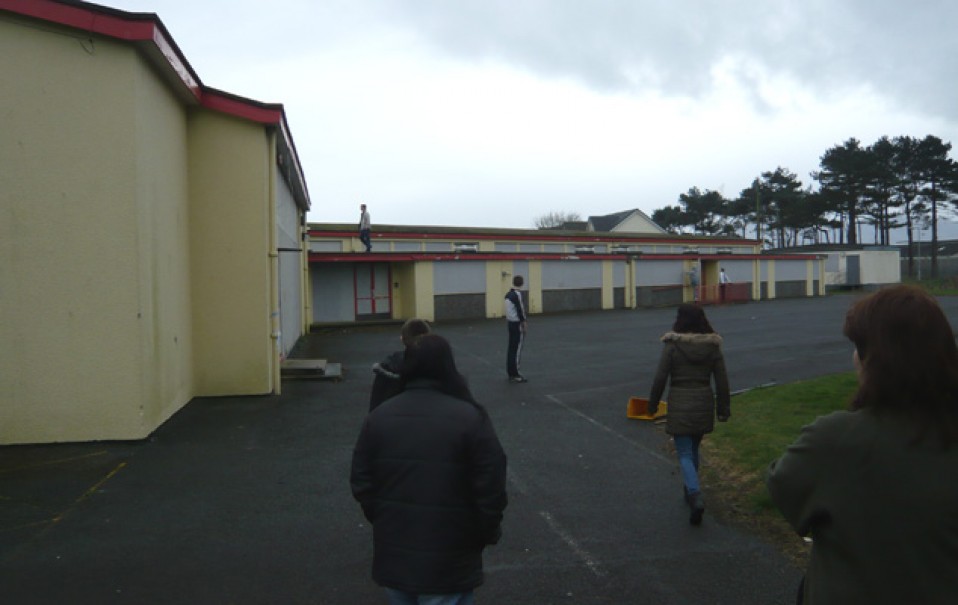 Brief

To propose ways of (self-help) renovation of a former Primary School in Ballykinler, Co. Down and its potential future use as a community centre:
-to research examples of similar transfers of schools from education to community use
-to consult with villagers and Army families
-to suggest a phased renovation plan
-propose a micro scale building programme
-design a sparkling detail (tower extension, space connection…) which transforms the existing building
-integrate a community garden and adventure playground on site
-develop a time plan for the renovation and budget
-consider running costs
-identify possibilities of a community management
-identify income and innovative self-generating funding sources.
Other
- low budget approach
- ecological
- step by step approach (what is the minimum to do).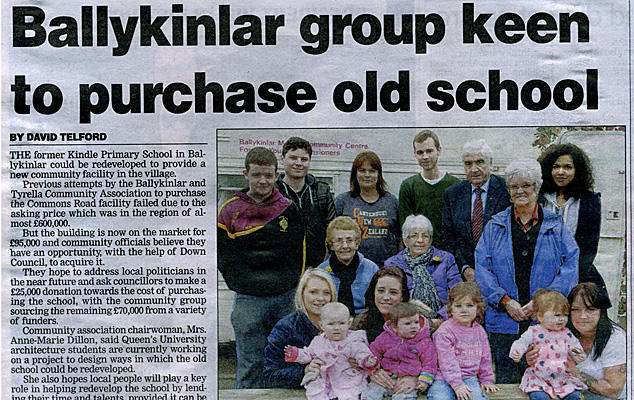 Mourne Observer
About Ballykinler//Ballykinlar
The small village of Ballykinler/Ballykinlar, situated at the southeast coast of Co. Down, is dominated by a British Army site 'Abercorn Barracks, located there since 1901. The village with around 400 inhabitants (and 1200 in the Army Camp) can be seen as a condensed example of rural life in Northern Ireland, with its social and infrastructural problems and historical divisions. Until recently, Ballykinler didn't have a community centre. Only through the activities of a resident artist, backed in parts by a community organisation, first a caravan and since 2010 an empty hair dresser salon was converted into a small community centre. It is now used for many activities, from Bingo for pensioners, Mother&Toddler group to youth clubs; a much need space, already too small.

School
The former Primary School, situated in the village centre next to the Army camp, was closed and boarded up in 2009. It is now for sale from the Southern Eastern Education and Library Board, with 'good development potential for residential units'. In the past, the community has tried to take over the school and even considered squatting it. Recent contacts with politicians and local Councillors have raised hopes for a community take over and use of the school as community centre.

Presentation
The students presented the outcomes of the project in two events
-to the community at the Ballykinlar Cultural Centre (the clients)
-to the public at the Ulster Museum, Belfast.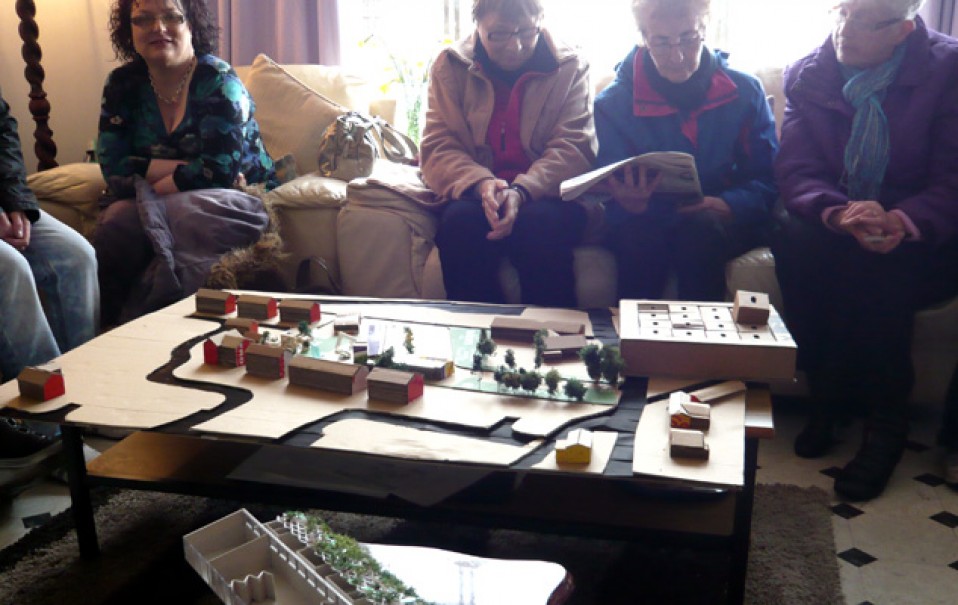 16 March: two presentationsby the architecture students of their proposals: -to the community at the Ballykinlar Cultural Centre (the clients)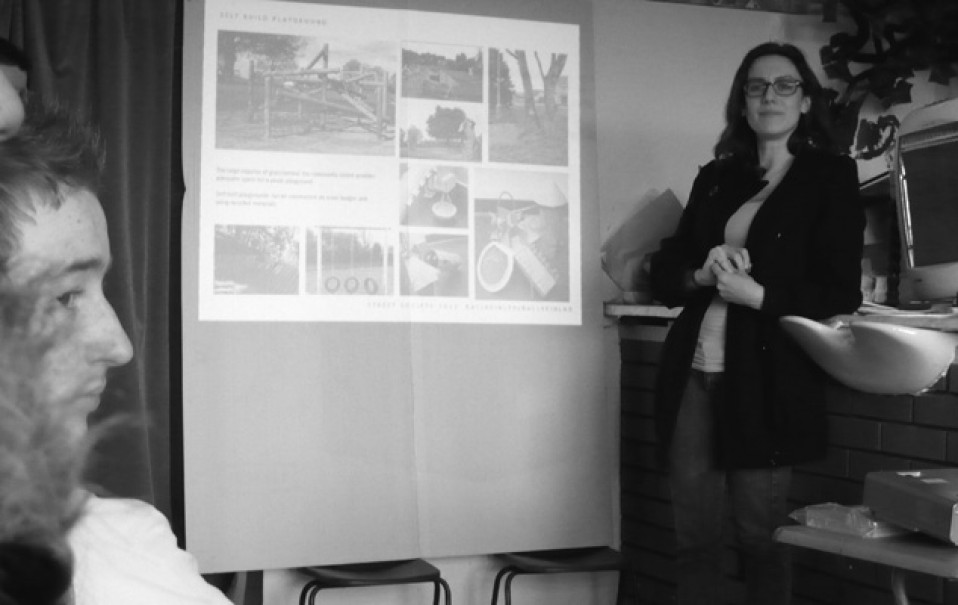 16 March: two presentationsby the architecture students of their proposals: -to the community at the Ballykinlar Cultural Centre (the clients)
Outcome// Proposals Phase 1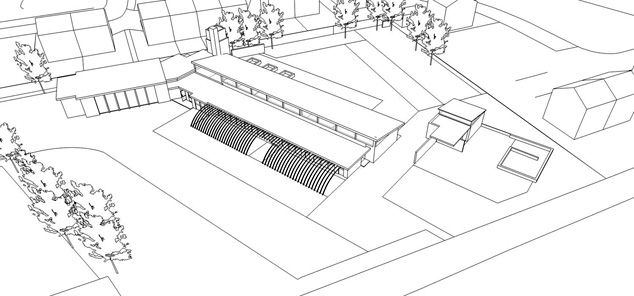 Phase 1 - 2012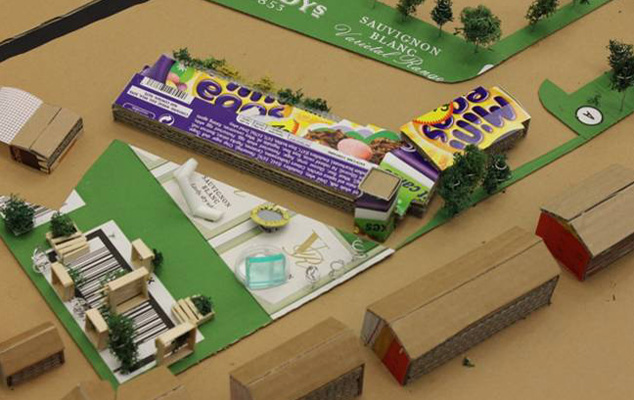 Carddboard model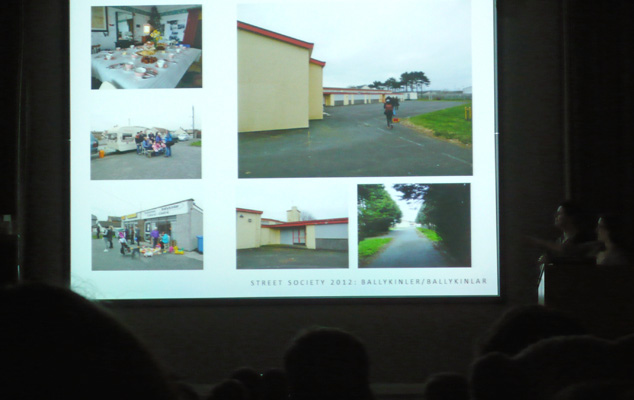 Presentation- to the public at the Ulster Museum, Belfast