Opening
Thursday 07 January 2021, 4-8pm
Opening hours
Tues- Sat 1- 4pm

Right to create
Campaign for assisted studio spaces
Curated by Ngaire Jackson and Bronagh Lawson
Ends 23 January 2021
Everyone has the right to create art and to share the result...shaping your cultural identity and having it recognized by others is central to human dignity. (Francois Matarasso)
Belfast lacks assisted studio spaces for adults, who require some help in their studio practice, perhaps because of a learning difficulty or other issue. Models like KCAT in Kilkenny exist around the world that supports adults and so we ask: why not here?
The selected artists have a love of art and have developed their practice so far on various short term projects at changing locations in the city.
This project wants to show their work to a wider public and offer our space for open workshops and new work.
Through talks and presentations by participating as well as interested artists and organisations, like Moon Base, Belfast, we want to lobby for assisted studio provisions in the city.
The process of working with adults with learning difficulties.
Taking time to watch, listen and learn.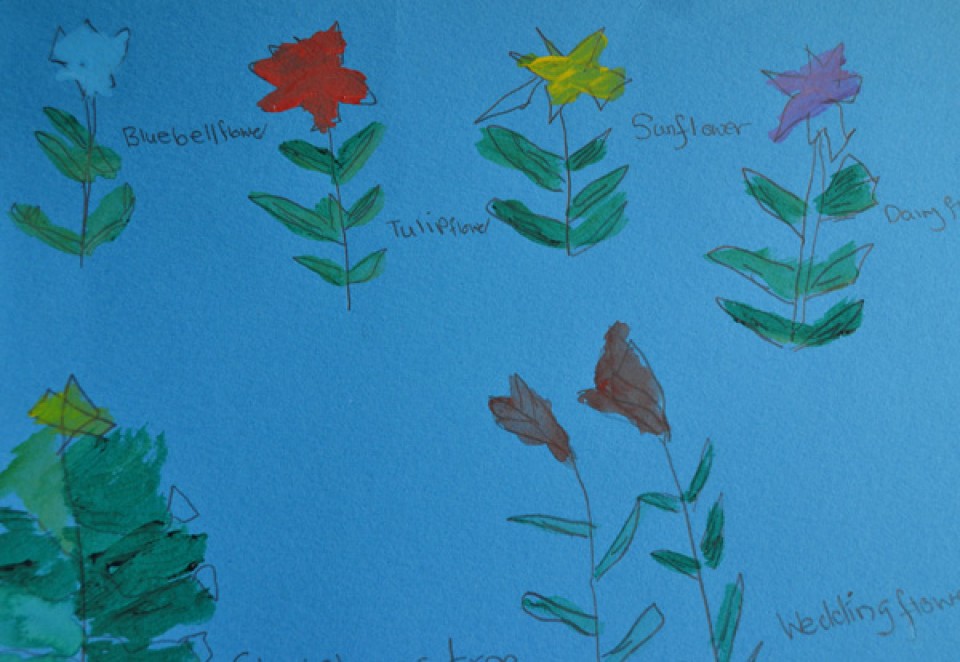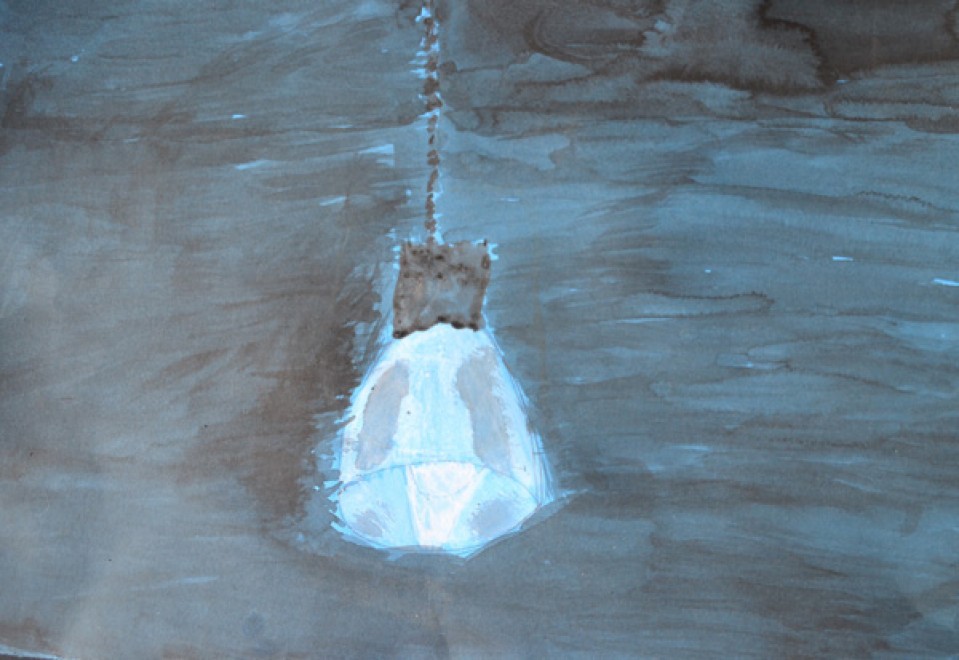 The more time you have and the better you know each other, the richer the communication and therefore the experience. The longer you have to prepare for, and to actually work with individuals with Learning Difficulties, the richer the experience. Work carried out over a number of months, is far more effective than a two-hour workshop – no matter how brilliant.
Taking time to get to know the individuals is key to working with adults with learning difficulties.
Taking time to watch, listen and learn creates a working environment where a very personal visual language is allowed to emerge. A recurring style/motif/colour is part of a rich individual visual language, recognized, encouraged and developed.

Sketchbooks & portfolios

Introducing participants to sketchbooks and the use of portfolios can be been key to the development of their art practice. Sketchbooks can be used at home for self-directed study and portfolios to retain and keep and view the progression of their work.


Make your mark.
How to begin?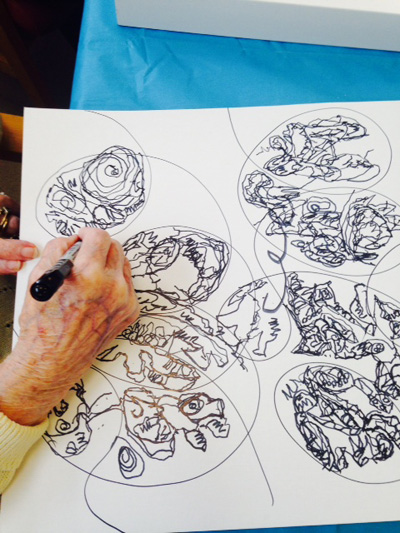 workshop
Using simple drawing tools, paper and permanent single colour markers, participants can be encouraged to simply 'make a mark' and repeat it on the paper, making marks leads to creating beautiful and unique patterns. Working with a permanent marker means 'nothing is wrong', nothing needs to be rubbed out, or indeed can be rubbed out. Every mark matters. This activity is designed to be failure-free with instant results and can be the catalyst for building confidence in adults with learning disabilities to draw, paint and create.


Experimenting with materials & techniques

Using a combination of different media gives participants more ways to express themselves. This may be as simple as combining drawing and painting or creating a background of different papers to work over with paint or ink. It is interesting to explore collage techniques, or to use found objects.
The opportunity to try out different materials and techniques forms an integral part of the process from drawing and painting and collaging, watercolours, acrylics, oils and clay, a rich abundance of choice of materials, old and new techniques, provides for a rich and awarding experience in the creative process.


Why the need for assisted studios

Everyone, regardless of ability should have access to a creative world – as students, participants and artists.
There is no dedicated art space for people with learning disabilities in Northern Ireland. For people with learning disabilities assisted studios would provide a stable and assured continuity in their lives where students could realistically aspire to a meaningful art practice.
What adults with learning difficulties need, is very basic; a secure place to progress their work, plus a sense of like-minded people nearby.
And time.
A space that you could really call your own and build a practice.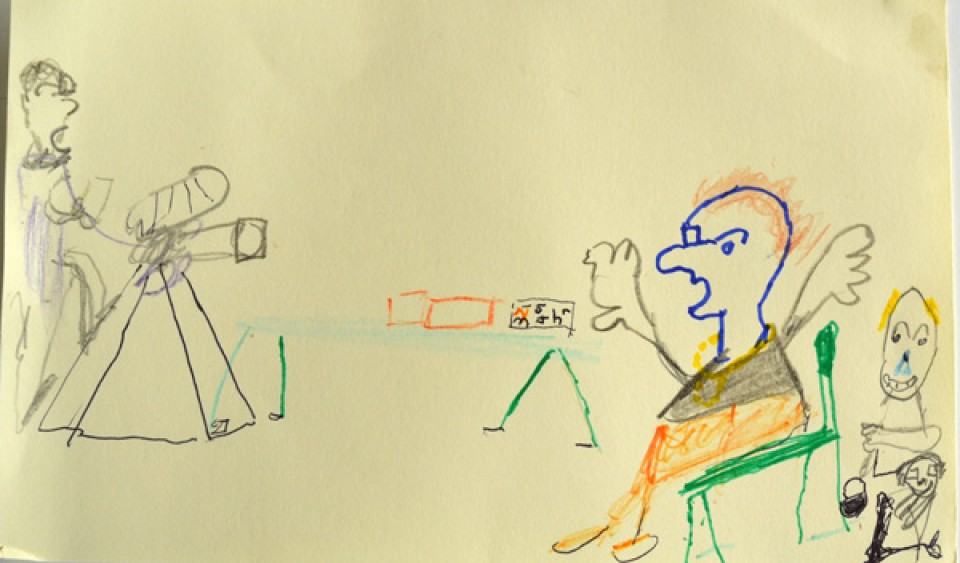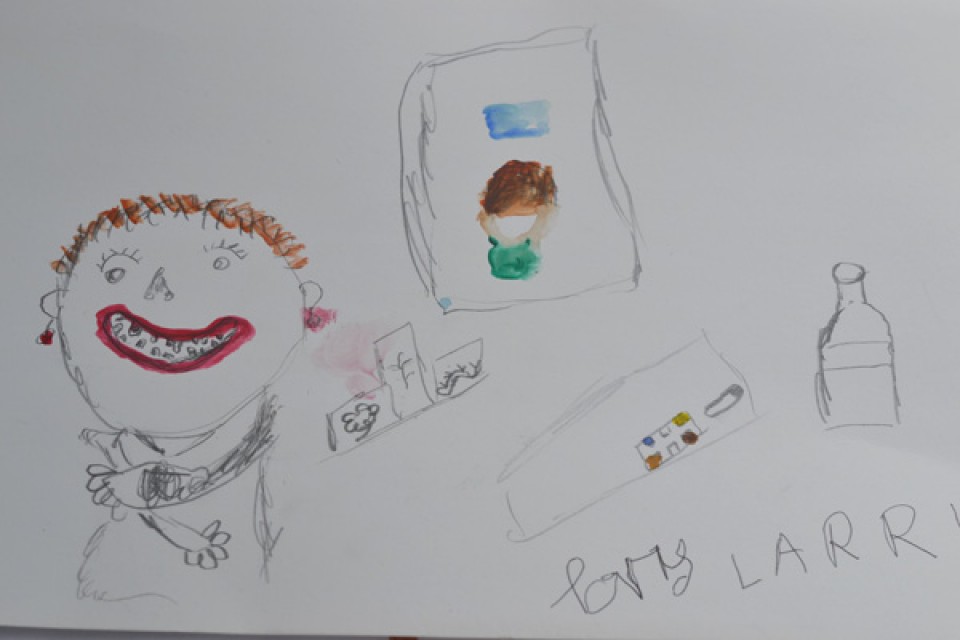 This project also includes the outcome of the Tangible Selves project and a documentation of the online work process
right to create will show the work of artists who need support in their practice and campaign for assisted workplaces in Belfast/ Northern Ireland.
Through talks and presentations by participating as well as interested artists and organisations like Moon Base and University of Atypical, we want to lobby for assisted studio provisions in the city. Two talks will be organised:
1] KCAT Kilkenny representative will share best practice (most likely in an online event)
2] About us. Participating artists discuss their practice with Bronagh Lawson and Ngaire Jackson, who have been working alongside them.
About the artists
Larry
Larry's work reflects his interest in the everyday, what is going on around him. He draws mostly in pencils and felt pens, using bright, primary colours whilst carefully thinking about each image and composition. He works from life and memory, and makes images of everyday life in Belfast, portraits of characters, and scenes informed by visits to shopping centres, parks etc. Words are also very important to Larry: he transcribes words into journals and notebooks. There is a strong narrative and illustrative aspect to his work. His drawings range from stark graphic simplicity to complex narrative pieces, all linked by his unique gentle humour. Often Larry's written ideas merge together creating intriguing titles for work. Poundstretcher on a Sunny Afternoon, Leaving Belfast in a Hot Air Balloon.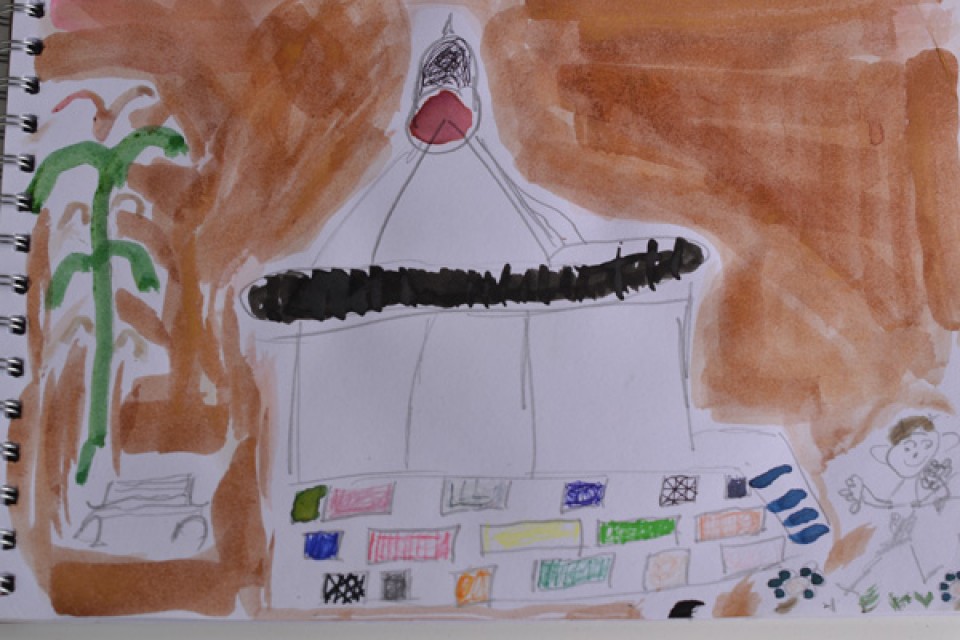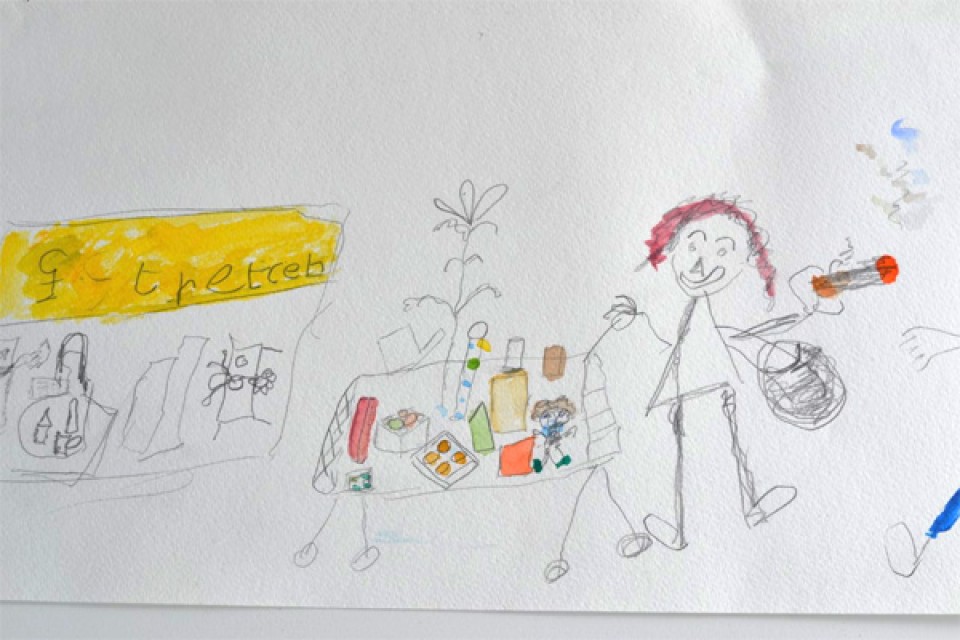 Kieran
Kieran has a manipulation of his materials that consumes the page with a soft, fluidity. Working in a moody, colourful style, he recreates still-life objects in a particular blend of still-life serial-ity. With a love of simple form bounded by strong spatial awareness each composition is always aesthetically appealing. He chronicles the banal with a uniquely activated script. His drawings of pot-plants, chairs, light-fittings etc. reflect on his quiet personality as well as his innermost thoughts and feelings.
Sandra
Sandra loves painting and experimenting with different media to create her artwork. Her large colourful paintings are sometimes brought together into freeform books which seem to tell a visual story that she delights in narrating. Her work is intuitive, intimate and quirky. It suggests animated people, objects, and landscapes that capture her unique and extrovert nature.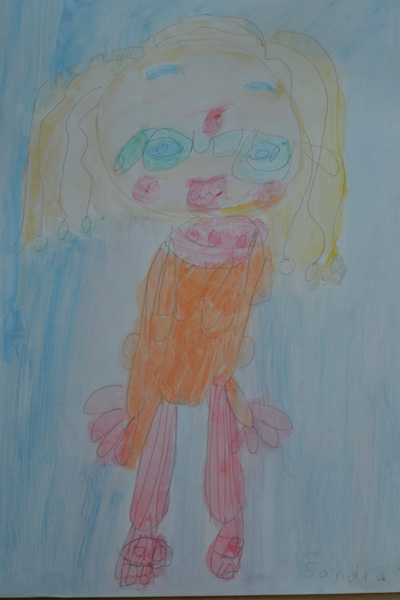 Sandra
John
John's drawings explore the human form. He works in pencil, watercolour and acrylic, sometimes sketching experimentally and at other times creating confident, portraits of himself and the people around him.
In recent works he has experimented with abstracting the human figure: either simplifying it or depicting it in a way that isn't necessarily straightforward, often distorting elements of the body. John's twisted figures express a sense of the psychological pain and anguish that people sometimes experience.