Return Of Crashpad
In conjunction with Visonic Festival
Curated by Allan Hughes
Ends 05 June 2006
Having delved back into it's dusty box of treats (The Return of) Crashpad is delighted to present you with, The Complete Shimmy Disc Video Experience.
Founded in 1987 by Mark Kramer, Shimmy Disc was New York's premiere independent record label. Encompassing the breadth of musical innovation that was taking place in the the late eighties and early nineties, the label was responsible for releasing recordings by the likes of Bongwater, GWAR, King Missile, Ween, Daniel Johnston, Ruins, Galaxie 500, Shockabilly, Jad Fair and many, many more. As with many great things, personal differences and ensuing legal proceedings conspired to destroy the label and so it all ended nearly as quickly as it had begun.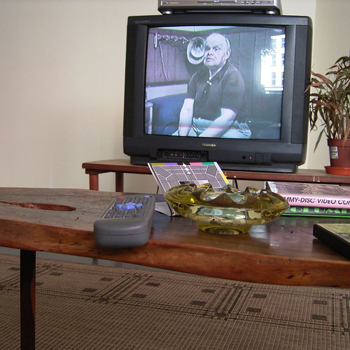 Installation view
While some of the back catalogue remains in print, the three VHS video compilations Shimmy Disc released have been lost to the format graveyard, languishing on the shelves of careful collectors or the blissfully ignorant.
Fear not. They are about to rise again. Pre-dating the MTV 'Alternative-Nation' and the musical culling fields that were the "grunge explosion" the videos contained herein provide a rare glimpse of the music video as art form and have probably received next to no air-play beyond public access television and home viewing.

Rough and ready they were all shot on cheap VHS equipment or super-8 film and produced by the bands themselves, or at best with the help of a few friends. No hi-tech digital trickery here (it hadn't been developed yet), no swarming casts of extras (they couldn't afford it) and no superstar guest cameos (unless you count Ann Magnuson). Here they are for your discerning, viewing pleasure.