Distribution cycle
Saturday, 20 July, 2pm Botanic Park, front gate -Stranmillis Road

Opening hours
Tues-Fri, 1-5pm, Sat 11am-3pm
Papergirl
Julie Steenson, Jodie Young
Ends 06 July 2013
No, Papergirl doesn't have anything to do with a feminist revolt against the male/ boys- dominated distribution of newspapers.
But it is a revolt nevertheless: for a democratizing of art in the broadest sense; who makes art, where is it seen and who takes it home. The catchy slogan of the papergirl could be: Everyone is an artist, everyone is invited to show, everyone- with luck- receives a work of art. Where such a storm to the galleries and the abolition of curators ends can be seen in PS², with its walls covered with drawings and printed volumes of poetry on tables. The best: it will all be distributed in late July to lucky new owners, handed out for free on random bicycle tours to unexpected passers-by. Have your free art, and see what you could get now.
Papergirl is a non-commercial, guerrilla initiative that brings art to the streets in an alternative and dynamic way by distributing unique rolls of artwork freely and at random to lucky strangers via bicycle.
Drawings, paintings, photographs, illustrations, prints, textiles, stickers, T-shirts, poems, prose and zines – basically anything that can be rolled up – will be collected and showcased in an anti-curated exhibition at PS² before being shared with the local community.
The Papergirl project was founded in Berlin by Aisha Ronniger in the summer of 2006 in reaction to tightening German graffiti laws. Since then, its participatory, non-commercial and DIY spirit has seen it become an international creative movement, and today Papergirl takes place in over forty cities worldwide. Now Belfast is getting in on the action!
Papergirl is a completely inclusive project, so anyone can take part. You don't have to be from Belfast to participate, Papergirl is open to local, national and international artists. Both emerging and established artists are invited to get involved and all work submitted will be featured in the exhibition.
For PS² which usually works within a parameter of artist autonomy, selection and curatorial input, the papergirl set up is a fresh and welcome initiative with its anti- elitist and democratic approach. Not quite -everyone is an artist-, but definitely everyone is and can be creative.

Papergirl, Belfast, is organised, circulated, collected, photocopied, installed and distributed by Julie Steenson and Jodie Young.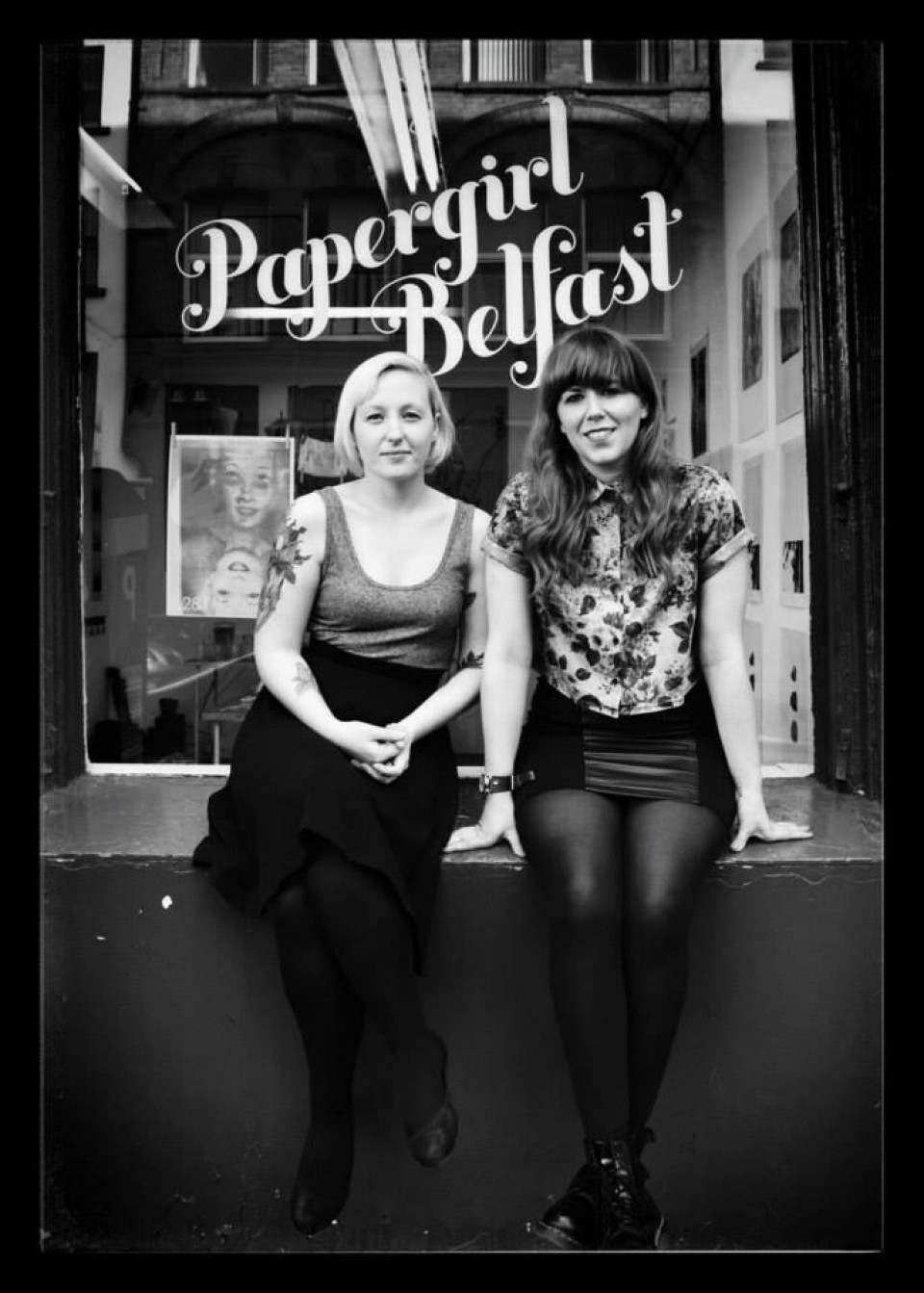 Julie Steenson and Jodie Young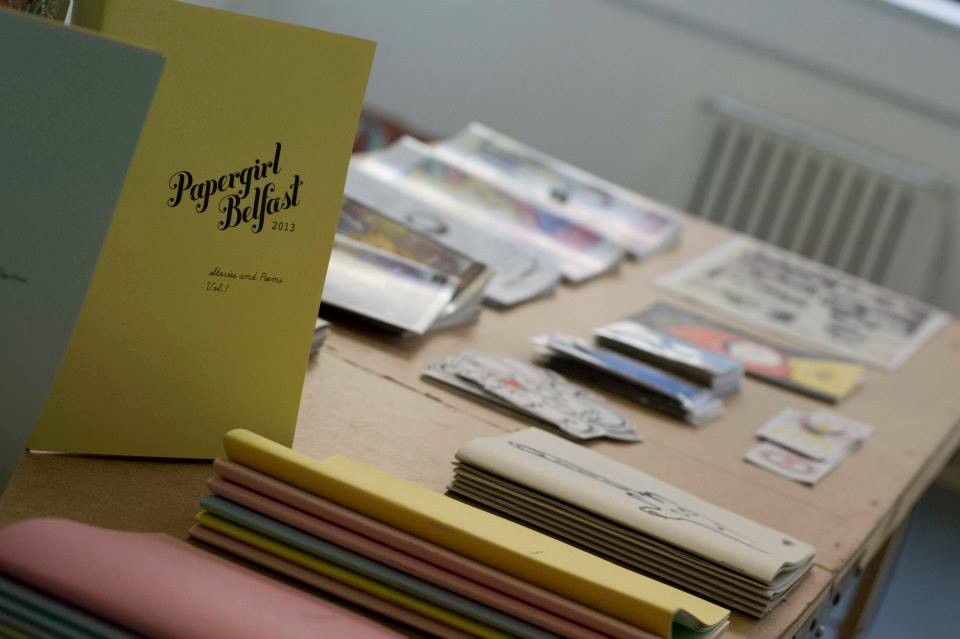 How to get involved
We invite visual artists, graphic designers, illustrators, photographers, poets and short-story writers, crafters, and zine, comic and sticker makers to submit their work. Musicians can also participate by presenting links to their Soundcloud, Bandcamp or MySpace pages along with their artwork. There are no guidelines as to medium, the only real requirement is that the piece be flexible enough to be rolled up.

Deadline for submissions: 21 June 2013.

For more information about the project and how to take part visit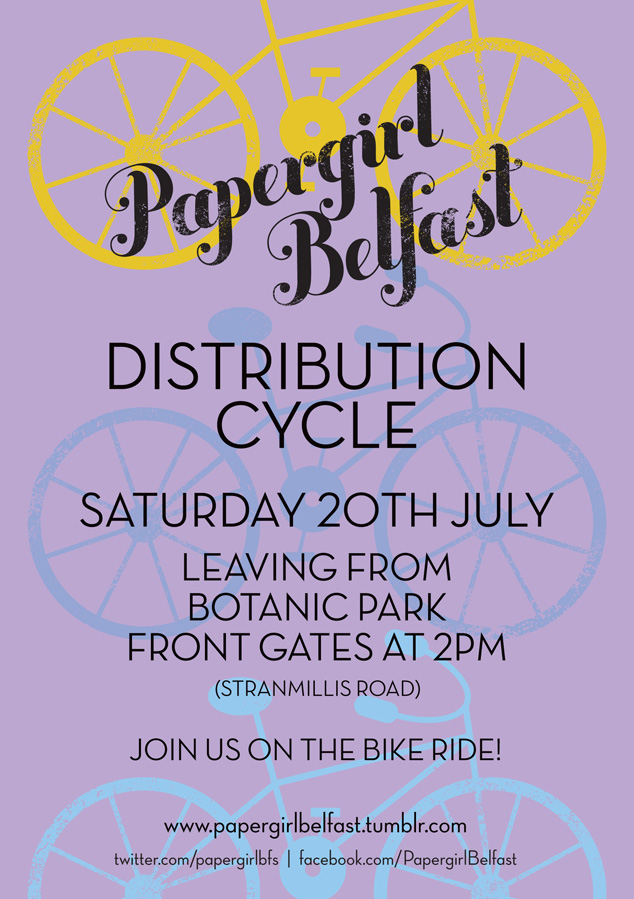 FAQ
What is your mailing address?
Papergirl Belfast
 c/o Mammoth 6 Clarence Street Belfast Northern Ireland BT2 8DX
Where can local artists drop off their submissions?
We have a convenient drop-off location in the Belfast area. Just bring your art to Mammoth at 6 Clarence Street, Belfast, tell them it's for Papergirl and we'll collect it.
Can I send my pieces digitally?
For written submissions, you can email us at papergirlbelfast@ymail.com and we will take care of the printing (although you might prefer to handwrite or type your piece). Unfortunately we cannot accept digital versions of visual work via e-mail or CD.
For more FAQ's see.