Opening
Thursday 31 March 2011, 6- 9pm

Opening hours
Fri, Sat 11am- 6pm, Sun 1- 6pm
MULTIPLE
Sinead Bhreathnach-Cashell, Charlotte Bosanquet, Martin Carter, Ben Craig, Fionnuala Doran, Ciara Dunne, Phil Hession, Helen McDonnell, Miguel Martin, Simon Mills, Ryan O'Reilly, Catherine Roberts, Duncan Ross, Gemma Withers- organized by Catalyst Arts
Ends 03 April 2011
MULTIPLE by Catalyst Arts is a 'retail' exhibition and pop-up shop featuring art works, souvenirs, collectables, posters and paraphernalia by Belfast based artists, organised by Catalyst Arts and in partnership with the British Council.
Expect curiosities and wry insights into the city by Sinead Bhreathnach-Cashell, Charlotte Bosanquet, Martin Carter, Ben Craig, Fionnuala Doran, Ciara Dunne, Phil Hession, Helen McDonnell, Miguel Martin, Simon Mills, Ryan O'Reilly, Catherine Roberts, Duncan Ross, Gemma Withers. For more information see Catalyst Arts and the British Council.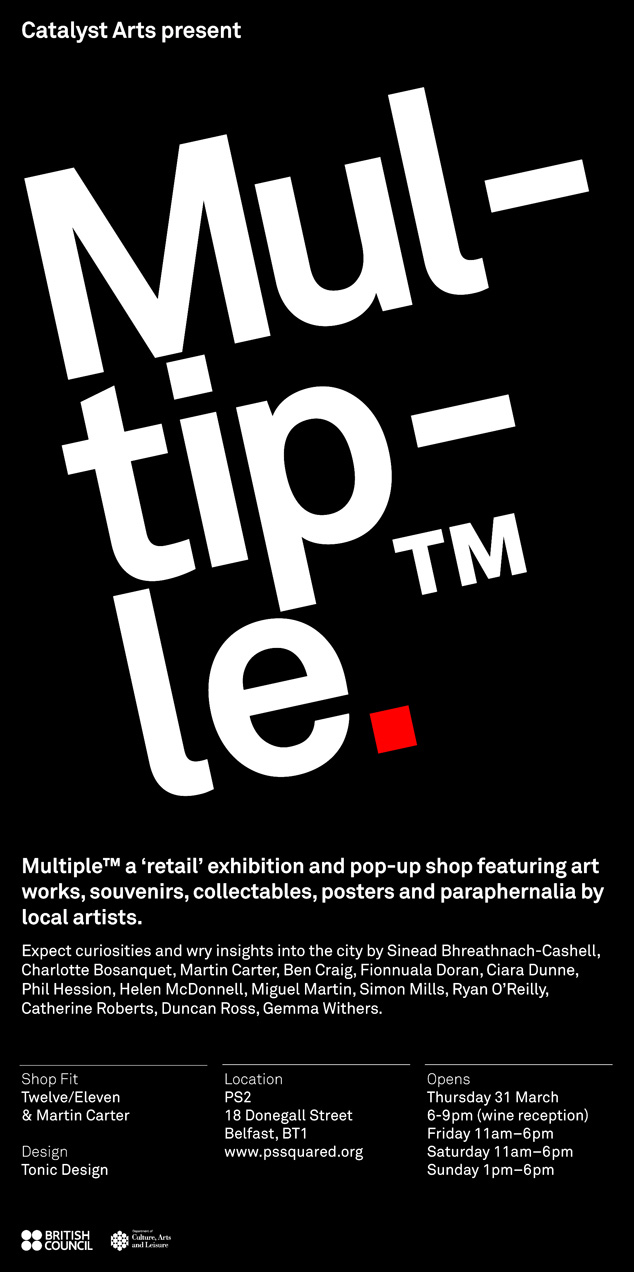 Poster
Multiples, money and art for all
Like many artist-led and voluntary run initiatives, Catalyst Arts- the organisers of this MULTIPLE project and PS² are strictly not for profit organisations and position themselves miles away form any commercialisation of art. Sales are- or were- taboo.
Money however isn't- if it comes to funding. For PS² with its socially engaged vision of art and anti-materialistic attitude, this source of income is welcome and necessary. And through this neat door – and open to criticism- we are part of the art economy, with our without sales.
The intention and economy of multiples in art sits somehow in between aspects of social accessibility and the market.
Multiples are images and objects produced in small editions, not unique and bespoke, but limited enough to be rare and – affordable (nearly) for all.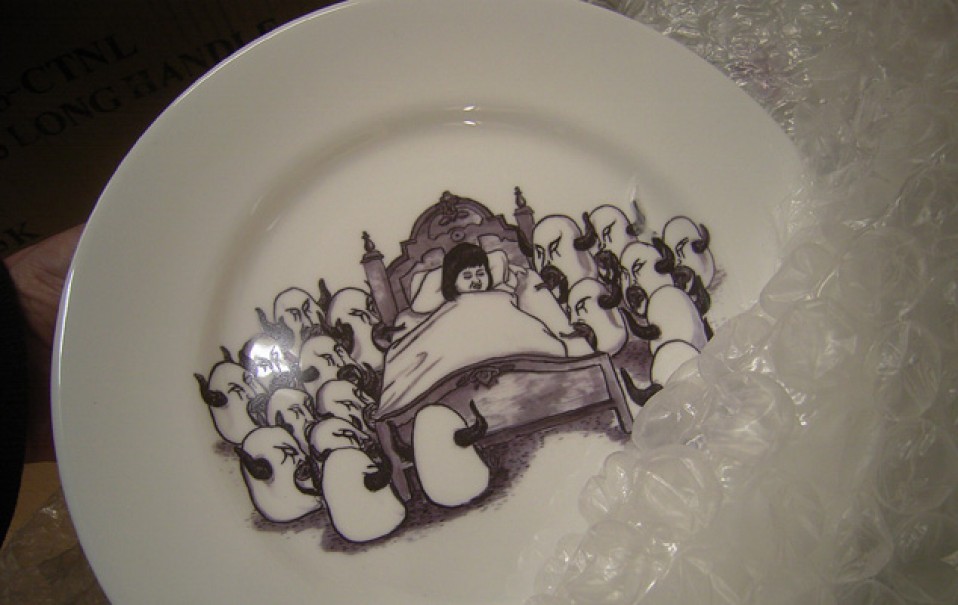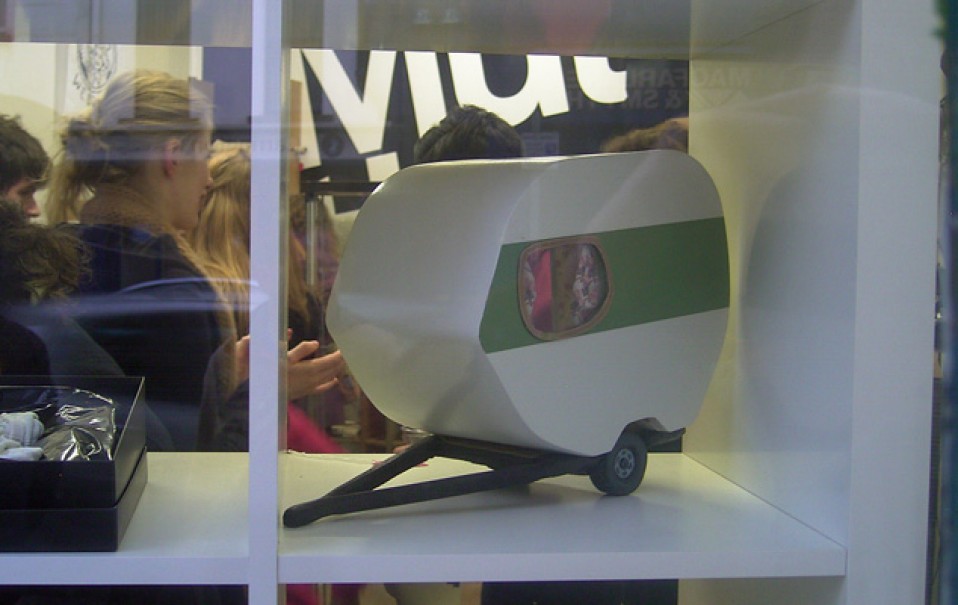 Caravan- Catherine Roberts
Artists in the 1960's, engaged in social and political activism, started to subvert the commercial world of art galleries and markets by opening their own, collectively run places with 'producers' galleries. The multiple became the form of small scale production, making art cheaper and therefore affordable to more people. Real and good art not just for the living rooms of the rich, but for the working classes as well. In that sense the multiple represented a form of democratization in the art market of the1960's and 70's.
'Art for all' was a slogan then, with exhibitions on streets and factory halls and with Joseph Beuys as one of the leading artist. From 1965 to 1985, he produced hundreds of multiples, from prints, objects, photos, films and tapes. Self produced or commissioned by a gallery or publishers, they found their way into ordinary peoples life (and that of collectors).
Catherine Roberts: Caravan A similar spirit reoccurred in Britain in the early 1990's. Tracey Emin and Sarah Lucas revived the by then dusted form of production and dissemination in their self-managed shop in London in 1993, selling their printed mugs and T-shirts .A short lived enterprise, absorbed by the art market and fame.
For this MULTIPLE project, the British Council commissioned work by 22 artists. This is seen within the British Council's wider programme, to ' contribute to the local and global economy by supporting and distributing the work of artists and architects, creative entrepreneurs and policy makers'.
On display is now the creative production line, limited editions of mugs, plates, caravans, tables, bags and more.
All for sale, art for all, taboo or not.