In her shoes
A male perspective on sex trafficking
Dylan Quinn, Andy Garbi
Ends 23 February 2008
This live dance and sound installation has been commissioned from sound artist Andy Garbi and dancer Dylan Quinn. Andy Garbi is torch bearer for cross-genre music whose cutting edge composition and vocal work has gained him many awards. His distinctive voice spans almost four octaves and his debut album 'the sound of one' is released this month.
Dylan Quinn is a renowned dance artist based in Fermanagh, who produces issue based dance work that challenges and provokes.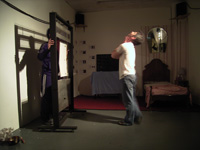 Performance still
'In her shoes' is their first collaborative performance together, exploring the role of the arts in tackling moral, social and political issues affecting society today.
Maiden Voyage is Belfast's only contemporary dance company. Established in 2001 by dancer Nicola Curry the company works with local, national and international artists to evolve the practice and performance of dance in Northern Ireland and nurture indigenous talent. The company produce and tour newly commissioned dance work with original sound commissions.
This project has been supported by the National Lottery through the Arts Council of Northern Ireland and Belfast City Council.