Opening
Cancelled....
Thursday 22 October 2020, 4-8pm
Opening hours/ closed




Flowers from the East
John Baucher
Ends 14 November 2020
This exhibition is inspired by a charity shop find of a tourist souvenir album of postcards and pressed flowers entitled "Flowers from the Holy Land" dated 23/12/26.
John Baucher is referencing this book, found in Belfast depicting city views of Jerusalem combined with individual specimens of flowers. But he goes further, dealing with man's determination to quantify and categorise, not just for pure scientific purposes, but in order to build and control an empire.
Over the past 3 years Baucher has documented flowers growing in the cracks of over looked urban spaces in his neighbourhood we all know and see, yet ignore. For Baucher, they signify resilience and the circle of life. Despite being sprayed yearly with pesticides, they still persist.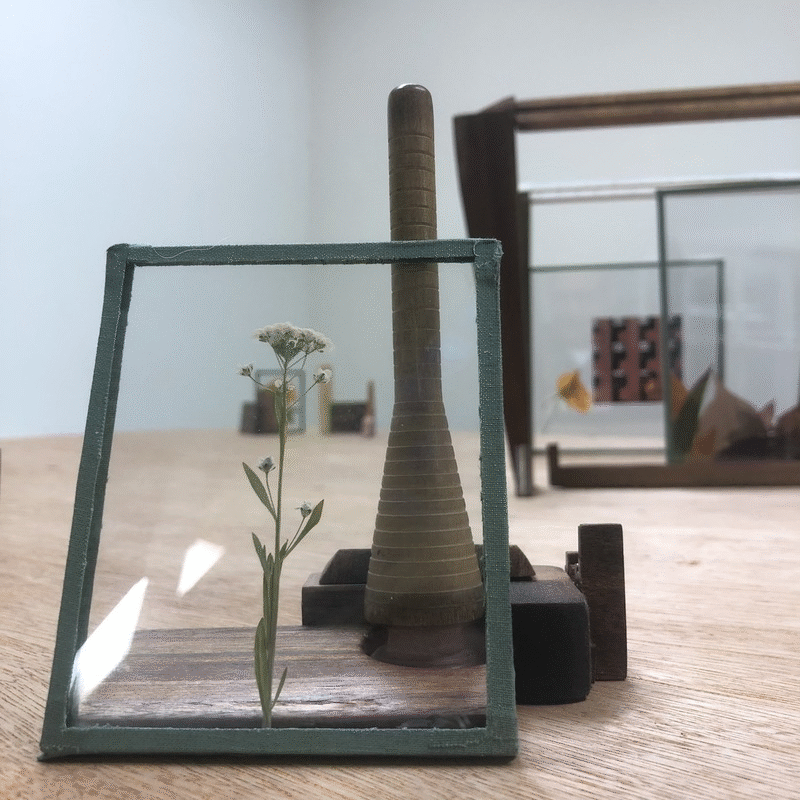 This exhibition brings together photography, artefacts and craft with bespoke handmade mahogany and walnut cradles with wooden carpenters rulers as part of the framing. The work references scientific slides, glass negatives and is a nod to the industrial heritage of Ballymacarrett, where Baucher lives and works as an artist of the Vault Artist Collective.
Baucher's treatment of the wooden rulers is respectful and as non-invasive as possible, complimenting and enhancing the multi layered 'slides' he has created.
This postponed and now closed again exhibition due to Covid-10 restrictions marks a further step forward as Baucher continues his exploration of identity with lived experience, artefacts and imagination.

Despite the currently non-public nature of this project, the artists will document the installation and work-in- progress development in various filmic ways, soon to be here on the site.
To read an interview with John Baucher with CAP see

John Baucher lived in the Armenian Quarter of Jerusalem as a 22 year old, but sadly there are no photographs of that period of his life. For the artist is partly a chance to examine his emotional response to this tourist memento having found it here in Belfast. It is also a statement about the built environment particularly in the area that he lives in close to The Short Strand/Bryson St interface. Furthermore the increasing awareness within the loyalist community to take ownership of their history to provide a "tourist offer" also informs the work. The dichotomy of wild flowers flourishing within the harsh urban environment is a statement of fortitude.
'Flowers from the East' will comprise of 12-18 wall mounted prints and flowers and a handmade book comprising 12 scenic views and a matching set of 12 pressed flowers all of which will be in the scenic view.
Research, studio wall, 20.10.2020