Opening hours
Tues- Fri 1-5pm, Sat 11am-3pm
Fitted and Tailored
Images and representations of young women'
A project by YouthAction NI with young women in Northern Ireland
Ends 10 March 2012
This project by YouthAction NI with nearly one hundred young women throughout Northern Ireland will present the outcome of workshops around physical and emotional conditions and feelings, expressed through small scale sculptures of torsos. The female torsos, approx. 30cm high, have been designed & decorated by young women as a comment on self-image, representation of young women, issues they face, and aspirations. The torsos are accompanied by messages created by the young women to illuminate their thoughts and explorations through the process.
The art project and public installation is created by YouthAction Northern Ireland's Gender Equality Unit to commemorate International Women's Day, March 8th, 2012.


YouthAction NI describes the project

Aim
To explore and exhibit the diversity of young women's issues, hopes and aspirations across Northern Ireland.
Objectives

-Young women will use various tools and resources to create and design their torso in a way that they feel best represents their experiences, thoughts and feelings about being a young woman in Northern Ireland.
-The diversity of the projects within YouthAction NI will cover various themes and show how robust the experiences of young women are i.e. Peace building, Mental Health, Sexuality, Young Mothers, Domestic violence.


About YouthAction Northern Ireland
YouthAction Northern Ireland is a regional voluntary youth organization located in College Square North, Belfast and our regional offices in Armagh, Ballygawley, Enniskillen, Newry and the North West.
YouthAction Northern Ireland works with young people to support them as active and equal citizens whose voices are heard, respected and valued.
The Gender Equality Unit works with those young women who are most excluded from resources and society to try to improve their access. The Gender Equality Unit works to raise young women's expectations of what the world has to offer them and generate the skills to achieve these.
The Gender Equality Unit challenges traditional expectations of young women which deny the potential of and the opportunities for young women.
The GEU works strategically to redress imbalances and inequalities facing young women, through the development of training, networking, developing models of effective practice, research and influencing policy.


Young women 'Building on Peace
This is a group of young women aged 17 to 25yrs. This group of young women explored the theme of gender and peace building exploring
what it is like to live as young women in Northern Ireland. The young women used the Fitted and Tailored project as their opportunity to explore their experiences, attitudes and aspirations and finally
designed their bust in a way that they felt represented a key message
for them within the area of gender and peace building.

Mentoring
Two young women take part in mentoring regularly. Their bust represents some of the common threads within their lives that can
occasionally hold them back from what they would love to achieve
as a young women.
Young women and peace building project- Holy Trinity
YouthAction in partnership with Holy Trinity Youth Centre have hosted a young women's peace symbols project. These young women followed the process of; exploring life as a young woman and how gender can impact upon decisions and opportunities; exploring their experiences and attitudes towards conflict and peace building within their community and Northern Ireland; Uncovering their hopes and aspirations for the future of peace building in their community. At the end of this project the young women created a peace symbol which was a poem scribed onto a clay plaque. To compliment their symbol of peace and take up an opportunity to be further visible in their community and wider society the young women took part in fitted and tailored. Their busts very much emphasis what they hope for the future of their community and Northern Ireland.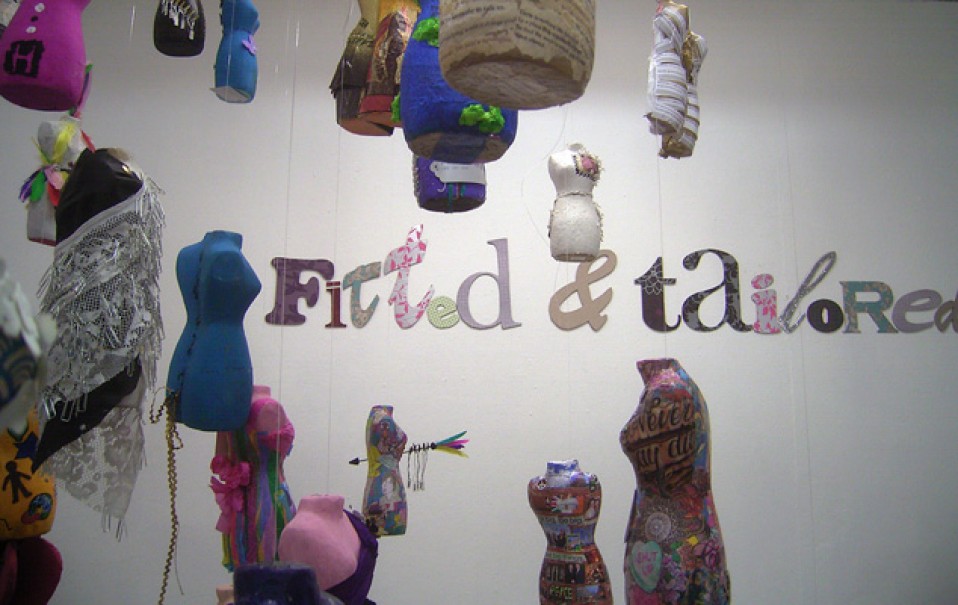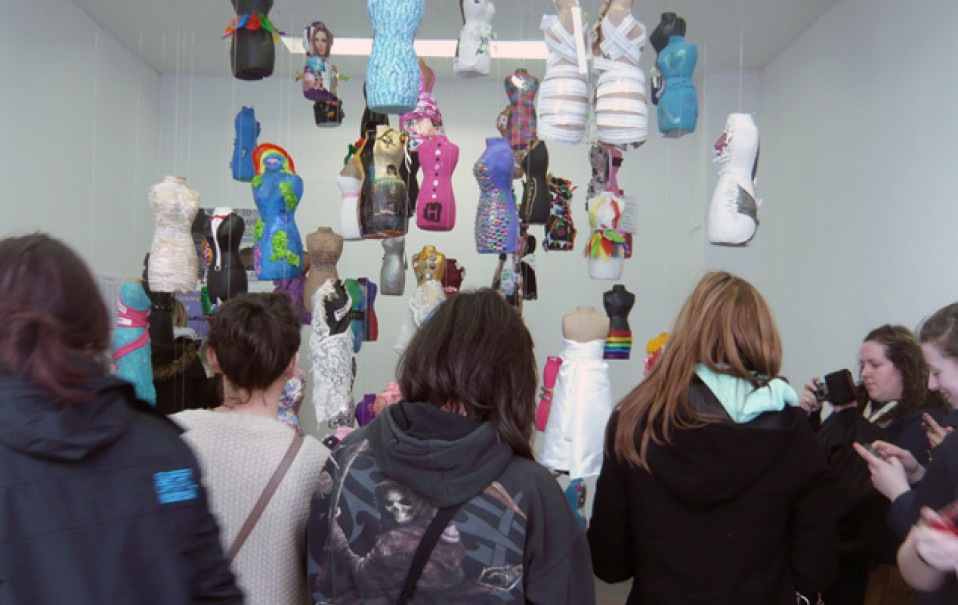 BallyKinler
BallyKinler Young mothers group is based inside the Army Barracks 'behind the Wire' these young women are serving soldiers wives and have found it difficult settling into Northern Ireland due to the nature of their husband's jobs and the strict guidelines they have to follow. This project enabled them to interact and engage with other young mothers from a different community and also develop new skills such as money management, health and wellbeing, Youth work training at level two
and interior design.
'Fitted and Tailored' has encouraged these young women to explore their own thoughts and feeling in regards to the issues they face in their lives, it has been an opportunity to share and acknowledge their feelings and how they have been represented within their community.

Footprints Women's Centre
These Young mothers are newly Formed group and 'Fitted and Tailored' has given them the opportunity to develop new skills and direct key themes within the programme. The project has encouraged the young women to support and get to know each other through sharing their own life experiences and developing an understanding of each other.
I.D Girls
The group from Derry~Londonderry are called I.D girls and are part of the Rainbow project. This is a group of young women who identify as other than heterosexual. This group was set up as a supportive network for young women in the Derry~Londonderry area and has very quickly turned into a very proactive and passionate group having been involved in many different research groups, supporting Gay Pride in Derry and taken part in the Safe and Sound programme with YouthAction Northern Ireland.
By taking part in 'Fitted and Tailored' the young women wanted to show others that there's more to them than just their sexual preferences and whilst this is important to them they all have a unique and exciting story to tell you of their lives.
Fitted and Tailored Young Women Group from Right Here Fermanagh
Right Here is a partnership programme of the Paul Hamlyn Foundation and the Mental Health Foundation. Right Here Fermanagh promotes the positive mental health of young people aged 16 – 25 in the Fermanagh area. The project challenges the stigma associated with Mental Illness, promote new ways of improving the mental health of young people at risk of mental ill health and influences policy to improve existing mental health services for young people.
Out and About Belfast Group
The Out and About Project works with young women who identify as other than heterosexual (aged 16-25 years old). The project has weekly group meetings, one-to-one mentoring and on-going projects running consistently throughout the year. The young women have been involved in a multi-media project, creating a sculpture called Lily, a Creative Writing Notebook and a young women's sexual health resource pack called The "L" Pack. The project has not only allowed them a means of talking about and highlighting personal issues but also raising these issues in a larger public arena.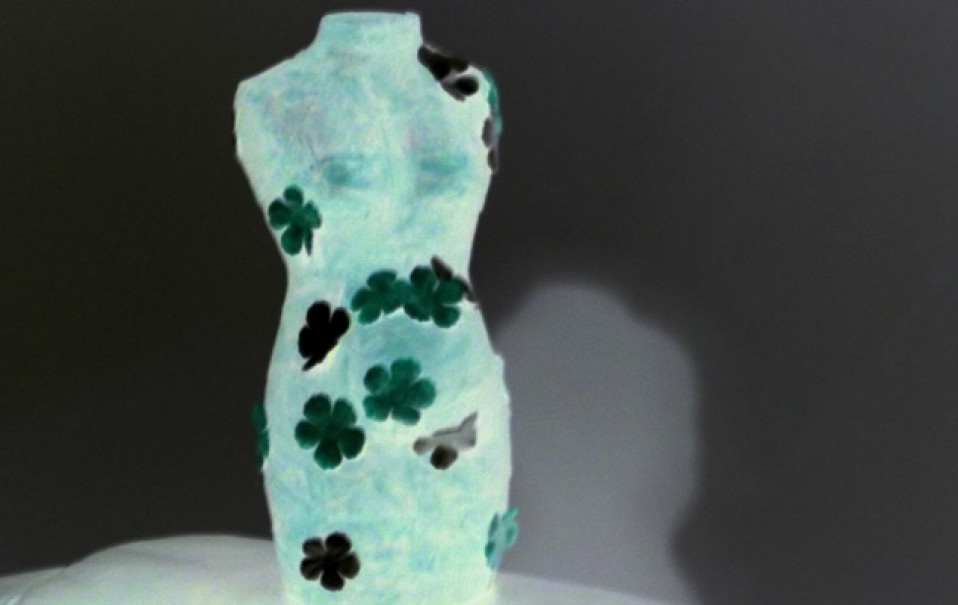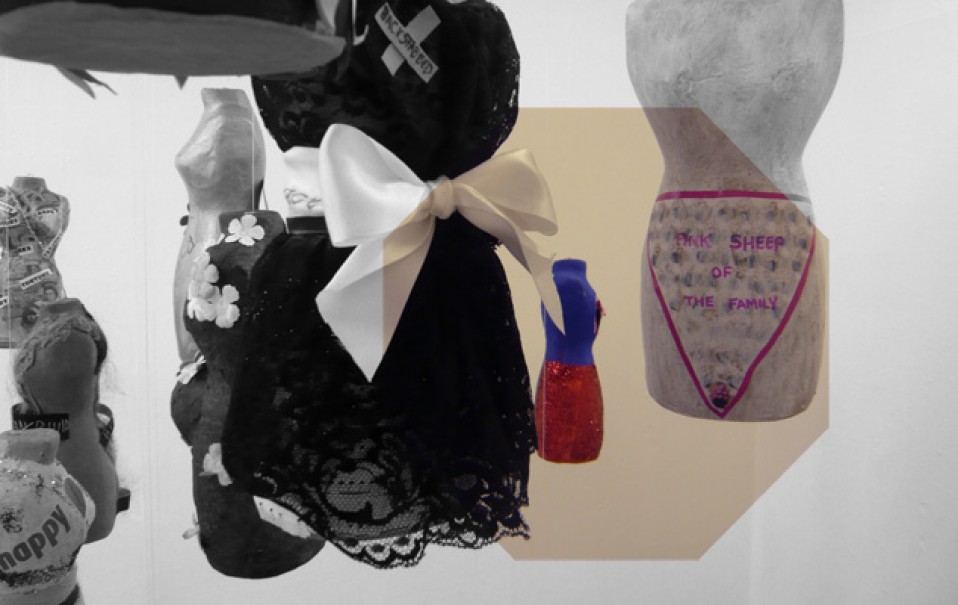 Participants
Claire Murphy Natalie Feerick Christina Johnston Christina McIlwaine Carolann Hillman
Amber Little Emma O'Hara Colleen Lawell Catherine Morgan Rachel Turner Louise Masterson Emma Courtney Colleen McClean Caoimhe Devine Cliodhna Conlon
Colleen Ireland Bethany Stevenson Lianne Thompson Doreen Obeng Olivia White Hannah Reihill Gabbie Smyth Sinead O' Neill Paula Mallon Gemma Carters Carmel McGrath Schere Montgomery Kitty McElroy Edel Quinn Shaina Dillon Lorna Coalter Kate Ryan Marie Burns Tanya Smyth Naomi English Trisha Wilson Lauren English Natasha McFadden Danielle Swaffield
Kelly Ann Owen Tracy Smith Emma Elliott Nicole Reihill Jolene Mc Cahery Bronagh Curley
Margaret Rose McLaughlin Shona Tully Jamie Louise Copeland Aislinn Morrison Chantelle Ryan Debbie- Jo McCann Shauna Coogan Sinead McKenna Una Beales Grainne Meehan Melissa Carville Natalie Corbett Shauna Hampstead Corina Doherty Karan Conlon Siobhan Grey Kerrie Costello Donna Mc Feely Emma Johnston Shannon CooneyAideen Fitzpatrick Erin Mulholland
Fiona Barr Abby Palmer Hannah Coughlan Laura Maguire Natalie McFall Eimear McQuillan Gail Neill Linda Smyth Meadhbh Bermingham Nicheala Broderick Miriam Norney Sinead Mclaron Halley Ramsey
Deborah Ramsaroop Millicent Tetteh Lauren Cooney Emier Smyth Danielle Brown Hannah Hamill Victoria Blakely