Opening
Thursday, 22 August, 6-8pm

Opening hours
Tues-Sat 12-5pm
Expanded Studio Project
Belfast and Nottingham—Exhibition of collaborative outcomes by 24 artists
14 artist from Nottingham & 14 artists from Belfast
Ends 31 August 2019
Participating artists based in Belfast

Alex Brunt; Barry Mulholland; Hannah McBride; Declan Proctor; Esther O'Kelly; Zara Lyness; Gerard Carson; Sinéad Bhreathnach-Cashell; Robin Price; Jackie Wylie; Thomas Wells; Heather Dornan Wilson; Sinead McKeever; Grace McMurray

Participating artists based in Nottingham
Chris Lewis Jones; Roger Suckling; Bex Gamble; Bruce Asbestos; Christine Stevens; Frank Abbot; Georgina Barney; Ines Garcia, Louisa Chambers; Marek Tobolewski; Mik Godley; Paul Webber; Pete Ellis; Nadim Chaudry; Rhiannon Jones; Sarah Tutt.


The Expanded Studio Project is a 6 month collaborative initiative between Belfast based artists and artists based at Primary Studios, Nottingham. The aim of the project is to develop external relationships, exchange ideas and explore different modes of collaboration.
The project is based on a pilot programme which ran between Primary Studios in Nottingham and Wysing Arts Centre in Cambridge in 2014-15 where artists engaged in a period of dialogue and exchange over a four-month period. The challenge this time was to initiate and sustain collaboration across further geographical distance between England and Northern Ireland. In addition, the Belfast participants are based across several different artists' studios. These include QSS (Queen St Studios); FLAX Studios; Array Studios; Creative Exchange Artists Studios; Platform Arts; Pollen Studios;.
Through planned visits to each other's cities and continued conversations and emails, artists began either 'partnering up' or discussing ways that they could come together in groups to find a way to work together through continued communication and find a means to respond to each other's ideas.
For events and activities see the project blog.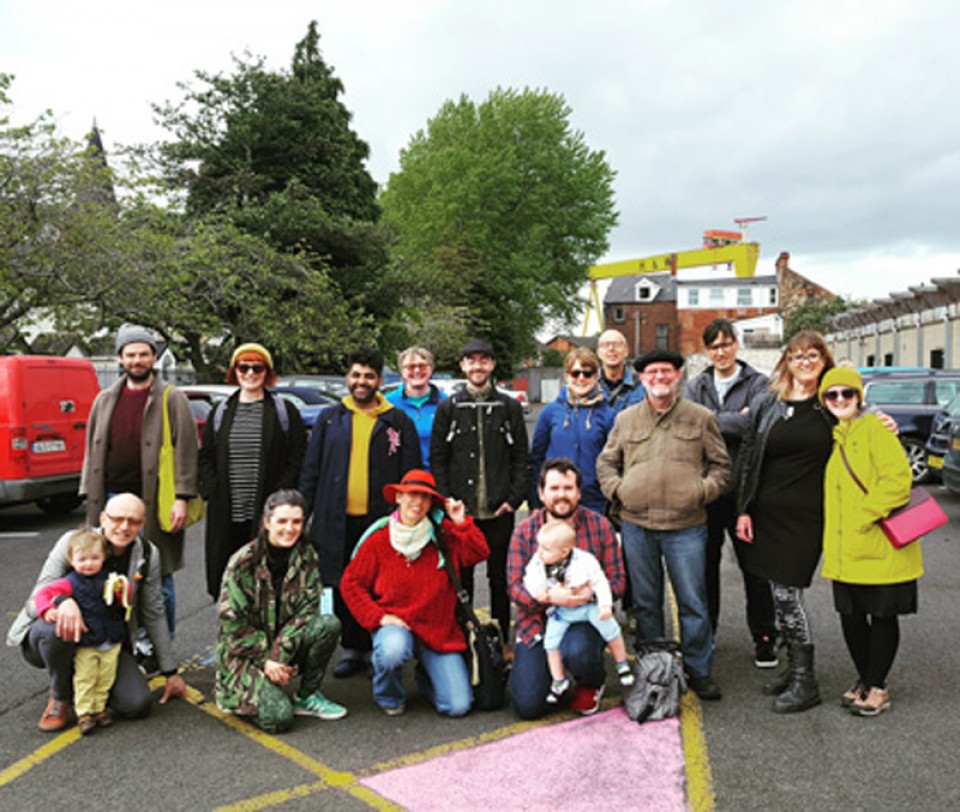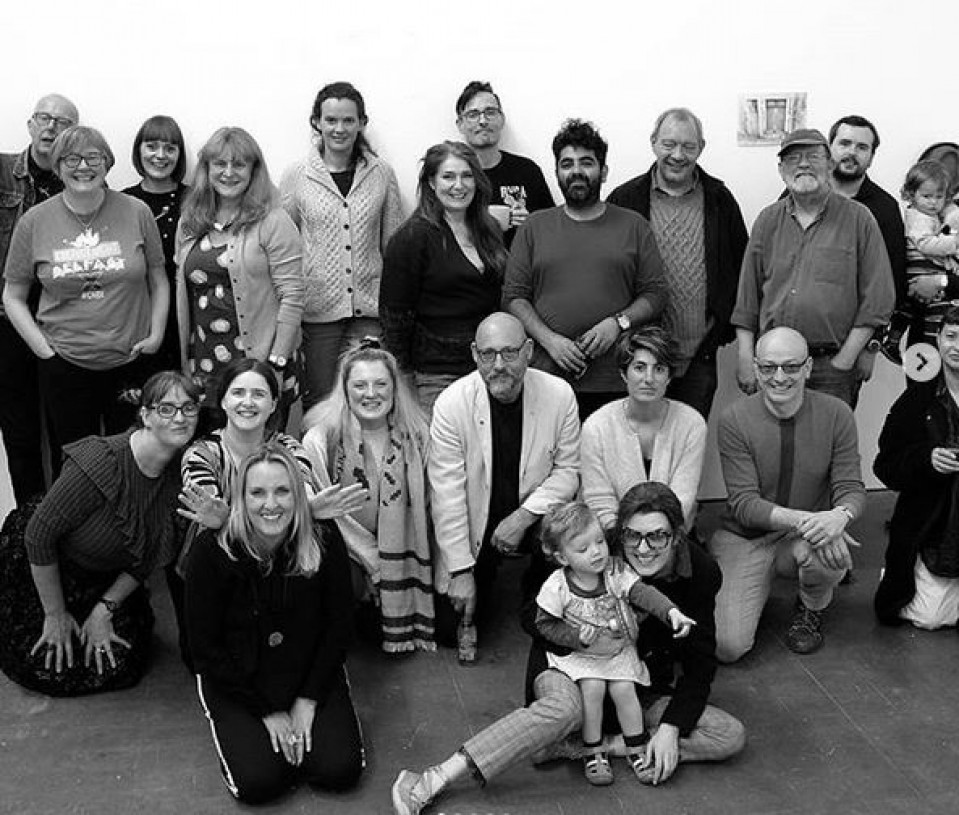 Group photo. Image: Marek Tobolewski
Expanded Studio Project: Belfast and Nottingham, March- August 2019, was initiated by Jane Morrow, PS² Curator in Residence. It is jointly co-ordinated by Deirdre Morrissey (Belfast) and Nastassja Simensky (Nottingham).
Exhibition of collaborative outcomes
What is presented in PS² is not an exhibition of finished work rather a showcase of peer outcomes created through collective ideas, conversations and self-directed activities.
On the 28th September a symposium will take place in Primary Studios, Nottingham where the full group of artists will reconvene to discuss the project, its challenges and possible further development.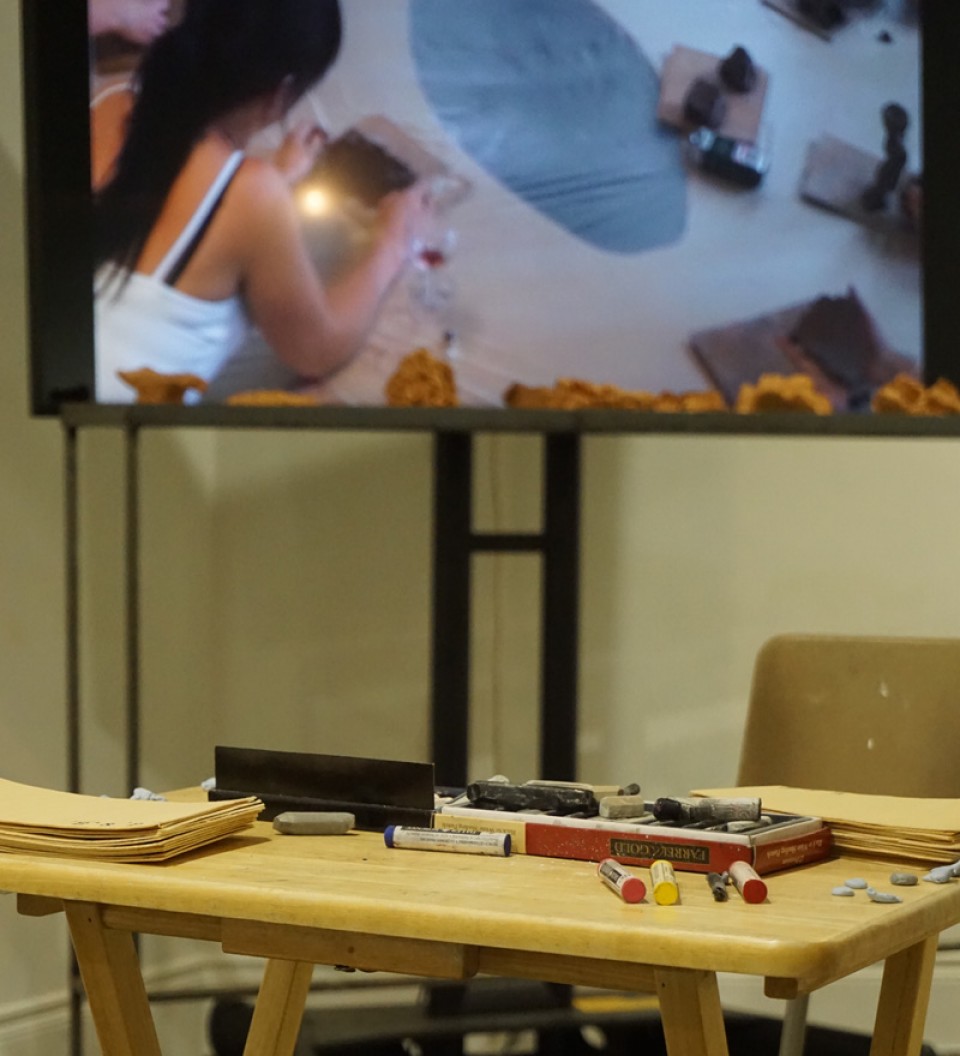 Installation view, Belfast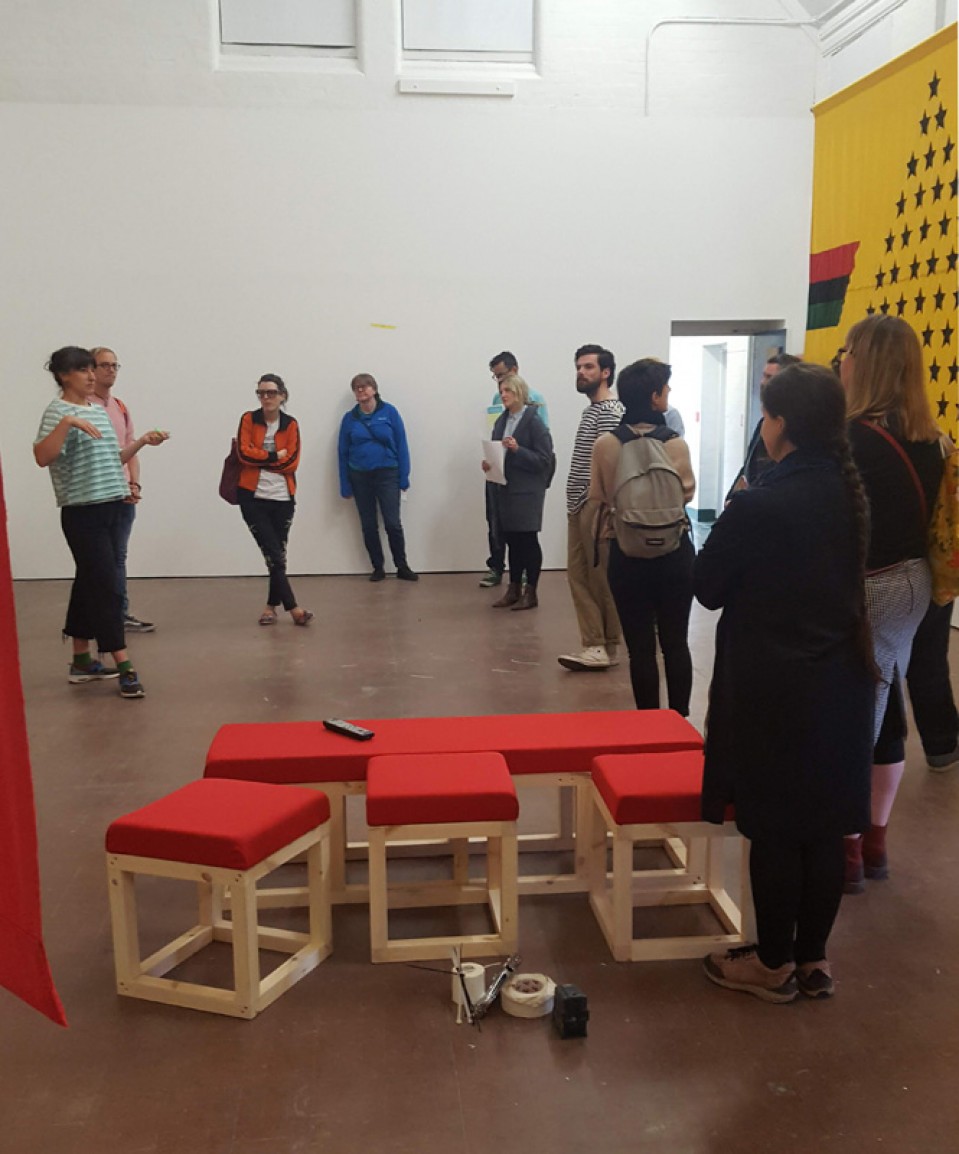 What form will the project take?
The content of the programme will be generated by the participants to remain bespoke and responsive to their needs. Self-directed activity will be encouraged between collaborating pairs – in the form of presentations/ performances/ screenings, a website and artist-facing sharing mechanism. Public and more broadly peer-facing outcomes include a touring exhibition between both sites, and a symposium/ knowledge sharing event. Proposed considerations throughout:


-How do Belfast and Nottingham differ as places to work/ live as artists?
-How do our cities, as cities of culture, continue to support individual artists, studios and the sector?
-How might divergent media/ approaches find commonalities?
- How do both Belfast and Midlands-based artists feel about working together and further afield after Brexit?
-Why artists travel - how do we navigate the 'luxury' of being able to travel freely? And why is it important to have a wide network and collaborate nationally and internationally?
Participating artists based in Belfast
(b. Belfast, Northern Ireland)
'I work across a range of media including sound, text, ceramics, performance and photography. Central to my practice are themes of touch, agency and fragmentation. The works often depict visceral compositions of movement, sound and recordings of touch. Threaded throughout my work is the reference of skin in an attempt to evoke the psychological and visceral qualities of experience.
Recent work including 'touch her hand, feel her voice' explores a psychological portrait of resistance. The female voice is used to depict the presence of suffocation, removal and belonging. The piece consists of a poetic dialogue that reads in both Arabic and English portraying the experience of women living in the occupied Palestinian territories and the experience of the occupation. In addition, another recent work, 'as stems reach in silent rooms' consist of a series of ceramic forms. The work holds subtle traces of movement and touch; limb like forms. The work depicts the presence of growth and decay as a constant bodily movement.


Barry Mulholland is a Belfast based Visual Artist and studio member at Flax Artist's Studios. Postgrad MA in Visual Arts Practices at Institute of Art, Design & Technology (IADT) Dublin, 2015 and BA Fine Art in Ulster University, 2012. Previously a co-director of Platform Arts and co-founder of South Studios, Belfast. Awards include, 2012 winner of The Taylor Art Award, RDS Visual Arts Awards, Dublin.
'My practice is an inquiry into material exploration and process understanding within painting, drawing and sculpture. Using new technologies such as laser cutters and 3D Printing, I attempt to extend artwork into layered objects of interest. Art objects that are aesthetic and combine material re-assembly within a veneer of playful mystery. I invoke references to esoteric symbolism and unorthodox narratives within architectural forms. The work is physical and material heavy.
I am influenced by concepts of labour production, socio-political issues, post-conflict and folklore.'


Hannah McBride graduated from Belfast School of Art in 2012 with an undergraduate degree in Fine Art, and in 2017 with a master's degree in Fine Art with distinction. She has worked with a number of artist-run spaces in Belfast, and held solo shows in Satis House (2012) and Pollen Gallery (2017). In 2016 McBride represented Platform Arts as part of Supermarket Art Fair in Stockholm, Sweden, and later that year undertook a month-long residency with SIM, Reykjavik, Iceland. Her practice centres around politics of space and place and formally explores the point at which painting, sculpture and installation converge, often taking the trope of the landscape as a starting point.


Within his practice Declan Proctor explores the phenomena of natural light, using it as his main material. This exploration derives from personal experiences and childhood memories with the encounter of natural light.
Proctor creates site-specific installations, inviting the viewer to experience his work and the surrounding architecture through colour, reflection and shadow. Coloured Perspex is used to alter expectation and perception on how we view the interior and exterior space. Inspired by local architecture, metal is used to produce sculptures, experimenting with shadow, line and linear space. Each work highlights particular aspects of the space they inhabit. The view and natural light from a window is an important element in his work to date, existing as important components to create his installations.


.
Esther O'Kelly is a visual artist, her work explores the Irish Landscape and sense of place. She has had Solo shows in the UK and Ireland. Esther is a graduate of The National College of Art and Design in Dublin and is currently a trustee at Vault Artist Studio Belfast.
Instagram: @estherokelly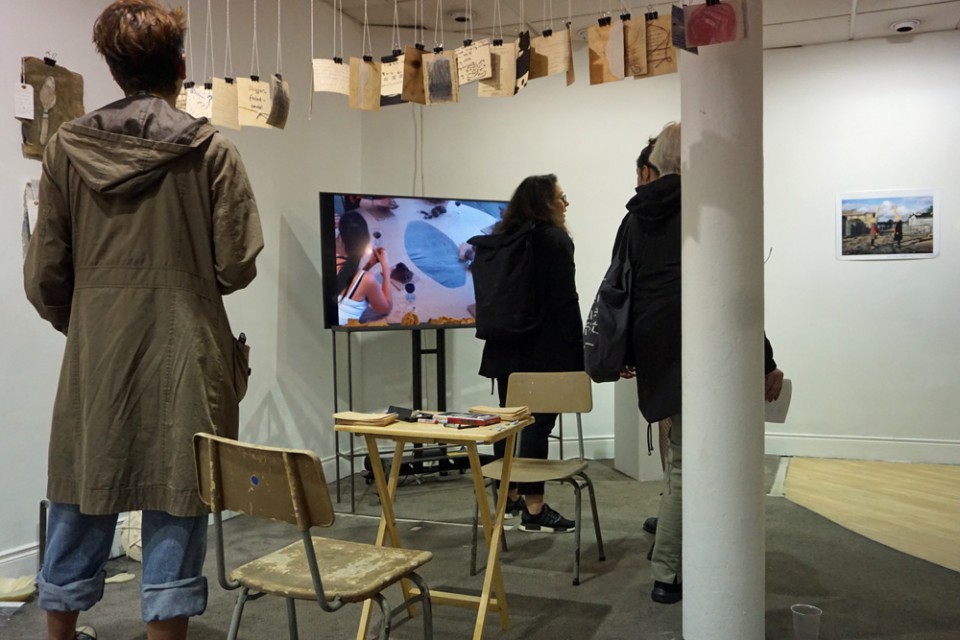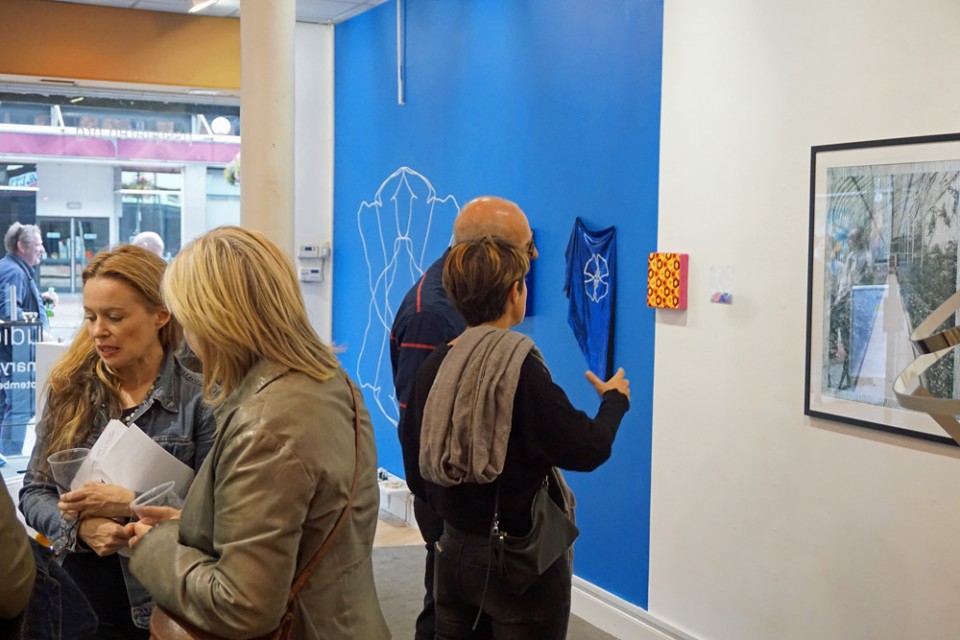 Since graduating in 2017, Zara Lyness has completed a graduate residency year at Ulster University alongside developing an external practice in Pollen Studios, gaining experience in curation and administration via Goose Lane Gallery, R-Space Gallery, Lisburn and Bbeyond.
Through performance and sculptural objects, often combining both, the value and significance of objects and materials, (implied and perceived), is an underlying motive in the forms she makes.
Time, memory, connections and relationships influence her interdisciplinary methods, linked to themes of gender, barriers and permissions. Through play, ritual, repetition and autobiography, Lyness shares recognised symbols and stories, creating connections and accessing histories to make sense of new experiences which enables recognition and a space for dialogue.
Her material choices and processes include fragility, absurdity, what is precious and refining techniques. From whole to deteriorating forms, action and being, diverse materials, she hopes to convey a sense of time, presence and shared memories.
Instagram: @z.lyness


Gerard Carson is an artist based in Belfast, Northern Ireland, working primarily in sculpture, video, and animation. His practice is concerned with contingent materials and techno-industrial production, using a range of composite materials and casting processes. He is a current co-director with Platform Arts Gallery & Studios and a member of QSS Studios. Carson is a graduate from the Ulster University School of Art & Design (2010) and the Chelsea College of Arts (2015). He also forms part of the collaborative project "Goo Notorious", alongside London based artist Andrew Rickett.



Sinéad Bhreathnach-Cashell investigates ways of engaging people in creative expression through co-operative play. This kaleidoscopic practice includes interactive installations; drawing; performance; workshops and curating. In 2007, she received a BA Fine and Applied Art and was awarded the Deans Prize from the University of Ulster. She has participated in artist exchanges in Canada, Chile, China, Iceland, Ireland, Italy, Poland, the UK, Uruguay and USA. Her work has been exhibited in alternative spaces, national museums and international festivals including Galerie SAW, National Museum of Poznan and the National Review of Live Art. Sinéad is currently based in Flax Studios, Belfast.
Sinéad Bhreathnach-Cashell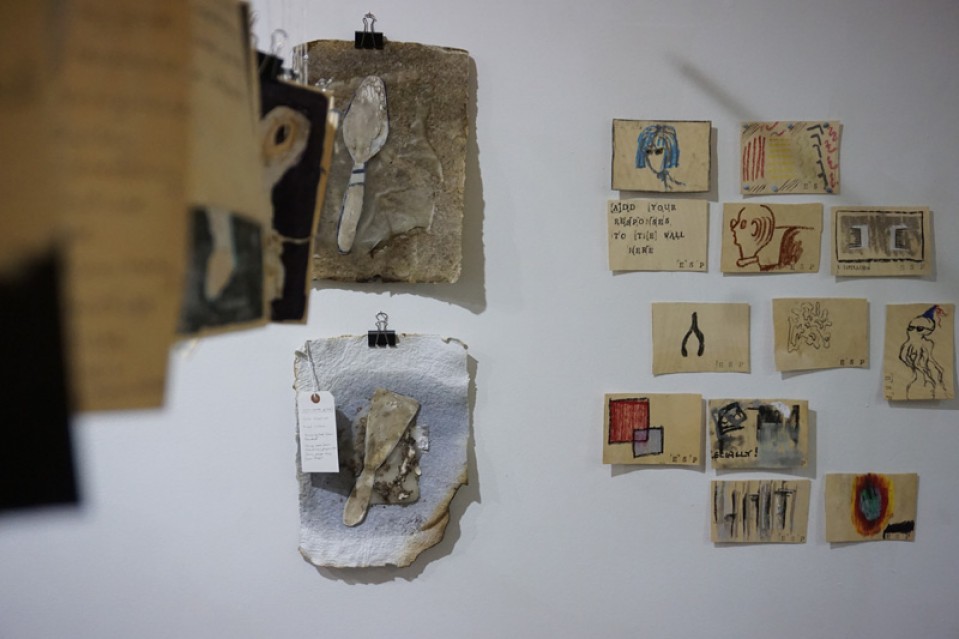 Robin's work centres on interactivity and technological interventions. He alters everyday devices so that the devices can be seen anew. By basing his interactive works on commonly understood objects he gives his audience a shortcut into how his new devices function while challenging the audiences old notion of how they should. Robin's work examines the playful possibilities of old and new (and sometimes specially invented) technologies. Robin is currently based at Vault Studios, Belfast.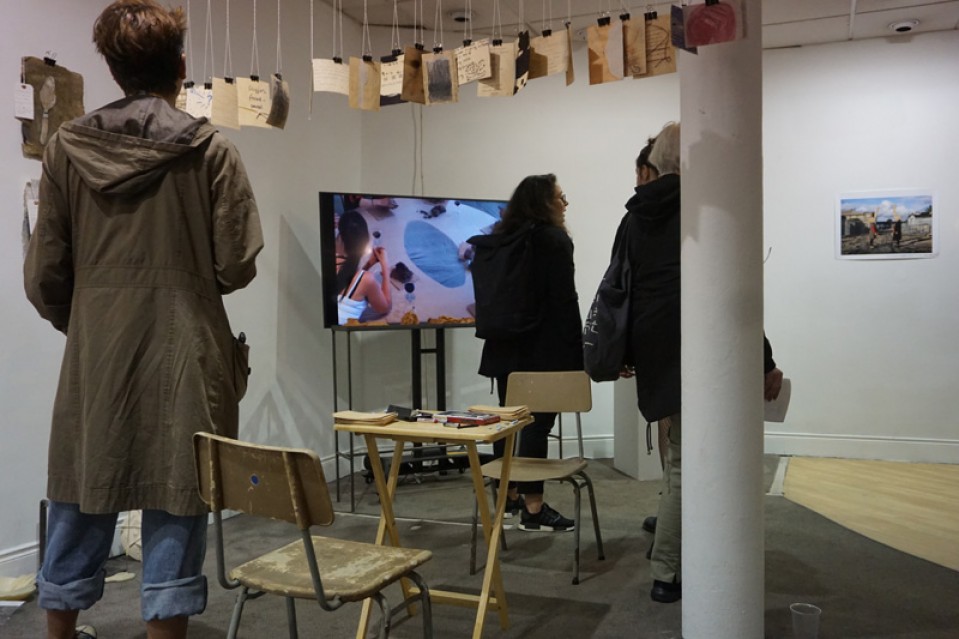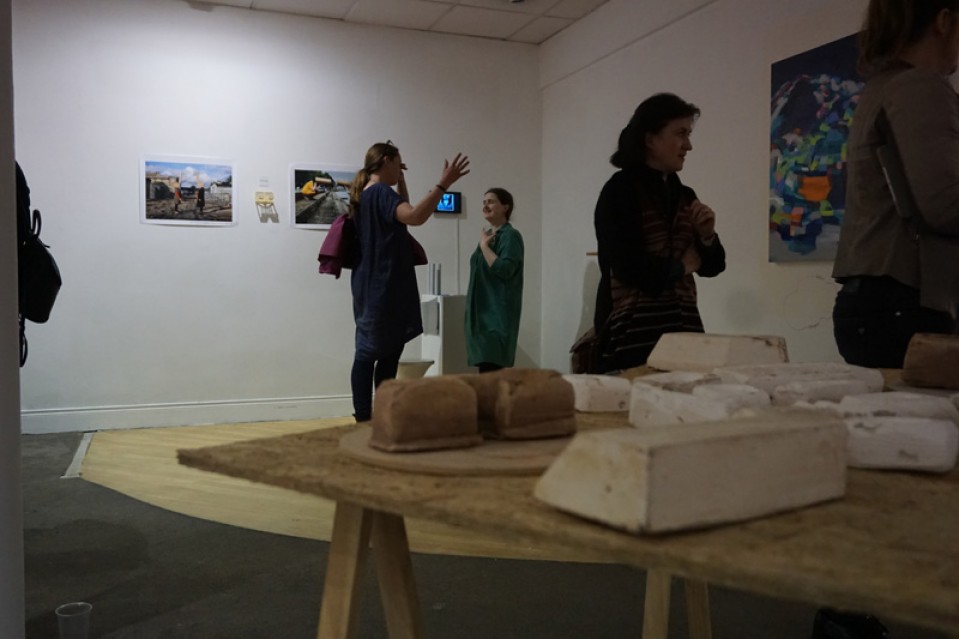 Dr. Jacqueline Wylie is currently based in Belfast, Northern Ireland. Her socially engaged practice explores how value is assigned to creativity. Working with a variety of materials (including textiles, photography, text, and social media) her current focus is on the ethics of social media use, particularly space/location and identity through the medium of constructed and documentary photography.
Wylie initially trained as an archaeologist, specialising in industrial archaeology and vernacular architecture. In 2017, she completed a PhD at Ulster University, producing a study of contemporary visual artists' use of social media and the consequences on their studio practice. In the same year Wylie relocated her studio base from Rogue Studios, Manchester to Creative Exchange, East Belfast, beginning a period of research and reflection, aiming to produce a substantial body of new photographic work for exhibition in 2019/20.
Jackie is based at Creative Exchange Artists Studios.


I am an artist and community art worker in Belfast. Having lived across the UK, I am interested
in post-industrial urban environments, in particular the navigation of Queer identity in a
working class environment. My current work is looking at 'Camp' and what is it?
Performance led and site based, my practice is concerned with how everyday decisions affect
the rest of your life. Slightly dramatic, the continuing drive is to look at how an individual
navigates through the day to day. As the work is site led, I respond directly to the narrative of a
current environment; accommodation, relationships, financial security and legacy are all
elements that underpin the anxiety of my narrative.
Co-Director – Catalyst Arts
Project Assistant – Household
Studio Member – Array Studios


Heather Dornan Wilson is an artist/maker/conversationalist who is interested in using materials and experimental processes to investigate ideas that are common to everyone, celebrating messy imperfection, beauty, growth and humanness through her work.
Her research often takes on an explorative, cross disciplinary and collaborative approach, working with practitioners in the fields of written word, theatre, movement, sound and psychology. Her ongoing explorations aim to encourage audience connection and interaction, to articulate thoughts and raise questions in response to core human themes, such as, resilience-everyday magic, the notion of balance and the familiarity of loss and grief etc.
Heather is currently based at Creative Exchange Artists Studios, East Belfast
For more information see facebook


Northern Irish born Sinead McKeever lives in Belfast where she graduated Master of Fine Art with Distinction in 2008 at Belfast School of Art, University of Ulster. She works from QSS Studios and Art Gallery, Belfast. McKeever's practice is process led, drawing, sculptural objects and site-responsive installations inhabit and challenge boundaries. These navigated sculptural environments are proposals for addressing the present to be experienced. Sinead is currently based at QSS studios Belfast.



Grace McMurray (b. 1985 Rathfriland, Northern Ireland) studied BA (Hons) Fine Art Sculpture, Wimbledon College of Art (2005-08). Selected Solo Exhibition: Woven Polyhedra, University of Ulster, Belfast (2018). Selected Group Exhibitions include: 250 th Summer Exhibition, Royal Academy of Arts, London (2018); Jerwood Drawing Prize, Jerwood Space, London (2017); Jerwood Drawing Prize, Falmouth Art Gallery, England (2016); Synthetic Aesthetics, Leitrim Scupture Centre, Manorhamilton, Ireland (2012); Watershed, Hong Kong Visual Arts Centre, Hong Kong (2010).
Awards include: David Todd/Landmark Fine Art Prize, Second Prize (2008). She lives and works between Rathfriland and Belfast.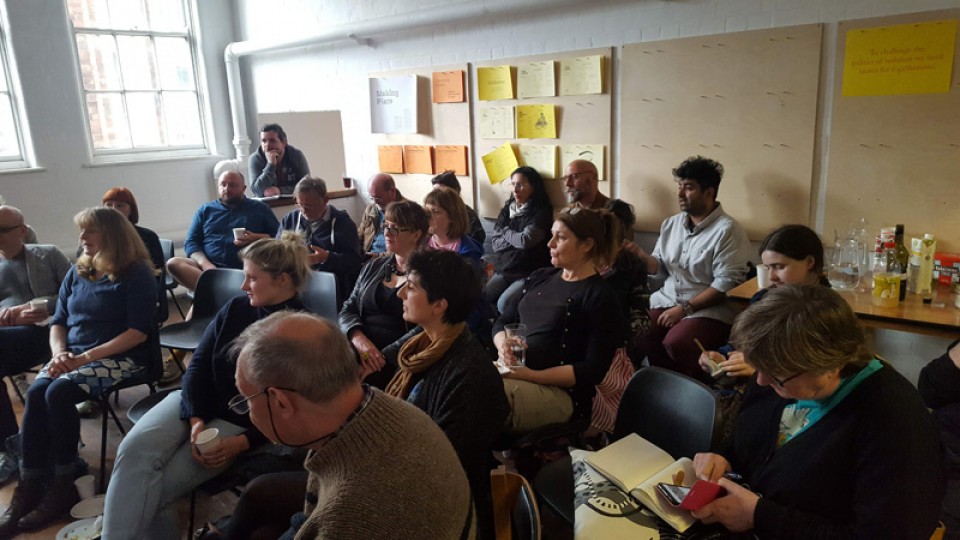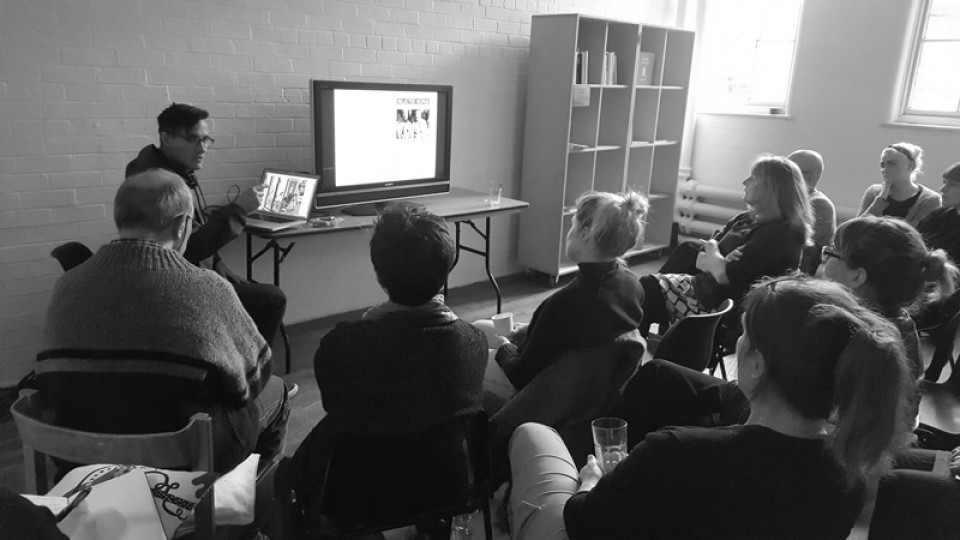 PRIMARY ARTIST RESIDENTS
I've an interest in marketing and storytelling, and recently made my first fashion collection,
'Bruce Asbestos A/W 2018', which was based on the surreal European folk tales such as Hansel
and Gretel. I'm currently working on two new collections for A/W 2019, and S/S 2020 which will be located in a museum for Crime and Punishment. I look at the catwalk as a type of short performance, and it appeals to me because of its value both as fashion and art. My work in the past has included quick-fix, low-brow, throw-away YouTube videos, and paintings of bears and cowboys, social media artworks and performances. I also curate Trade, an artist run gallery.
For more information see www.tradegallery.org/



I am a Nottingham born artist, of Punjabi origin, living and working in the East Midlands. I studied Textiles at Goldsmiths College, London, graduating in 2005 and have continued to develop my textile orientated art practice. A family heritage in tailoring has been very influential for my work and has focused my creativity around the importance of materiality and craftsmanship. The heart of my practice lies with the working, shaping and moulding of physical 'stuff'.
Negotiating my sexuality as a gay man, within different cultural and religious spheres, has been a
fertile ground from which my practice has taken root and continuously draws inspiration. This
'negotiation' has often translated literally into physical space; a question of how you choose to position yourself in the world. In relation, it is increasingly the sculptural and three-dimensional
possibilities within my work that address the issues of space and position.
I am in awe of the monumental, the majestic and the sacred; from Neolithic architecture to the
Taj Mahal and draw upon the vastness of historical cultures and their associated artefacts for inspiration. Closer to home, it is the colourful and sensual fabrics of female family members that have always brought me joy and continue to embroider my practice.



Rebecca's work is led by an interest in the relationships between people and public or private
space; investigating common actions, everyday objects and technologies, bodily gestures and
ordinary routines. Her work is site-responsive, often involving research, action-experimentations,
choreographic scores, collaboration, participatory performance, events and documentation.
Rebecca is a graduate of Birmingham Institute of Art and Design, UCE (2005), and University of
Falmouth (2007). She completed her PhD at Nottingham Trent University in 2016, which investigated the relationship between physical and virtual social space, the impact of augmented technology and the politics of performing as digital avatars, through a participatory performance practice. She is currently a Senior Lecturer in Product Design at Nottingham Trent University, with a specific interest in human-centered design and speculative design approaches.



Dr Rhiannon Jones is an artist researcher for the Digital and Material Artistic Research Centre
(DMARC) University of Derby. Her research is focused on the artistic and spatial design of conversation and the construction of cultural change with an artistic research context. She cofounded InDialogue (2012 - present), a collaborative international research project that explores the use of dialogue through artistic practice taking place again in Novemebr 2019 with 16 cultural partners across 3 cities. Rhiannon has a PhD by practice entitled The Artistry of Conversation from Nottingham Trent University (2016). Until very recently, she was General Manager of Third Angel Theatre Company (ACE portfolio), and Associate Lecturer at NTU in the school of Art and Design.
She is Chair of Cumulus International Contemporary Art Working Group, of which she has been a long-standing and active member since 2012. She is a trustee of New art exchange.and the lead creative of The Social Higher Education Depot (S.H.E.D) in partnership with artist Simon Burrows, touring nationally from summer 2019-22. In parallel to this activity she has recently authored a chapter for Intellect Playtext Series –The Trilogy: Acts of Dramaturgy and Staging the Wreckage for Performance Research Journal and is co-editing the publication InDialogue: an anthology and S.H.E.D: transforming spaces for cultural, social and political discourse, both publications with Palgrave.
For more information see: www.theartistryofconversation.com
@InDialogueUk
@shed_uk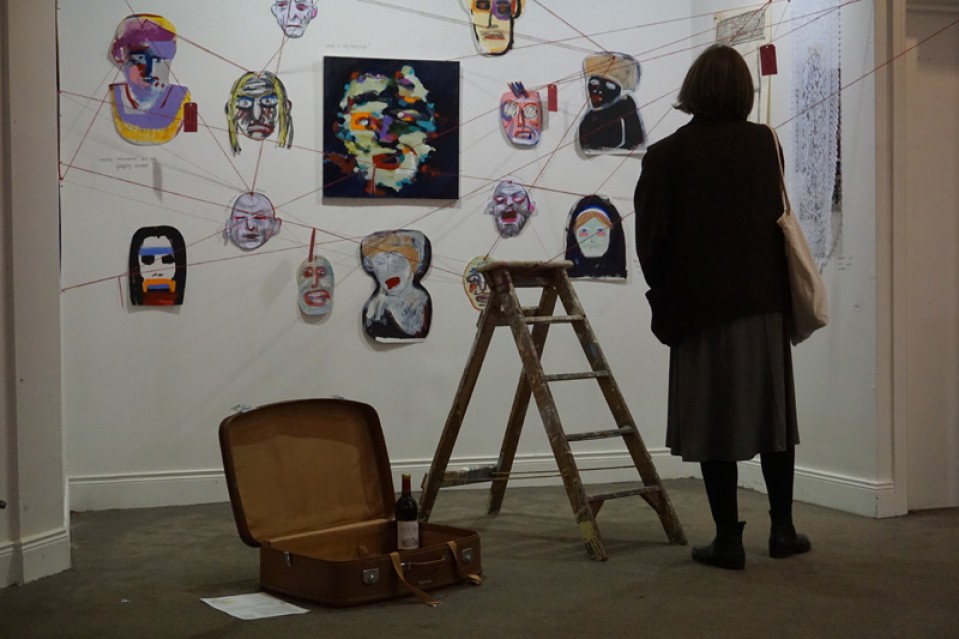 Installation view- Esther O'Kelly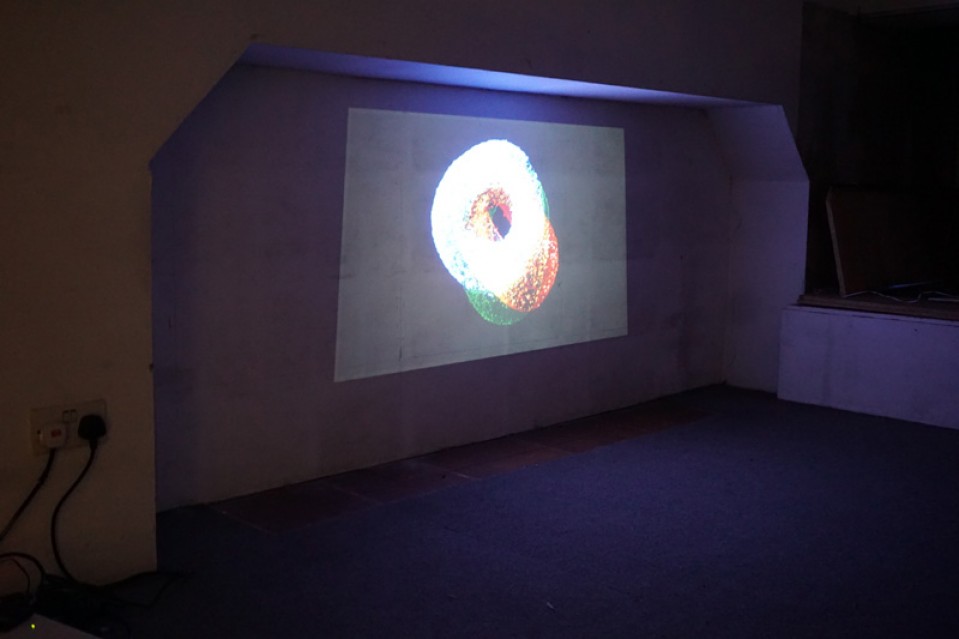 Taking as a starting point traditional labour-intensive production processes involving repetitive
movements of hand and body, Christine Stevens explores haptic and gestural residues in
contemporary culture. Her work often builds on connections between craft practices and
contemporary Fine Art. Typically, Stevens uses sculptural installations and moving image in her
investigations of materiality and embodiment. She has developed a particular interest in clay as
a contemporary Fine Art medium.
As both, artist and Gestalt psychotherapist, Stevens experiments with cross-disciplinary
activities, which focus on the experiential and the participative. This involves facilitating groups
experimenting with making as a means of self-recognising, inter-relating and responding.
For more information see: www.weareprimary.org/people/christine-stevens/



Louisa Chambers is a painter with a studio-based practice. She has been developing a series of
works that incorporates a simple folded form. Focusing on how a folded shape can be transfigured at speed from a temporary structure (three dimensional) into a flat twodimensional space (painting). Each form can be squashed again, folded, opened, twisted and then recorded from observation.
Recent paintings are close up studies of reconfigured patterns from found fragments of printed
fabric and paper. The colours are not true to the original sources and instead are intuitively selected. She is interested in the printed patterned tessellations that are on the surface of these forms and when manipulated create other spaces, angles and areas of illusion. These works are part of on-going research into depiction and visual perception on two and three-dimensional surfaces. She has exhibited both nationally and internationally, has been a finalist in numerous competitions and has worked on various public site-specific commissions.
PRIMARY ARTIST RESIDENTS

Over the past two years, I have been working with wool, exploiting the traditional, slow practices associated with processing a raw fleece into a product to use or sell. Part of this activity has included establishing a dye garden in the old playground of Primary and developing a plant-dyeing community. This body of work leads on from ten years' practice exploring the relationship between Art and Farming, which culminated in a publication 'GB Farming: An Island Journey'. My work has been highlighted in major rural survey shows such as 'Green and Pleasant Land? Rural Life in Art' at the Harris Museum, Preston and 'Curating the Countryside; The Rural Idyll Past and Present' at Compton Verney Museum and Art Gallery; as well as solo exhibitions such as 'Sheep Sketchbook: Revising the Pastoral Tradition' at the Attenborough Arts Centre, Leicester.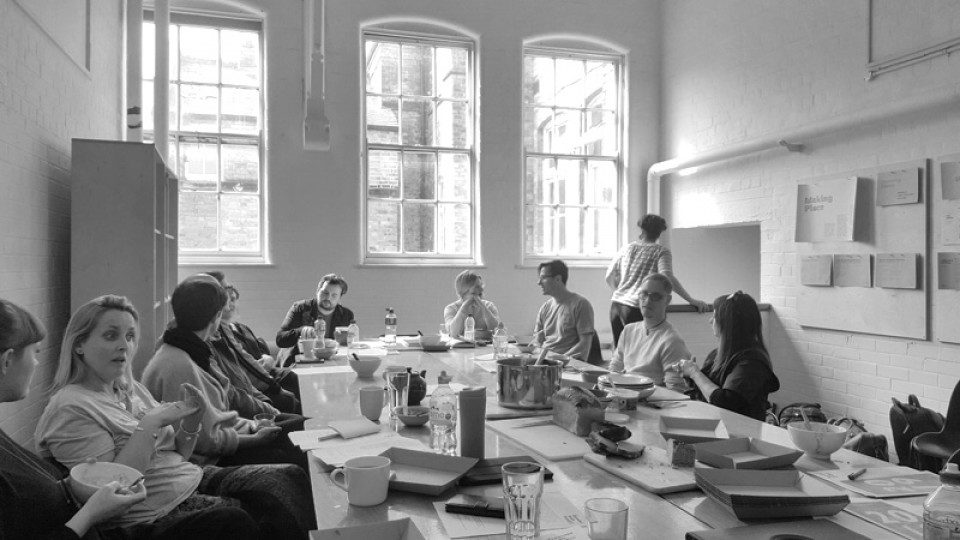 Group discussion, Nottingham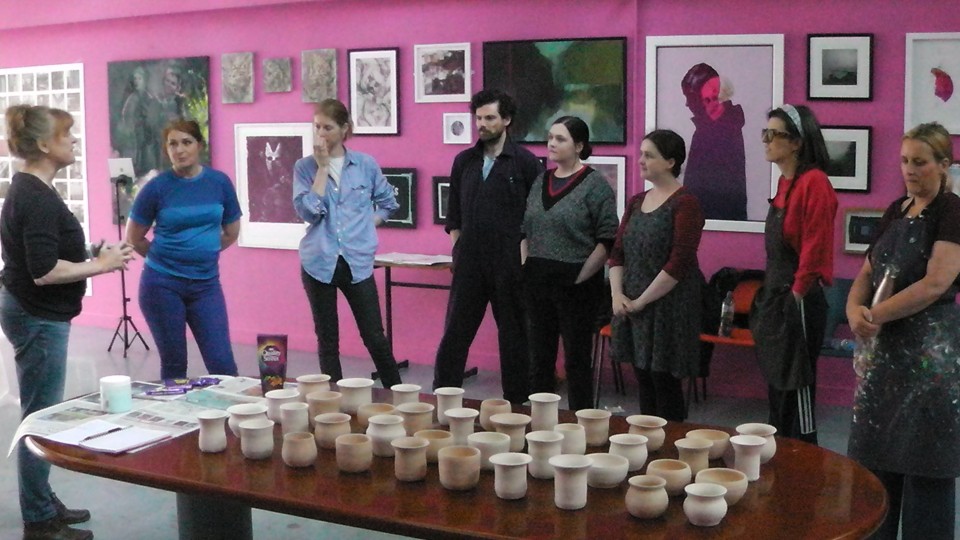 Marek Tobolewski (b. 1964, Bishop Stortford, England) graduated from BA Fine Art Painting at Brighton College of Art in 1986; he lives and works in Nottingham. Recipient of several awards notably from the Pollock-Krasner Foundation, New York, Tobolewski's work is held in private collections across the UK and USA as well as numerous corporate collections.
(Georgina and Marek are participating as a pair so the Belfast based artist would be joining a three).

Mik Godley's project Considering Silesia is a painters' exploration of Anglo-German identity, a
search engine journey through internet to canvas across his mothers' contested land, examining
conflicting heritages, cultural history, displacement, migration with contemporary social and political resonances. These themes are observed in the context of our evolving relationship with the internet and accessible technologies (our digital "way of seeing") focusing on 'virtual expeditions' to his mothers' homeland and the analogue activity of painting – or on his iPad and mobile phone.


I am an artist who travels hopefully, across media and across contexts. My practice includes:
painting, drawing, installation, printmaking, documented derives/psychogeography, folkloric ritual,
live art and spoken word performance. Exploring the stratigraphy of context is at the heart of
everything I do.

Ines Garcia studied BA in Fine Arts at the University of Barcelona, and during her academic
career she received a scholarship to study abroad in Bali for one year. When she graduated,
Garcia decided to pursue her career participating in workshops taught by Abbas Kiarostami,
Víctor Erice, Gabriel Orozco, and Wilfredo Prieto.
Nationwide, she has taken part in several exhibitions in Barcelona, Madrid (Espacio Trapezio y
Matadero), and Bilbao (BilbaoArte, Espacio Abisal, and Sala Rekalde). Her videos have been
showed in CA2M, La Conservera in Murcia, the LOOP, and in the SCREEN Festival in Barcelona, among other places.



Pete works with everyday stuff, excavating ironic and formal relationships between the functions
of objects and images, their histories and metaphoric shadows. The use of "found" materials
and things presupposes that they were "lost" in the first place. The idea of "recouping the outmoded", [Hal Foster, "Compulsive Beauty"], allows the creatively manipulated object to lose
one identity and gain a number of others, providing layers of allegorical and symbolic meaning
that reach for a fusion of inventive coincidence. New narratives, perspectives and startling re-readings of a paradoxical nature between the art object and the mundane are exposed by
emphasising hidden, latent and accidental properties of interior forms, and contradicting known, familiar outcomes.
Pete collides plastic, verbal and conceptual allusions, and develops situations where meaning and
context slip and slide through the unpredictable poetic, emotional and remembered spaces that we move through daily. His practice combines object based sculpture, kinetics, installation, casting, text, drawing, photography and film.


Roger Suckling's work is based around themes of location/place/autobiography, using photography and moving image to explore place and time, to map a visual account of both the present and the past. A process of revisiting and recording significant locations is combined with a contemporary documentation of the everyday, offering a reinterpretation with new meanings and connections that attempts to make a universal image beyond the personal.
He is a member of Film Free and Easy that puts on events offering a platform for artists' films,
performance and installations. He has contributed to exhibitions of photographic and moving image work in the UK, Sydney, Australia, and Chicago, USA.



Sarah Tutt
Sarah Tutt is an interdisciplinary artist who mainly works across drawing, mark-making, ceramics,
painting, performance and writing. Central to her practice are themes of Time, Touch, the Body,
Repetition and Inter-connectivity. She is also currently researching what it is to have a slow and
intimate practice. Sarah was co-artistic director of the performance company Dogs In Honey
and has worked from within various artist-led projects, touring theatre and site-specific
commissions for public realm locations. In 2002, she moved to mainland Europe for a decade.
She is currently studying for a Masters in Fine Art at Nottingham Trent University. She is also a
cultural producer specialising in strategic arts marketing working across combined arts, dance,
performance and theatre, screen arts, visual arts and festivals.
Sarah is currently based at Primary, Nottingham.



Paul Webber (b. 1978 Johannesburg, South Africa) studied BA (Hons) Fine Art Sculpture,
Northbrook Metropolitan College (Affiliated with Brighton University) (2015-18). Solo Exhibitions: Exhibition run alongside the Worthing Portrait Artist Of The Year, St Paul's Gallery, Worthing, (2018) Selected Group Exhibitions include: Fine Art Degree show, Free Range, London (2017 & 18). Pallant House Interventions, Pallant House Gallery, Chichester (2018). Small Faces Exhibition - Peoples Portrait Project, Solent Showcase Gallery (2017).
As an artist, I enjoy the whole process of creating something that is unique, colourful and culturally dynamic to my South African origins. I have always been drawn to pattern, repetition, and the detail in designs and I try to convey all of these qualities in my work. I work with ceramics creating handmade patterned, tactile, sculptures in various sizes and forms. Additionally, I work with printmaking using the reduction & key-block techniques in lino printing, these printing techniques allow me to achieve the right amount of detail in my work as well working with various different colour combinations.

The Primary part of the Expanded Studio Project is supported by an Arts Council National Lottery project grant. The Belfast part of the project is funded by Belfast City Council.