February 2017- March 2018.
Display cabinets
Series of on-going projects in the half-outdoors.
DJERIBI; Johanna Leech; Colin Dardis; Ellie Niblock
Ends 31 March 2018
PS² has 2 display cabinets outside the new location at 11 North Street. Used by the former business Braddell to show small items of fishing-tackle equipment, we turn the cabinets into a mini PS². With no barriers for passers-by to have a look, the showcases sit at the outside next to our entrance, sheltered but still public, connected with the street.
Call for proposals
PS² invites everyone who is interested to use the showcases, from artist to organisations, hobby collectors, writers, sound enthusiasts…to send a short proposal for their possible use of this mini-PS². The projects could last from 1 day to three weeks, change daily or stay still. During the time of a showcase project, you will have the keys to the cabinets and design the display as you like. The outside shutters are open during the day, at night we currently have to close them.
Measurements
Length: 154cm
Width: 68cm
Depth: 11cm
Contact
If you are interested, please send a short outline of your showcase project (not more than 200 words) and if possible few images to: pssquared@btconnect.com
1. DJERIBI: ' I could choose to call this: remnants of a disappointed life'
18 February - 11 March 2017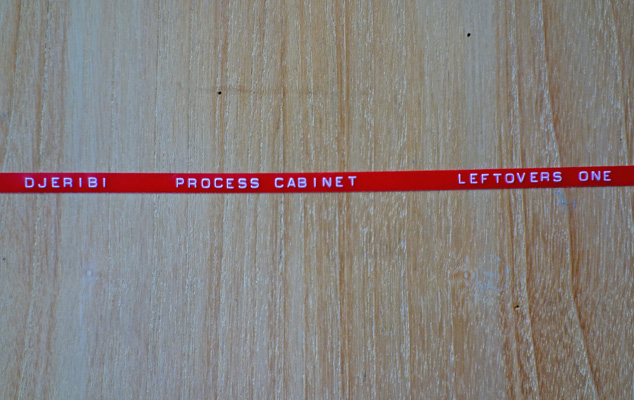 DJERIBI
I could choose to call this: remnants of a disappointed life by Djeribi is the first project in an ongoing series.
The cabinet installation presents a stage in the process of the artist's ongoing work with the notion of leftovers. An inveterate hoarder, Djeribi was invited to the house of one of her deceased neighbours to divert her abandoned personal possessions from the landfill, once her descendants had chosen what they wanted to hang on to. A manner of inheritance, albeit unintentional, that was found to weigh heavily in the artist's hands. By taking here a small breath on the path of reappropriation, reflecting on what she understands of this unsung disappointed life Djeribi questions if there is a duty attached to the reusing of other people's stuff to make one's work. What if objects are actually imbued with their previous owner's soul (Flann O'Brien's The Third Policeman) and what if artistic practitioners were requested to actually pay their perceived dues by honouring those who do not have a voice. Unwinding and rewinding the wool into tight new balls while contemplating the trying life of a rural woman's existence, Djeribi hazard the possibility of redemption through the repurposing of one's life leftovers.
A short note, typed on the wide-carriage typewriter—also part of the accidental inheritance—spells a manner of title. A QR code allows the visitor endowed with the appropriate technology to access the soundtrack of the piece on soundcloud, the artist's voice - click here.
Djeribi, born in Paris, emigrated to Dublin in 1990 and on to neo-peasantry in Leitrim in 2000.
She has been running mermaid turbulence, a publishing project since 1993. Her inclusive polymorphic practice—that had to compete for attention, over a large number of years, with the bringing up of her two children—includes writing, visual arts (artists books, objects, films, installations), opinionated food (sourdough bread; delicious, experimental and fermented stuff; edible art interventions) and farming as an intentional political act.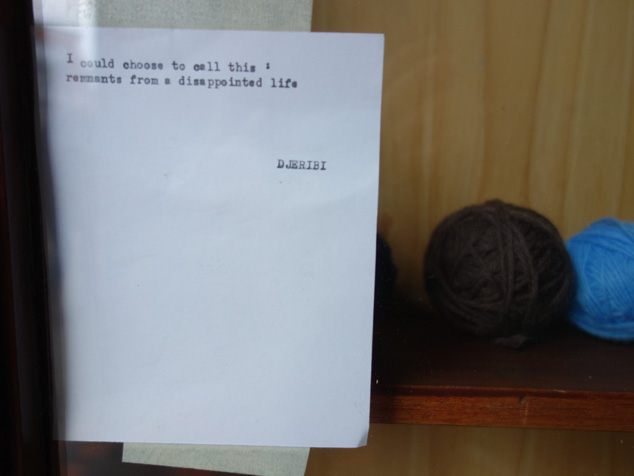 2. Johanna Leech: Mourne Mountains
01 – 24 June 2017
Over the next few weeks, artist Johanna Leech will be showing stories and collections in the PS² cabinet. These will change every few weeks and will be documented on her website. This cabinet will allow you a glimpse into what her practice is, and to show work previously not seen in Belfast.
"I see my art practice as an adventure. I'm an explorer presenting my discoveries. I select and create imagery that draws in the viewer through the familiar and the commonplace. Stemming from a lifelong obsession with collecting, the subject matter combines influences from travel, social interactions, history, iconography, myths, legends and museum categorization."
Mourne Mountains
Diary entry, iphone photographs, rocks.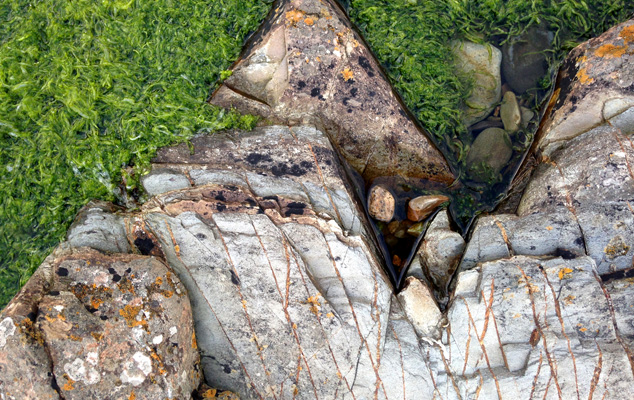 Image: Johanna Leech
3. Poetry - curated by Colin Dardis
06- 28. 07.2017
The poems by Mícheál McCann, Patricia Hughes and Seanín Hughes came out of a workshop during the NI Mental Health Arts & Film Festival, 2017.


'P a s s a c a g l i a' by Mícheál McCann
Its 6pm in the kitchen or
maybe time is gone but
the rosy sun
bends through
white gauze curtains &
plastic & glass rosary
beads hang
off the heating dial
above her head &
the wind sneaking
in the white back door
makes them ring
like wind-chimes &
they clack &
they chime &
they sing &
we sit together &
sip the last
cup of tea
in the most
comfortable
warmth &
quiet.
----------------------------------------------------------------------------------------------------------------
'Poem 1' by Patricia Hughes
On the periphery of that neon grin you own,
I saw a tear balanced there.
Poised to fall amongst your lies of
I'm fine, I'm great, etc., etc.
You keep your sadness confined in a cardboard box.
Mementos of your madness wrapped neatly in tinfoil.
Let it loose, let it blossom and unfold,
A pungent lily searching for the light.
'Poem 2' by Patricia Hughes
Teardrops are just little bursts of salty sadness.
I save mine in the freezer.
Stretched into the shape of ice cubes they lose their ferocity.
Memories are different.
They cling like nits in hair.
A smell can knock me sideways,
Suddenly its 1976 and you own me.
I sit quietly whilst you weave your web of malice.
The world shudders;
And I'm middle aged.
Sagging towards the soil, drifting nearer to Gods waiting room.
An adult with a child's eye,
And tears frozen for safe keeping.
'Poem 3' by Patricia Hughes
The day my dad went mad.
He came undone with no sense of decorum.
His pants soiled and the room reeking of shit.
Paisley and the Pope shook hands in the Ivy house across the way or so he said.
We laughed because it was easier than crying.
This was no celebrity breakdown.
There was chaos as he tried to climb the venetian blind.
And people sniggered as he danced with the shopping trolley,
Mums' best table lamp balanced on top to show him the way.
He became mute.
Exhausted by this world he retreated to some other benign place.
Lingered there for months, wrapped warm and cosy in a strait jacket.
He came home briefly on Christmas day,
A male nurse on either side of him.
His crazy blond quiff still shone like a halo in the late December sun,
but nothing else remained.
He was a husk of a man.
A lithium hologram.
----------------------------------------------------------------------------------------------------------------
'In Song' by Seanín Hughes
I am a pendulum pulled, pulling
left to right,
right to left,
from one to the other
and back again,
driven by and to extremes;
always at the mercy
of mood,
always in search
of inner silence.
Solitude steadies me, but
music seeps in like liquid -
displaces the darkness,
dissolves the fog,
and for a moment
all of me is still.
----------------------------------------------------------------------------------------------------------------
'Chameleon' by Seanín Hughes
Would you feel better
if you had a label?
I probe the air with my left eye, spy
socratic poker face with my right -
she can't see me, just case notes;
I, unidentified, somewhere between
the sighing beige of the walls
and the dirty carpet, stained
with confessions, some sharp enough
to draw blood, others hollow and
unyielding. She tells me that I
have a lot to be thankful for
while I count the brown bricks
outside, each one an exiled breath
and the cadaver of wounded trust
makes a morgue of the coffee table.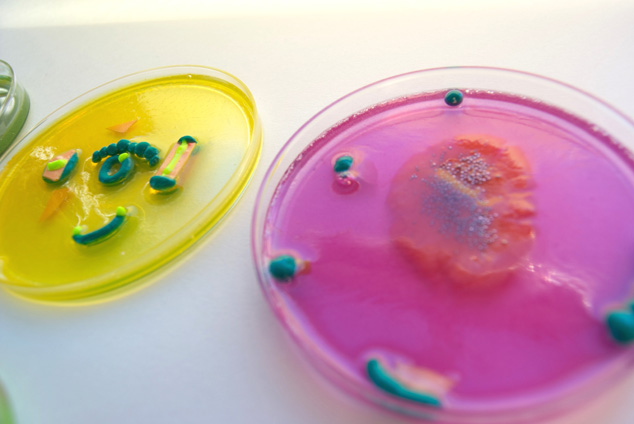 Ellie Niblock
4. Ellie Niblock

28.07- 26.08.2017
Ellie Niblock has graduated in 2015 from University of Ulster, since then she has worked in Framewerk art gallery, Belfast gaining art and curatorial experience. Currently working in 4th Floor Studios as a professional artist. Ellie Niblock works with a variety of mediums such as mixed media, sculpture, installation and drawing. She has recently created a jewellery range called 'Flexi Jewelleri'. Ellie has taken part in both solo and group exhibitions since graduating and sold work. Members of The Arts Council NI have previously purchased my work for private collections.
This project is part of Inside Out, organised by Destination CQ . 27 venues around the Cathedral Quarter are hosting artworks for display in their windows for their window gallery project.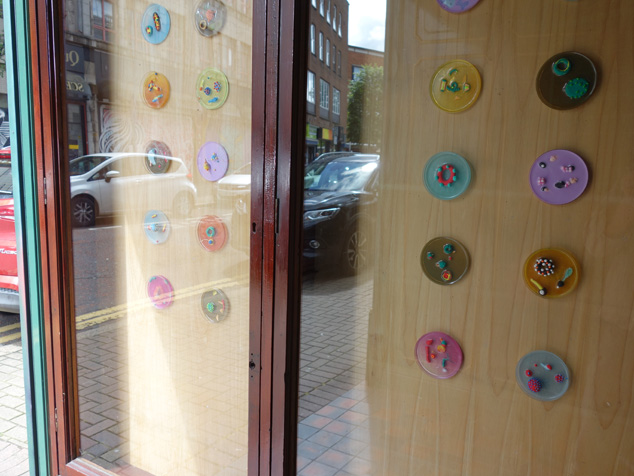 Ellie Niblock