Friday, 14 November, 3-5pm at PS²
community as artist// workshop as exhibition
Instrumental or Radical ? A Panel Discussion on Socially Engaged Arts. Research, meetings, future programms
Philip Napier, Sarah Tuck
Ends 15 November 2014
Instrumental or Radical ? – A Panel Discussion on Socially Engaged Arts
PS² invited Sarah Tuck to set the subject within a theoretical context. For this informal conversation, a panel with Philip Napier, Sarah Tuck and others will explore the tensions that exist in thinking around socially engaged art – from the radical to the instrumental – from ideas of socially engaged arts as a form of cultural democracy to the suggestion that it can provide solutions for social change.
In addressing this question of co-optation or critical autonomy the panel will examine this field of practice as an intersection of art, politics and the public sphere.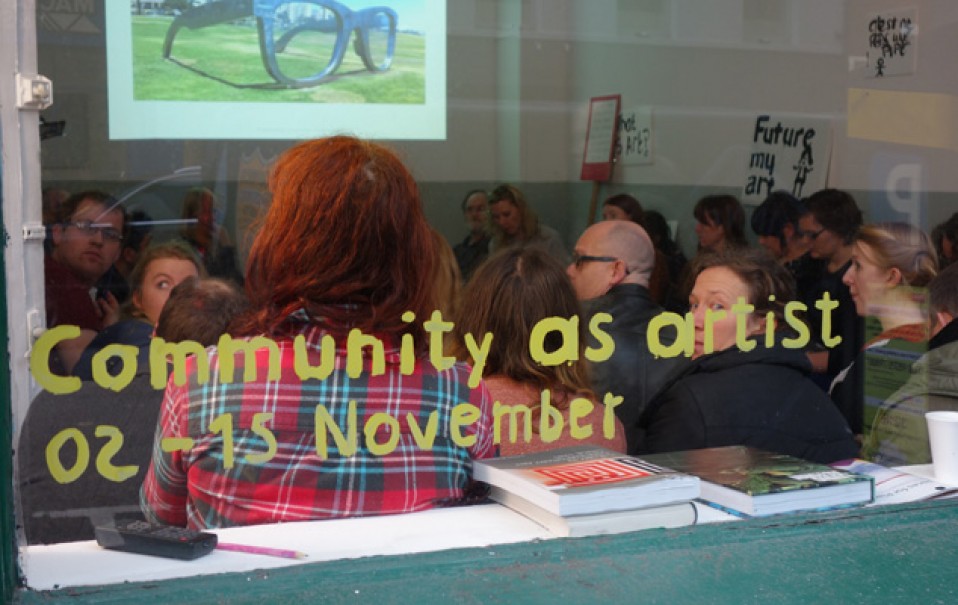 Friday, 14.11.2014: Instrumental or Radical, conversation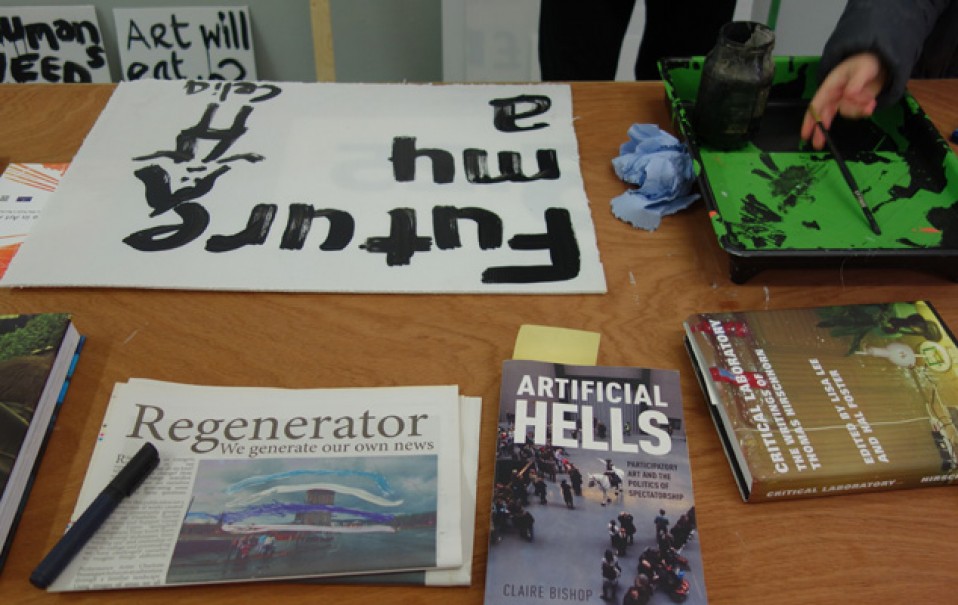 Community as artist- open research office
community as artist// workshop as exhibition is a theme PS² will focus on its arts programme for 2015/16. As a practical step, PS² will hand-over its space in Donegall Street to community (arts) organisations which work with art as a tool for social/ environmental change.
Throughout the year and for several proposed projects, PS² would act as venue for workshops, meetings and exhibition space for projects realised by organisations. PS² will offer support, help and assistance during the process of a project and the formats of its presentation.
This short research project hopes to make space for conversations with interested organisations and to discuss and refine the concept of 'community as artist'. Positions of community art groups and organisations who work with artistic means in the community (film, theatre, writing, music, architecture...) can be highlighted and the social and artistic benefits critically assessed.


Call for show of interest and proposals
PS² would like to invite community organisations, who work with art as a tool for social and environmental change, to use our space in Donegall Street as workspace and showroom for a new, socially engaged art project.
community as artist// workshop as exhibition is a planned series for 2015/16. Organisations will have the opportunity to develop a new or finish an existing project with the support of PS² and use our space both as a project room and exhibition space.
Art in and with the community (community arts, public art, art in social contexts…) often faces two demands, measured against different criteria and outcomes: a social agenda, geared towards better relations and- often of less importance- the artistic quality. This dilemma is increased by the separation and lack of co-operation between community arts organisations and galleries, project spaces, museums…. 'community as artist// workshop as exhibition' is an attempt to bridge this gap.

PS² has a keen interest in how art and cultural activities can transform social conditions and individual lives. Both in 'indoor' projects and more so with 'outdoor' interventions and long term commitments, it experiments with new forms of art in and with the public. This process should ideally be of mutual benefit for the participants, the wider community and the artists/ cultural workers.
If you and your organisation is interested, please write to pssquared[at]btconnect.com