Mid-project opening
Thursday, 14 January 7-9pm

Opening hours
Wed-Fri 1-4pm, Sat 11am-2pm
Close encounters
Working with the neighbourhood
Christopher Whiteside & Madeline Graham
Ends 23 January 2016
Close encounters
Part 1- Christopher Whiteside & Madeline Graham, 30 November - 26 December 2015
Part 2- Phil Hession, 07 - 23 January 2016

Close encounters is long-term project which started in 2014 when we invited Christopher Whiteside & Madeline Graham and Phil Hession to work with the close neighbourhood of PS² in the Cathedral Quarter.
The brief only asked that the social and urban environment be used as material for new work, how this would be done and in which media form was left open.
All artists involved have chosen to work with film, yet in very different forms and contents.
Whiteside & Graham's 'Max VS The Robot and Pierrot', presented in November/December 2015, were short filmic dramas with strong scripted narratives; Phil Hession's contribution is a short real-life documentation and sound recording.


Part 1
Christopher Whiteside & Madeline Graham
30 November - 26 December 2015.
Christopher Whiteside & Madeline Graham PS² first worked with the two young artists in 2013 in 'The Goblin Market', a film project based on a poem by Christina Rossetti. Set in the Lock Keepers Cottage and the surrounding nature of Belfast, this was a film with no dialogues yet full of atmosphere, surreal and dreamlike, violent and dark.

For close encounters, Christopher Whiteside & Madeline Graham have decided to work on two film projects, each telling a short story. They invited Paul Cready to co-create one of the short film ideas that later became Pierrot alongside Sam Megaw, who produced a wooden wall panel comic strip. Monica Bannon was invited to compose and perform a musical score for the Pierrot film, alongside Alan Wall, sound designer and foley artist.
The initial idea for Max VS The Robot came from the talented teenager Max Graham, in conjunction with a BBC True North short documentary, Meet Max, which is about the pair creating films that express Max's feelings towards his ASD (Autistic Spectrum Disorder).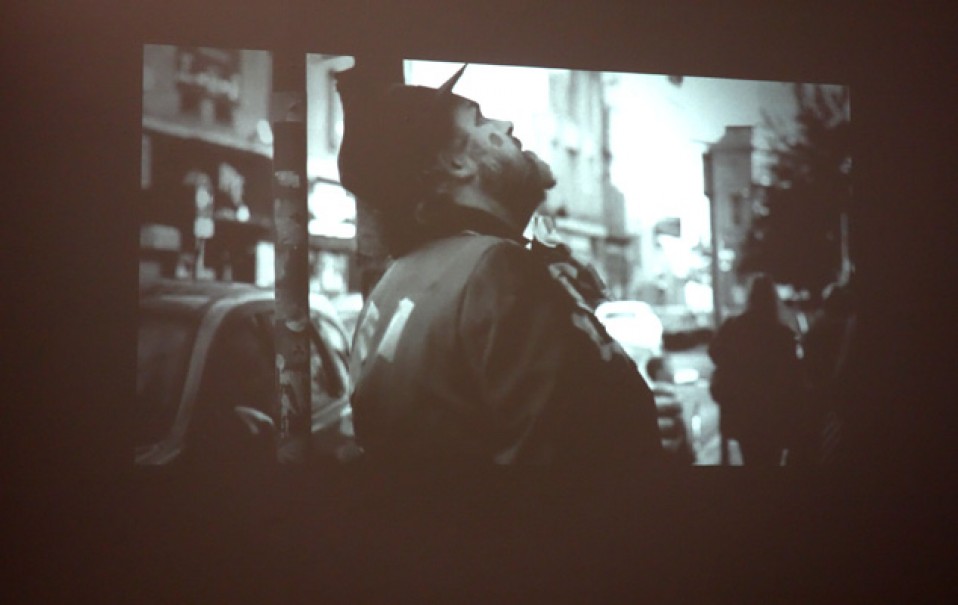 Film still: Pierrot - Christopher Whiteside & Madeline Graham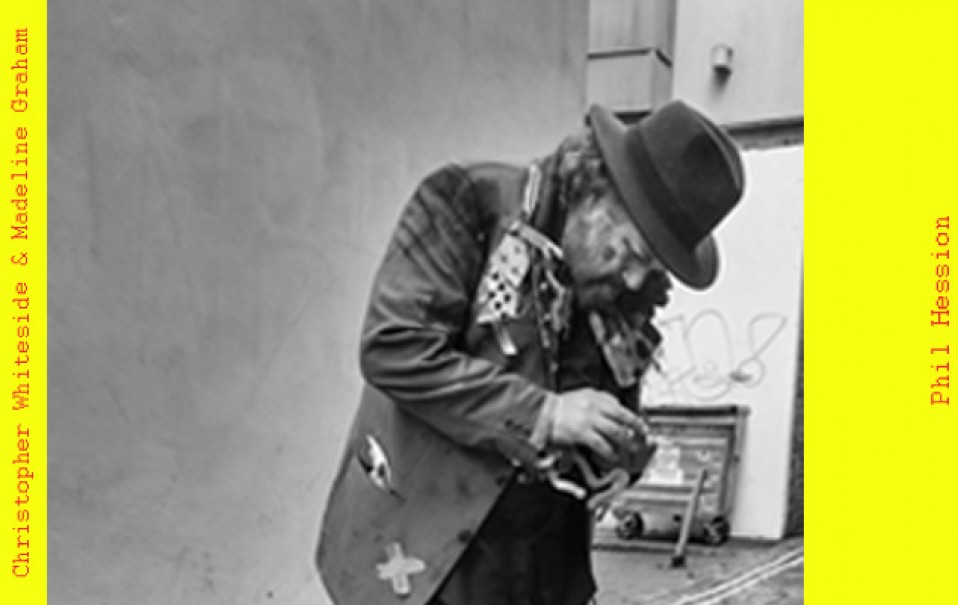 Film still: Pierrot - Christopher Whiteside & Madeline Graham
CEREBRAL CIRCUS

An open letter to the viewer
Play is often the key component within an artist's process. It is the unseen act of inquiry that transforms an idea into something other. It is also the means by which most artistic work is not only developed but re-imagined by accident.

The formal characteristics of play could very well be defined as an activity connected with no material objective. However an image or collection of sound is more often than not, the by-product of play. The artistic process and the act of play could be argued as being intrinsically the same thing. Play is often viewed and described as frivolous, which is a ridiculous idea when we consider how essential it is in our life's journey of self discovery, learning and social development.
We as a collective of artists work and play very hard; sharing a common interest in humour and the vast range of emotion possible to derive from it. Humour helps us to work in an unconscious manor, and helps us formulate ideas which only become apparent to us through discussion with each other.

It is by this process of performance, drawing and discussion that we develop our work. We masquerade as each other's characters, immerse ourselves in each other's stories and borrow each other's formal elements to compose our 'own' images.

Together we are a gang of misfits, thinkers & jokers and we welcome you to enjoy our exhibition.

Yours with gratitude,
Cerebral Circus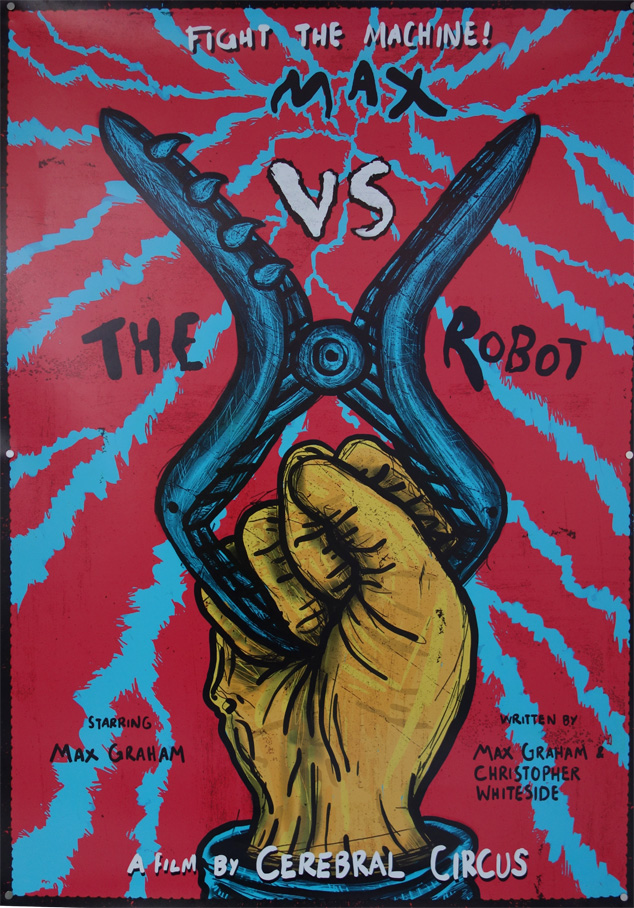 Poster- Christopher Whiteside & Madeline Graham
Max VS The Robot
Synopsis
Inspired by Science Fiction B-movies made in the 70's and 80's, this short story is about a teenage boy who is being hunted down by a human sized robot; a killing machine created to erase humans with any difference from the norm. Max is diagnosed with Super Syndrome 5; a neurological anomaly in the brain that apparently causes his behaviour to be highly unstable and thus highly dangerous to the world. Or does it?
What if this 'problem' is actually his own superpower, or the next step in human evolution? Or maybe they're right and Max is not only a danger to others, but himself. Regardless, if Max is to survive into adulthood he must gather his courage and finally face his fears; or be doomed to be on the run for the rest of his life.


Pierrot
Synopsis
A down-on-his-luck, unshaven and mute clown is wandering the grey, damp, noisy and colourless streets of the city. Homeless and unwanted, he carries his belongings in an old case as he stumbles around in search of refuge and validation. Tired, dissolute and without direction; he instead retreats into a dream-like slumber to escape from reality and into the comfort of fantasy and memory. Can he salvage some hope from these fragmented visions?


Part 2
Soft you tread above me Sound, singing and the various techniques of recording are reoccurring subjects in Hession's work, appearing in his performances, video work or installations. This is also true in his contribution for close encounters.
His 7 minute long film Soft you tread above me was filmed next to PS² in a car park, taking the title 'close encounters' very literally in terms of geography. With the camera positioned close to the ground, Hession filmed mostly in the evening and darkness.
There is a mood of foreboding, of brooding danger in the near-still images of the few parked cars, street lighting and empty space. But the scenes of reflecting lights on the shiny metal of the cars; the contrast between darkness and spotlights; or the composition of the urban space also radiates a painterly beauty.
And there is sound.
Not that Hession's film has a soundtrack per se. It is recorded on site, direct and unmanipulated like a field recording. Perhaps Soft you tread above me is more a sound recording, a composition than a film. Like the Irish song 'Danny Boy', from which line of the lyric the film gets its title, it is an urban song. The screeching of seagulls, the rushing noise of passing cars, the clicking steps of pedestrians, the deep flapper-chopper of a helicopter, all seem to contribute like a backing choir. The lead singer, the most dominant sounds in this film are fragments of music, played by a wind orchestra rehearsing in an adjacent building. But the viewer or listener never encounters the players nor the space they are rehearsing in. Their contribution is distant, never a face-to-face encounter.
Phil Hession writes
'Soft you tread above me attempts to capture the ominous feel of an empty car park. Together with the diegetic sound of a brass band rehearsing and the screech of seagulls a tense scene is created.'
An urban symphony? No doubt- Soft you tread above me is a song of and by the city in many voices and a film about Belfast at night. A disquieting lullaby.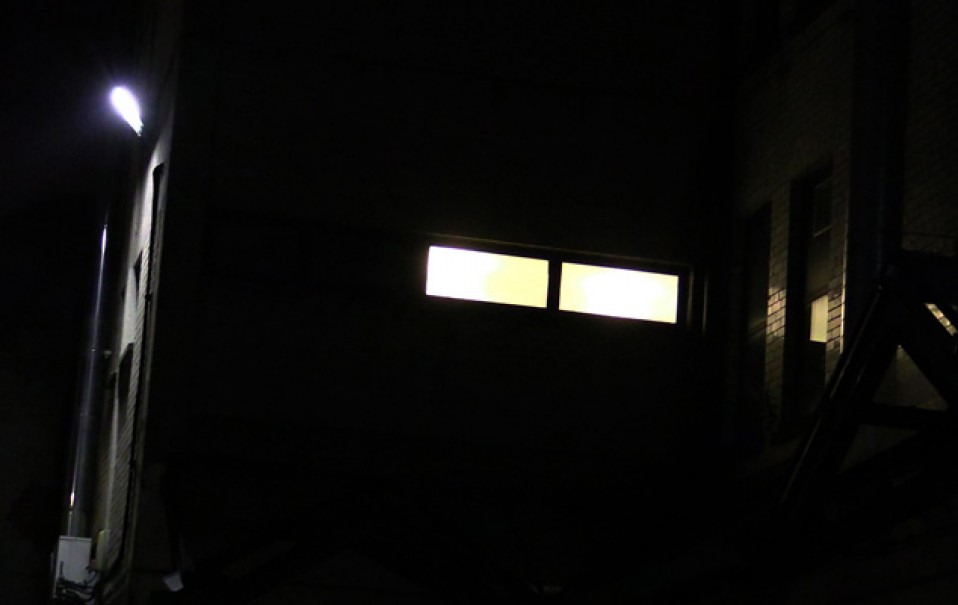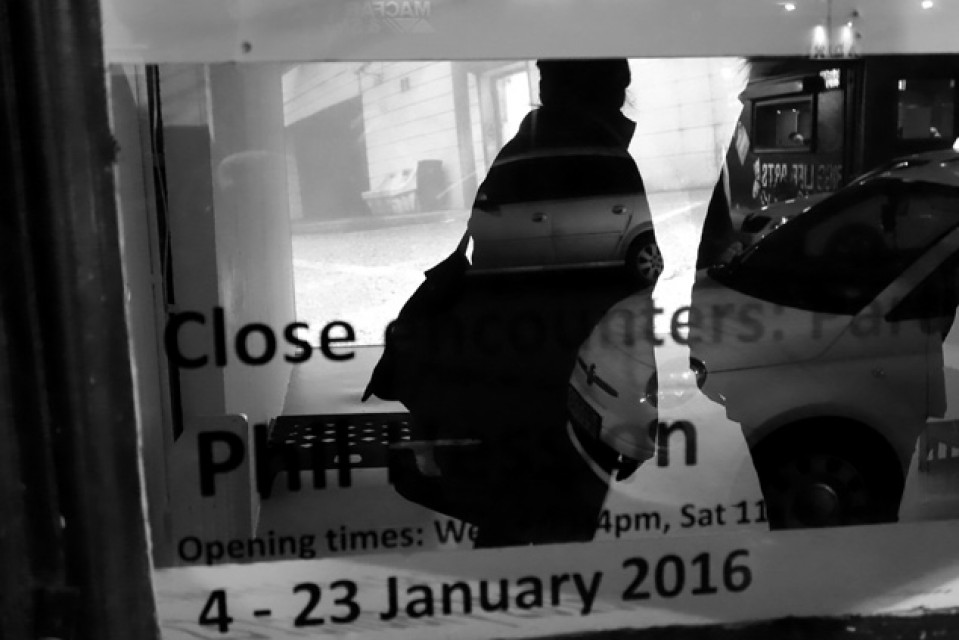 About 'close encounters- working with the neighbourhood
Brief
Close encounters- working with the neighbourhood' is a series of collaborations by artists with individuals, groups, initiatives, institutions and organisations in the close neighbourhood of PS². Although the Cathedral Quarter does not have many residents, it has a high concentration of cultural organisations, NGO's and meeting places for activities: from wind orchestra rehearsals on a Monday evening, to the queue of homeless people at the Salvation Army, the social clubs with its varied programme, The War Memorial Museum, The MAC, Alcoholic Anonymous meetings or Clarke's dance school at the top of Donegall Street. These locations and venues attract people, who form for a short time a micro-community of similarly interested or troubled people, with problems with alcohol or housing, a passion for art, bingo or dance.
This project tries to engage with people and groups to develop and create a piece of art, an expression of their feelings and their activity in the city centre. This can be through images, film, soundpiece, theatre and more in a quality which is capable to communicate personal situations and community relations. ,Close encounters' will evolve during the year and be shown in PS² and at other locations. The outcome will be as diverse as the community, varied in its media and can be understood as small vignettes of social activities and communal encounters.l