Group 01
22-30 July 2022
Opening
Thursday 21 July, 6-8pm
Alasdair Asmussen Doyle, Michelle McKeown, Jan Uprichard, Amy Mackle, Alessia Cargnelli, Ronan Smyth, Patrick Hickey
Opening hours
Tues-Sat 12-5pm


Group 02
05-13 August 2022
Opening
Thursday 04 August, 6-9pm
Vikkie Patterson, Adriana Valderrama, Deborah White, Beverly Irving Edwards, Natalie Wilson, Gerard Gibson, Philip Arneill, Sarah Tehan, Lisa Robson

Opening hours
Tues-Sat 12-5pm
Between matter and words
Alasdair Asmussen Doyle, Michelle McKeown, Jan Uprichard, Lisa Robson​, Amy Mackle, Alessia Cargnelli, Ronan Smyth, Patrick Hickey, Vikkie Patterson, Adriana Valderrama, Deborah White, Beverly Irving Edwards, Natalie Wilson, Gerard Gibson, Philip Arneill, Sarah Tehan
Ends 13 August 2022
Practice as research often sits uneasily in academic regulatory frameworks, yet this reflexive field plays a significant part in the identity and work of Ulster University, while also offering vital contributions to our wider cultures.
Study in this field, as Midgelow (2021) puts it, expresses and lays bare otherwise neglected, non-normative human epistemologies, ways of knowing and understanding deeply connected to the material and embodied.
Between matter and words seeks to foreground the diverse outcomes created by PhD researchers following this mode of investigation. The show will encompass works in progress as well as more summative results that arise from study in any field of the Arts, including but not limited to: painting, sculpting, designing, forming, weaving, throwing, playing, performing, making and writing. This collective coming together celebrates the centrality of research and practice at Ulster.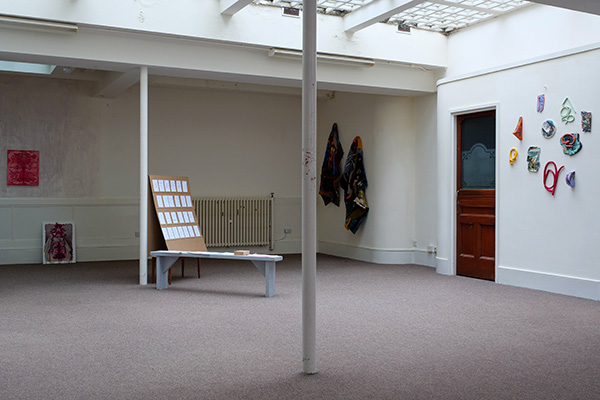 installation view. Image: C.Devlin
About the artists
Philip Arneill is a Belfast-born photographer and AHRC Northern Bridge Doctoral Researcher at Ulster University. He holds an MA in Photojournalism & Documentary Photography from UAL and having lived for 25 years in Scotland, Egypt and Japan, is currently researching a PhD through Creative Practice. Co-creator of the audio-visual documentary project Tokyo Jazz Joints, his work explores the illusory ideas of home and culture by exploring insider-outsider dynamics, interstices, and autoethnographic issues of place and identity. His current research, I am where I am not, explores his inherited Protestant identity through the vernacular architecture of Orange Halls.



Alessia Cargnelli is a visual artist and researcher based in Belfast. She is completing a PhD on artists-led and feminist-led collectives dedicated to social justice, civil action and activism in the island of Ireland. Alessia is co-founder of the artist-run initiative Soft Fiction Projects and an active member of Array Collective, winners of the 2021 Turner Prize 2021. The work presented is based around intersectional feminism and activism in the North of Ireland.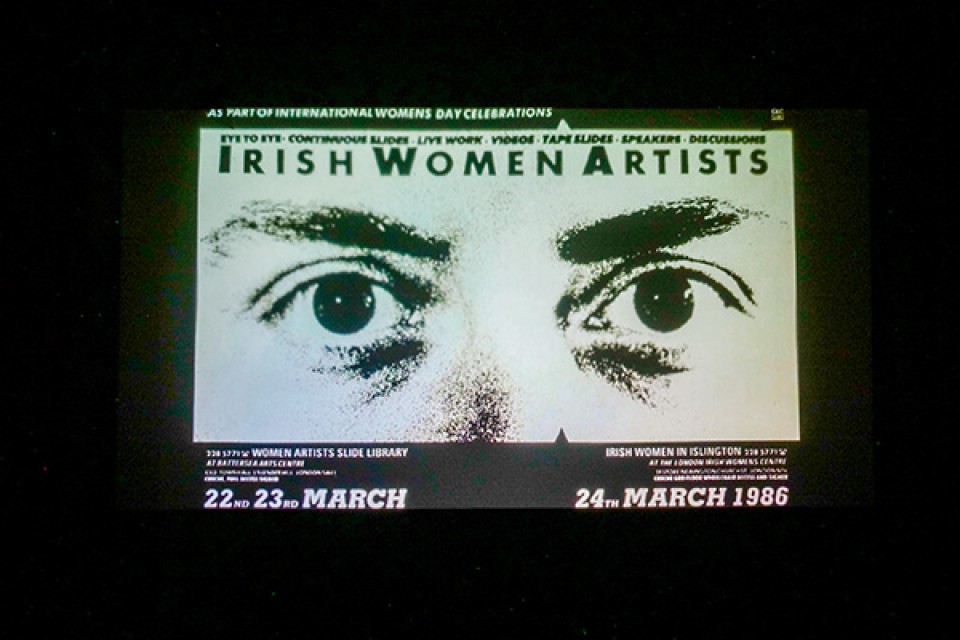 Alessia Cargnelli- projection. Image: C.Devlin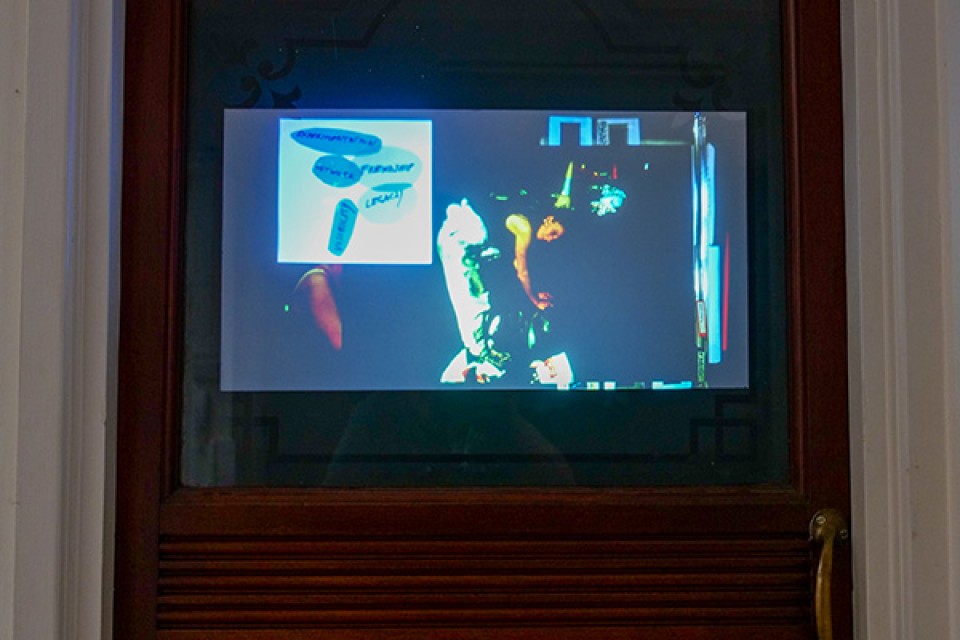 Alessia Cargnelli- projection. Image: C.Devlin


is an artist and researcher, currently undertaking a PhD at the Belfast School of Art in partnership with aemi [artist experimental moving-image]. Titled 'Beside, on the other side', his doctorate interweaves contemporary theories of landscape with early shooting instruments, to consider how early filmic representations, in parallel to cartographic tools have framed our understanding of ourselves and our place in the world. Often informed by his experience as an Australian inhabiting another island on the other side of the globe, Alasdair's projects seek to address potentialities of dislocation and duality — a being here and there in place — to consider hybrid geographic positions.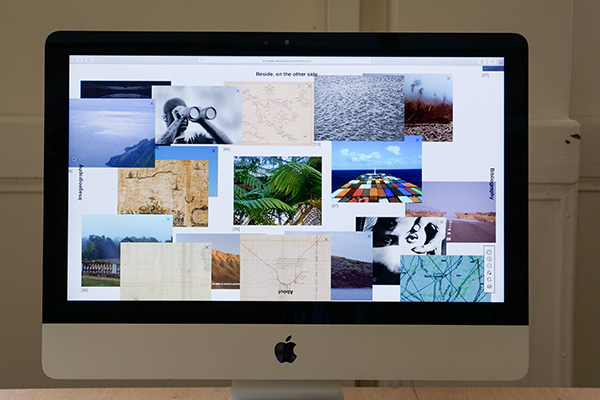 Alasdair Asmussen Doyle. Image: C.Devlin

Beverley Irving Edwards is an illustrator and PhD researcher at Belfast School of Art, Ulster University. Her research, 'Illustration, Clay and the Museum: two case studies exploring women's body image', is testing how illustrations in the form of objects can generate critical discussion. Through responding to idealised images of women in museum collections and exploring her own personal experience of poor body image and eating disorders within the childhood home, she invites feedback from the audience and workshop participants on the close engagement with the objects. This work comes with a trigger warning and is supported by Eating Disorders Association NI.
Gerard Gibson researches the role that narrative plays in human perception. His background in visual arts practice intersectionally fuses with theoretical concerns surrounding the causal percept and the innately human act of meaning-making. He combines theory and practice-as-research methods to explore aspects of cinema that have been previously overlooked because they were considered the purview of the technician rather than the scholar. His current research explores space, place and the material in cinematic horror and is presently focused on the embodied indeterminacy, the meaning-making mechanisms of the monstrous, and their often-overlooked epistemological consequences.
Patrick Hickey is a contemporary queer artist and PhD researcher, living and working in Belfast. Hickey graduated from the Belfast School of Art, Ulster University, in 2015, with a BA (Hons) in Fine Art Painting. In 2019, Hickey began a practice-based PhD at Ulster University, which explores the nude male figure, homoeroticism and queer coding in modern and contemporary painting, with a focus on 20th Century Irish artist Gerard Dillon. He has exhibited extensively in both solo and group exhibitions, with a current solo show in Cultúrlann McAdam Ó Fiaich, Belfast, and another forthcoming in January 2023.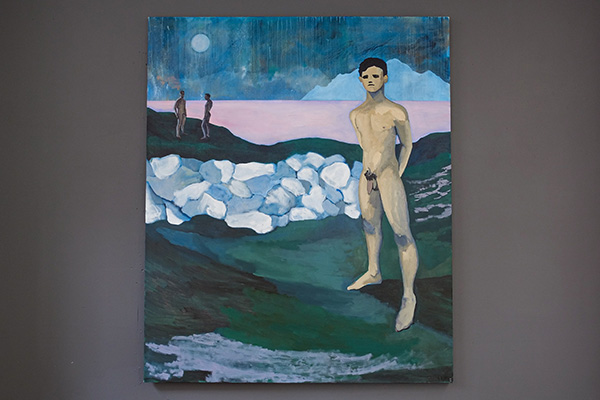 Patrick Hickey, installation view. Image: C.Devlin
Based on the shores of Carlingford Lough, Amy Mackle's work is made predominantly in porcelain but dabbles in different clays and materials and is inspired by many things - mainly her sense of place, the landscape and the relationship between the natural and the manufactured in our environment. She regularly facilitates and hosts ceramic workshops with community groups and children. Amy undertaking a practice-based PhD at Ulster centred around constructing place and identity through urban mark-making.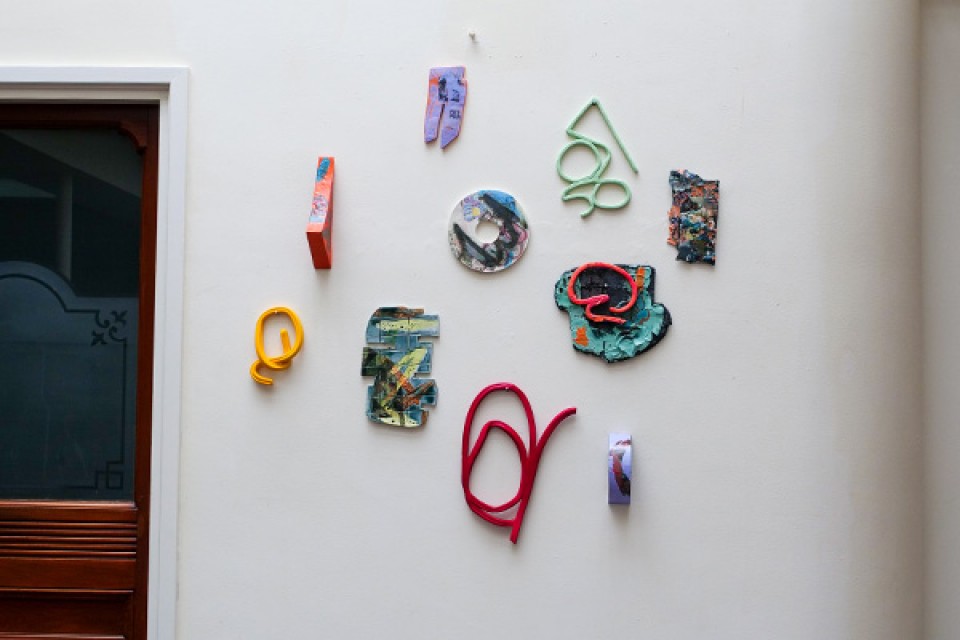 Amy Mackle- installation view. Image: C.Devlin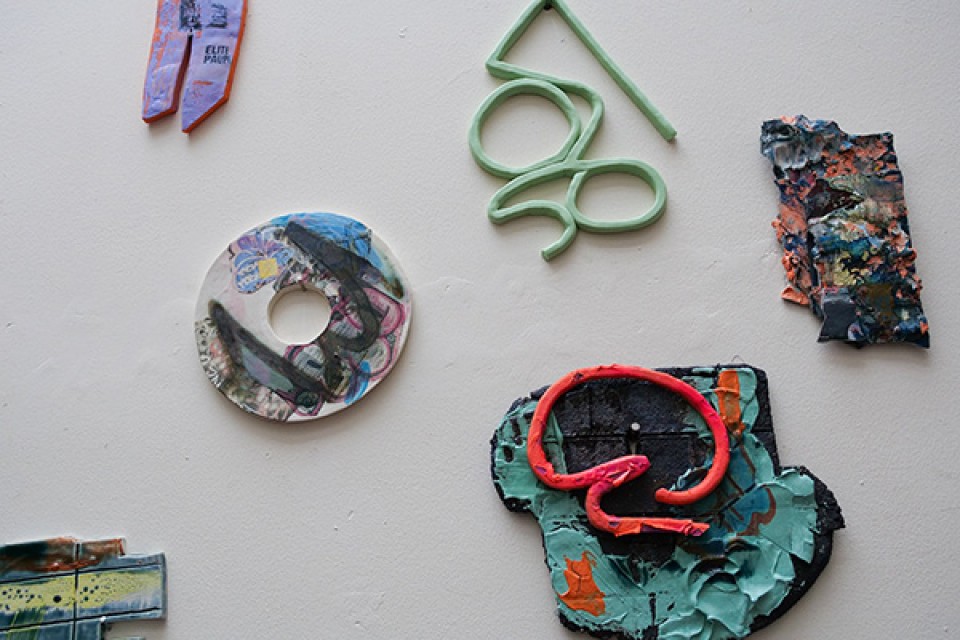 Amy Mackle- detail. Image: C.Devlin
Michelle McKeown is an artist, archivist, writer and curator working at the intersection of feminist theory, continental philosophy and painting in the expanded field. Invoking representations of 'woman' as she has been encoded historically in visual culture, McKeown questions how the discourse of death surrounding painting might birth a model of subjectivity inscribed by the feminine. Throughout her doctoral research McKeown's practice has adopted a multiform approach, exploring a variety of models of production and platforms for dissemination. Her most recent projects include the group exhibition "Anywhere out of the World" which she co-curated with artist Alan McMahon at QSS Gallery in 2021. Elements of the practice research exhibited here are drawn from an earlier presentation of her work, The Widening Gyre, a solo exhibition at Marian Cramer Projects, Amsterdam in 2020.'

Michelle McKeown- installation viev. Image: C.Devlin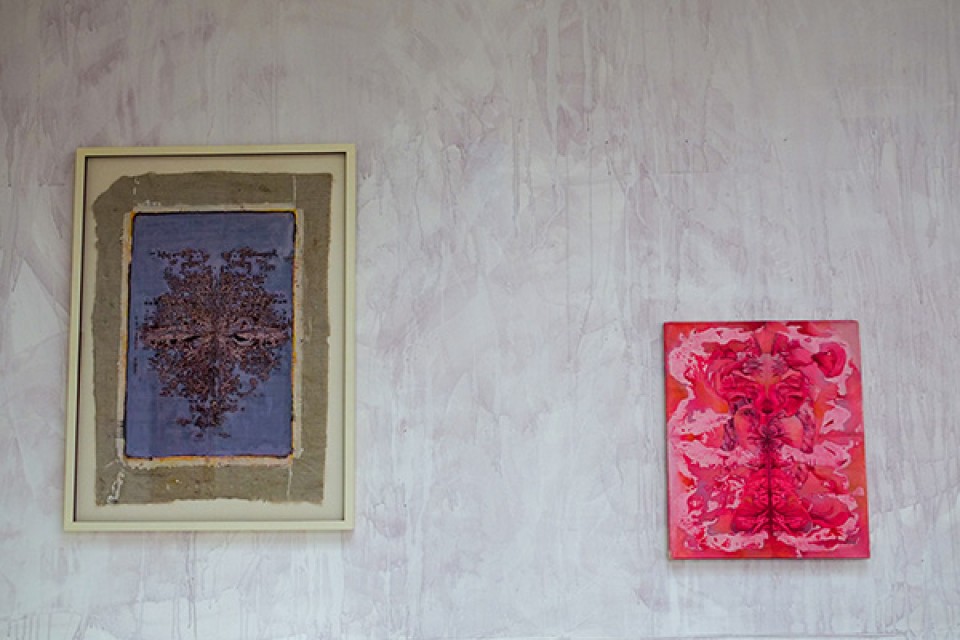 Michelle McKeown- installation viev. Image: C.Devlin
Vikkie Patterson is a painter and PhD researcher at Belfast School of Art, Ulster University. Her research centers around embodiment and post-traumatic response in contemporary painting and literature from here.
Her work in the exhibition is an example of the practice-based element of her research, which is informed by painting theories such as phenomenology and indexicality. As with the selected literature she is researching, her work aims to transcend the figurative and the literal.
The production of this work has been supported by the Arts Council of Northern Ireland.
Lisa Robson is a ceramic artist, currently completing the second year of a full time PhD. The exhibited ceramic objects are the making element of a practice and theory-based research project being undertaken at Ulster University, Belfast School of Art.

Focusing on touching and handling ceramic objects as a way to fully understand and appreciate craftsmanship and material culture, this project aims to challenge the vision-centric environment of the exhibition and museum space by encouraging a haptic, inclusive, interactive and sensory exploratory area for exhibition visitors.
The making concepts are based on organic seedpod forms that engage through sound, vision and touch, accompanied by stylised Bartmann bottles and German jugs from 16th-17th century. Each vessel tells a narrative from the clay from which it was formed to the hand that made it. A variety of clays and surface decoration have been used to offer a variation in material quality and textual experiences for those participating.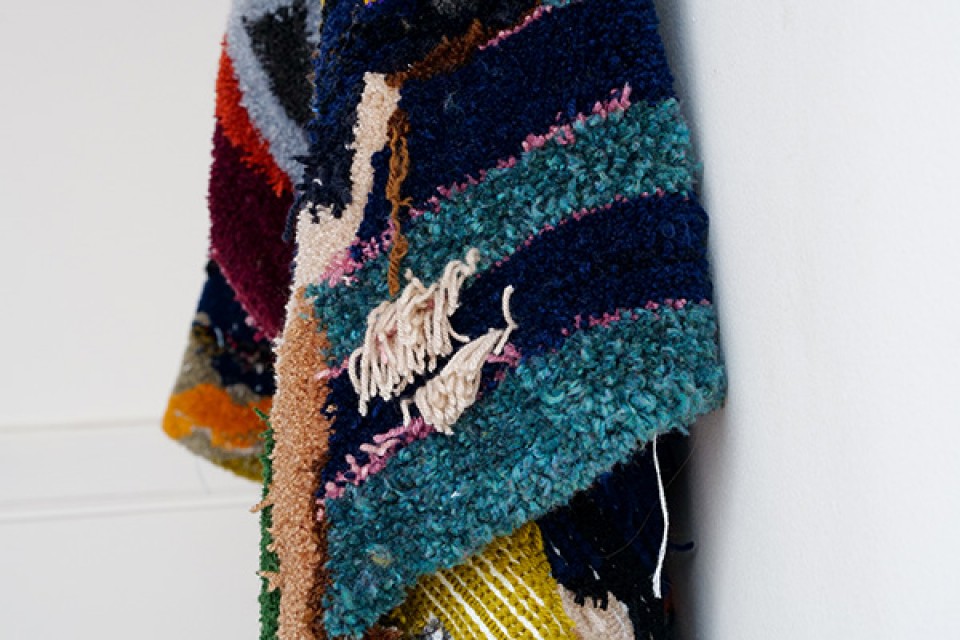 Ronan Smyth- detail. Image: C.Devlin
Ronan Smyth- installation view. Image: C.Devlin
Sarah Tehan is a visual artist and PhD researcher. Her research explores how visual culture has been shaped through the 'Colonial lens' and the impact this continues to play in photographic practice. Historical conflict photography presents images of social upheaval and cultural interaction that demonstrate the role that Colonialism and the Archive has on representation of our cultural historical past. A re-reading of historical photography through a contemporary understanding can readdress visual culture.
The work 'Conducting History' explores the role that the Archive and the Researcher play in who's history is important and who remains buried in the archive.

Jan Uprichard is an artist and freelance curator/producer based in Belfast. She is currently a PhD researcher at Ulster University, developing a method of Deep Smelling. Deep Smelling is a meditative, experiential and process-based art practice, which brings our attention to our sense of smell. As an artist and researcher Jan works with smell as a device to re-programme how we perceive our surroundings, whilst themes of friendship fuel her curatorial practice. Jan's art practice oscillates between participatory events and obsessive research, using smell, walking, archives, mapping, food, sound, film, bookmaking, botany, and interventions as tools.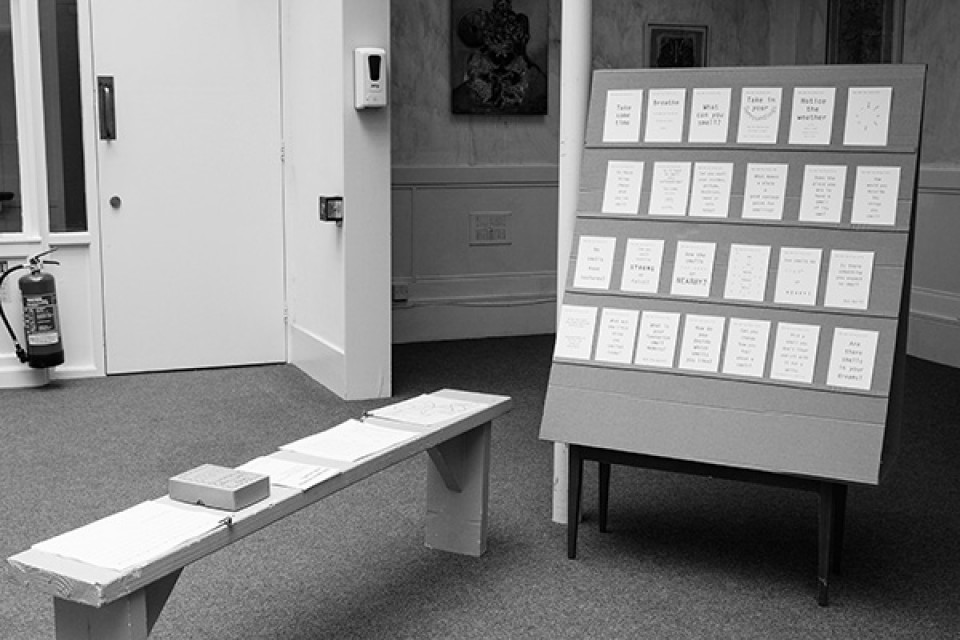 Jan Uprichard- installation view. Image: C.Devlin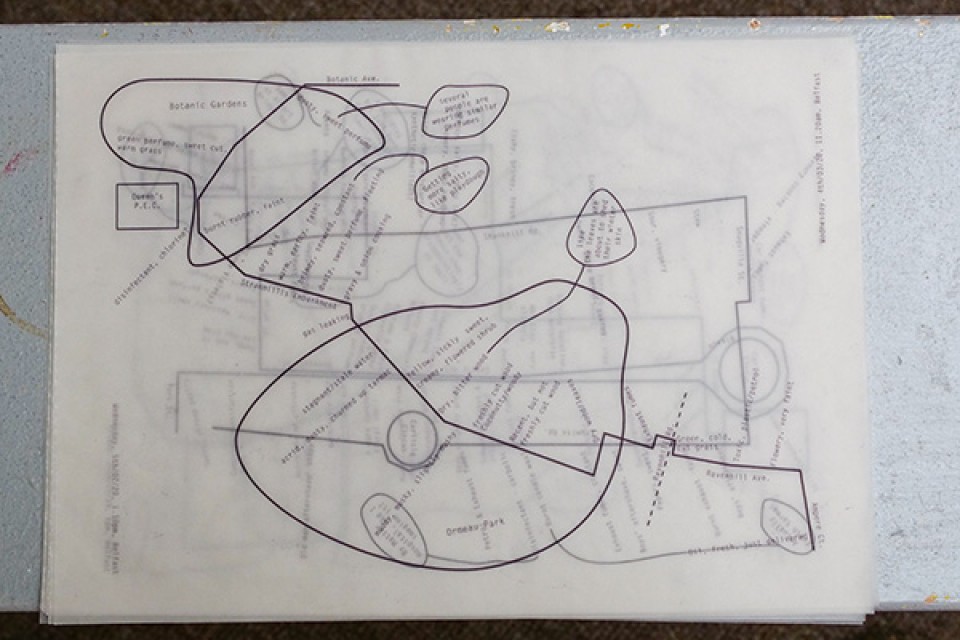 Jan Uprichard. Image: C.Devlin
Adriana Valderrama is a Psychologist with a Master in Peace Studies and Conflict Resolution and PhD researcher in the School of Art and Humanities in the Programme of Heritage and Museum studies at Ulster University. Adriana has worked as a full-time professor in the School of Law and Political Science at Universidad Pontificia Bolivariana where she lectured on subjects related with conflict, transitional justice and peacebuilding with a focus on critical theory and psychoanalysis. Her current research examines contested curatorial practice in societies dealing with a difficult past such as Colombia and Norther Ireland. She is the former director (2016-2018) of Casa de la Memoria Museum in Medellin, Colombia.

Deborah White is an AHRC Northern Bridge Consortium Doctoral Researcher at Ulster University. A Master hand-loom damask weaver, her research, 'The Weaver's Alchemy: a recovery of the forgotten craftsmanship of hand-wrought linen damask in Ireland', draws on her near thirty-year practice. Assessing the technology, technique, and design of Irish hand-woven linen damask, it comes at a critical juncture for the craft. Listed as 'Critically Endangered' by The Heritage Crafts Association, it is hoped it can prove a timely intervention. Her restoration of an early nineteenth-century broadloom, last commissioned for the accession of Queen Elizabeth II, scaffolds her enquiry and features in an upcoming BBC documentary.
Immaterial Labour: 'Our Dayly Bread'
Natalie Wilson is a PhD researcher. She obtained a Bachelors and Masters in Fine Art from Aberystwyth University, specializing in abstract painting. She is currently working on a PhD research project which involves creating a terminology guide for the genre of Environmental Art. Her current research ambitions include working as an Ecological Artist (a form of Environmental Art) to restore biodiversity in urban, rural and wilderness areas, both nationally and globally. The submission for this exhibition is intended to make the viewer think about the key question of the genre: What is Environmental Art?
This project is supported by Ulster University.
Photo credit: Documentation of the Royal Loom's restoration by Deborah White - PhD Researcher at Belfast School of Art - 2020.