Opening
Thursday, 02 October 2014, 6-9pm

Opening days/hours
03/04 and 09/10/11 October, 1-5pm
...and Other Redacted Theorems
In collaboration with Digital Art Studios
Nicky Larkin, Mike Harvey
Ends 11 October 2014
This project shows work by two artists, produced during their recent Digital Arts Studios Residency. The scheme supports artists working with new media technology.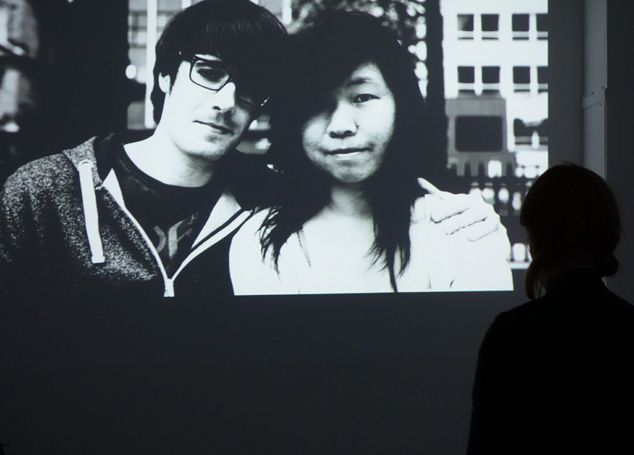 Installation view
The Belfies (Belfast Selfies), 2014
The Belfast Selfies came about as a culmination of a number of ideas.The Belfies are an antidote to the instant 'selfie' way we capture portraits today. Our attention spans have become the casualties of the rapid-fire digital age we find ourselves positioned in, constantly surrounded by millions of ever-changing pixels wherever we go. Between popular culture and digital advertising, there appears to be no escape. The Belfast Selfie project also strives to present a new face of contemporary Belfast, different to the traditional, historically presented ideas of Belfast. Belfie subject's names are not given, as even a name can identify and hence be troublesome in a city with such a fractured past. Each Belfie subject was chosen at random on the streets of Belfast city centre, and given only one simple direction - to look directly into the lens for a prolonged 30 second period.
Nicky Larkin is represented by The Molesworth Gallery, Dublin, and Galeria Strefa A, Krakow.
For more information see facebook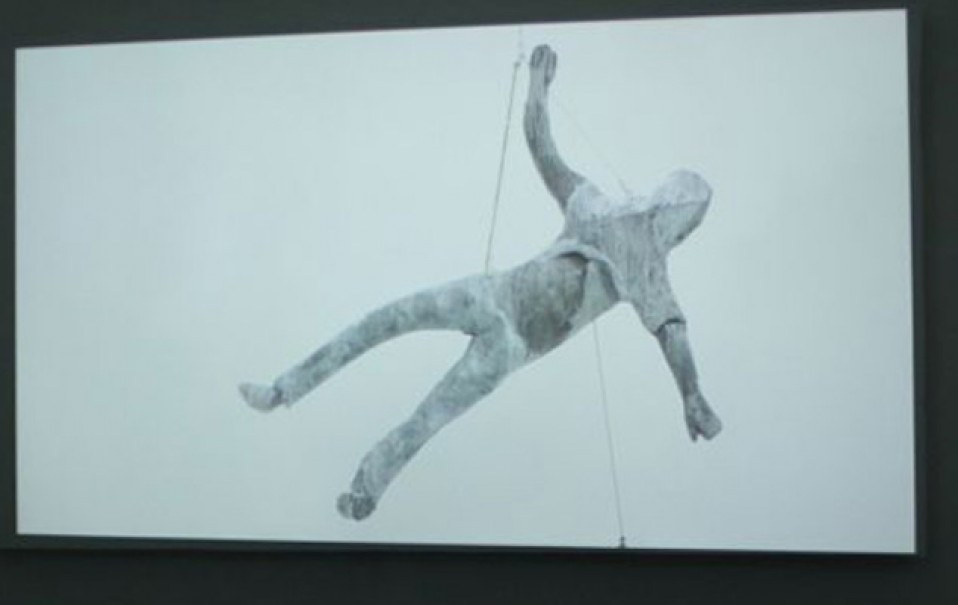 Can you touch at that - Nicky Larkin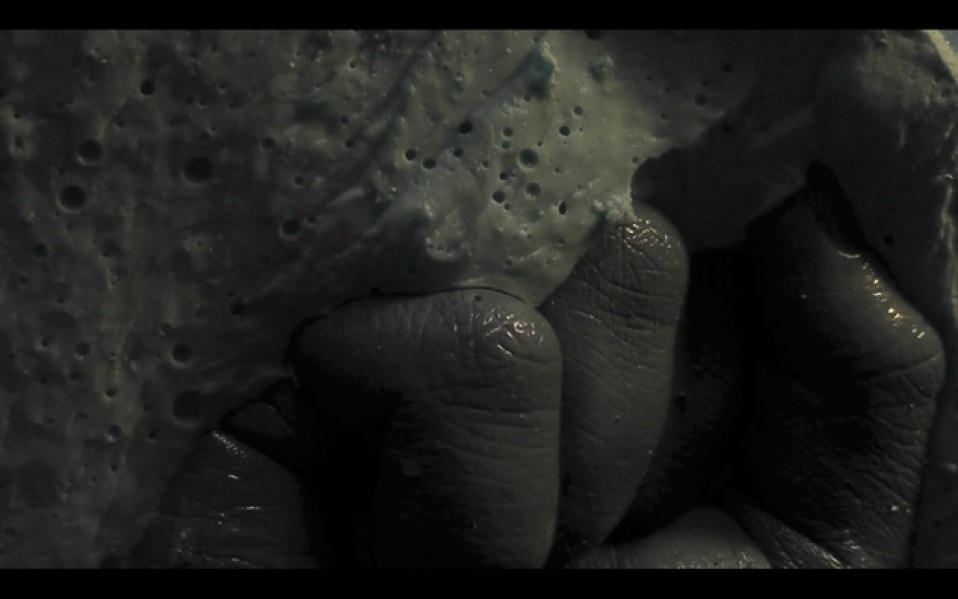 Mike Harvey: Video still. The video work is narrated by a cast of voice-synthesising programs which approximate different kinds of reassuringly-accented English
Brick Biter, 2014
Digital video, laser prints, wood.
Staring down at your boots, awaiting yet another demolition you blur out in a fit of coughs. Your feet on dry earth, your head in a cloud, Brick Biter's assembly of synthetic narrators pitch in: to recall and edit your memory of being elsewhere, feeling pressed.

'one time your back warm against
a question,
agdehdroiy or iudghwiuhde3ouh
your back warm against
the largest such structure in Europeyouknow'

Mike Harvey's work finds itself 'between displacement and belonging, individual and structure, fascination and fear'.
Freya Field-Donovan
Forthcoming exhibitions include the MAC International.
@mkhrvy Mike Harvey
The Digital Arts Studios Residency scheme supports artists working with new media technology. In collaboration with PS², DAS are presenting the work of Nicky Larkin and Mike Harvey, current artists on the Digital Residency Programme.